New York Live Arts Presents In-Process Showing Of Excerpts From Live Feed Artist Christopher Williams' NARCISSUS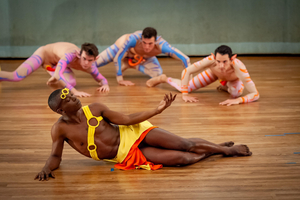 New York Live Arts' Live Feed creative residency and commissioning program presents a studio showing of new work in development by Christoper Williams, Wednesday, November 6th, 2019, at 8:00pm.
Set to Nikolai Tcherepnin's ballet score "Narcisse et Echo" composed in 1911 for the Ballets Russes, Narcissus is an original evening-length work reappropriating the eponymous ancient Greek myth on which it is based to re-imagine the original ballet through a contemporary queer lens. The November in-process showing will include seven performers: Casey Hess, Russell Janzen, Gildas Lemmonier, Alexander Olivieri, Logan Pedon,
Taylor Stanley
, and Mac Twining. For the world premiere of Narcissus as part of next years' New York Live Arts season,
Miguel Anaya
, Christiana Axelsen, Cemiyon Barber, Jin Ju Song-Begin, Janet Charleston, Breckyn Drescher, Alan Good, I-Ling Liu,
Justin Lynch
, and Caitlin Scranton will perform in addition to the seven aforementioned performers; production team includes Andrew Jordan (Costume Designs), David R. Harper (Set Design), and Joe Levasseur (Lightning Design) on the production team. The showing starts at 8 pm, which features 35-40 minutes of Narcissus excerpts followed by a 15-20 minute audience Q&A. This is not open for review. Tickets are $10 and may be purchased at 212 924 0077 or online at
newyorklivearts.org
New York Live Arts' Live Feed commission and residency program is a laboratory for the development of new work and offers a sneak peek into each artist's process and ideas before their creations hit the stage. Taking place within the intimate working space of the Live Arts studio, each showing is followed by a discussion with the artist and performers.
Christopher Williams
, hailed as "one of the most exciting choreographic voices out there" (The New York Times) and "the downtown prodigy" (The New Yorker), is a choreographer, dancer, and puppet artist who has created over thirty original and collaborative works in New York City and abroad since 1999. In addition to touring internationally in France, England, Italy, Spain, Holland, Colombia, Malawi, and Russia, as well as nationally in Los Angeles, Philadelphia, Pittsburgh, Kalamazoo, Princeton, Carlisle, Interlochen, and Jacob's Pillow, his works have been presented in many New York City venues including Lincoln Center,
City Center
, New York Live Arts, The Solomon R.
Guggenheim Museum
, Danspace Project, Dance Theater Workshop, La MaMa, P.S. 122,
HERE Arts Center
, the
92nd Street Y
, Joyce SoHo,
Symphony Space
, Galapagos Art Space, BRIC Studio, Dixon Place, The
John Ryan
Theater, Brooklyn Arts Exchange, Solar One, Socrates Sculpture Park, Judson Church, Dance New Amsterdam, The Mulberry Street Theater, The Clemente Soto Vélez Cultural & Educational Center, One Arm Red, as well as in the Late Night Cabaret of the
Jim Henson
International Festival of Puppet Theater, and via American Opera Projects in OPERA America′s New Works Forum. He has been commissioned by New York Live Arts, Opéra Royal du Château de Versailles/Opéra National de Bordeaux,
English National Opera
, Teatro Real/Perm Opera & Ballet Theater, Interlochen Center for the Arts, Dance Theater Workshop, Danspace Project, the Harkness Dance Center and Harkness Repertory Ensemble at the
92nd Street Y
, Philadelphia Dance Projects, American Opera Projects, Reid & Harriet Design, The Blanket, 10 Hairy Legs, Lower Manhattan Cultural Council, Bates Dance Festival, and
HERE Arts Center
's Dream Music Puppetry Program, and has set original works on students at Princeton University, NYU′s Tisch School of the Arts,
Sarah Lawrence
College, Dickinson College, Interlochen Arts Academy, Bainbridge Dance Center, and the Chadwick School. He has also had the great fortune of collaborating with many distinguished artists including renowned opera directors
Peter Sellars
and Michel Fau, composers Gregory Spears,
Nico Muhly
,
Robert Een
, Peter Kirn,
David Griffin
, and Ivan Jiménez, visual designer Andrew Jordan, costume designers Carol Binion, Ciera Wells, and Timothy Westbrook, lighting designers Joe Levasseur, Kathy Kaufmann, and
Carol Mullins
, visual artists David R. Harper and Rosario López Parra, choreographer Kindra Windish, puppeteer and set designer
Tom Lee
, puppeteers
Basil Twist
,
Lake Simons
,
Eric Wright
, and
Matt Acheson
, as well as with members of Ensemble Pygmalion, Piffaro, ModernMedieval, The New York Consort of Viols, Sonnambula, the Sebastian Chamber Players, Lionheart, and the internationally acclaimed vocal ensemble Anonymous 4. His collaboration with director Michel Fau and musical director Raphaël Pichon for a production of Jean-Philippe Rameau's "Dardanus" presented at the Opéra Royal du Château de Versailles won the Grand Prix du Syndicat de la Critique 2015 in the category of "best Spectacle Lyrique of the year" and his collaboration with
Peter Sellars
on a new adaptation of
Henry Purcell
's "The Indian Queen" presented at The Bolshoi Theater won five Golden Mask Awards in Moscow. Christopher received a New York Dance & Performance "Bessie" Award for his work "Ursula and the 11,000 Virgins" (2005) and an impromptu Ishmael Houston-Jones "Messie" Award for his work The Golden Legend (2009), which was listed among the 10 best dance performances of 2009 by Joan Acocella in The New Yorker. He has been awarded fellowships from The New York Foundation for the Arts, The Foundation for Contemporary Arts, the Center for Ballet and the Arts, the Bogliasco Foundation for multiple residencies at the Liguria Study Center for Arts & Humanities in Bogliasco, Italy, and was granted a Bessie Schönberg Memorial Endowed Fellowship for a residency at the Djerassi Resident Artists Program. In 2017 he was named an honoree of Exploring the Metropolis after receiving an EtM Choreographer + Composer Residency, and has been granted creative residencies at the Kaatsbaan International Dance Center, Joyce SoHo, Dance New Amsterdam, White Oak Plantation, The Yard, Bates Dance Festival, Mt. Tremper Arts,
Robert Wilson
's Watermill Center, on Captiva Island via the Robert Rauschenberg Foundation, through Movement Research, the Harkness Dance Center at the
92nd Street Y
, Lower Manhattan Cultural Council, the HERE Artist Residency Program, Bainbridge Dance Center, the
Tyrone Guthrie
Center in Annaghmakerrig, Ireland, the Anderson Center, and at Yaddo where he was named for the Charles and Candace Wait Residency in 2014. Foundations and organizations that have supported his work include the New York State Council on the Arts, the
Jim Henson
Foundation, the O′Donnell-Green Music & Dance Foundation, Lower Manhattan Cultural Council, American Music Center′s Live Music for Dance Program, the International Festival Society, the Stavros Niarchos Foundation, and the Greenwall Foundation. Christopher has danced for Douglas Dunn + Dancers,
Rebecca Lazier
, Tere O'Connor Dance, Yoshiko Chuma & the School of Hard Knocks,
John Kelly
, Sally Silvers, Mina Nishimura, Michou Szabo, Yvonne Meier,
Jon Kinzel
, Renée Archibald,
Edisa Weeks
, Risa Jaroslow, Eliza Miller, Nanine Linning, Beppie Blankert, Wendy Rogers, Lisa Gonzales, Anita Cheng and Elise Knudson, and has also performed for
Peter Sellars
,
David Neumann
, Fred Ho, and
Charles Atlas
. As a puppeteer, Christopher has worked with the award-winnning master puppeteer
Basil Twist
, both serving as the Ballet Captain for the puppets' choreography as well as developing roles in his versions of the ballets "Petrushka" and "The Rite of Spring". He has also toured in the award-winning work of
Dan Hurlin
(including "Everyday Uses for Sight no. 3" and "Hiroshima Maiden"), Phantom Limb Company, and has appeared in works by puppet artists Chris M. Green, Erin K. Orr, and
Lake Simons
. Christopher was born in Washington, D.C. and grew up in Syracuse, New York where he began early studies of gymnastics, drama, music, and ballet. He earned a diploma from the Ecole Internationale de Théâtre Jacques Lecoq in Paris where he studied physical theatre, acrobatics, and mask traditions from 1996-1998, and received his Bachelor of Arts degree in 1999 from
Sarah Lawrence
College where he studied choreography with the late
Viola Farber
and puppetry with
Dan Hurlin
. He has also studied contemporary dance and ballet most notably with Jeremy Nelson, Vicky Shick, Douglas Dunn,
Rebecca Lazier
, Janet Panetta,
Lance Westergard
, John Jasperse, June Finch, and at the Merce Cunningham Dance Studio, where he received three scholarships for participation in their professional training program. He currently serves on the Artist Advisory Board for Danspace Project as well as the Artist Advisory Council for Exploring the Metropolis, and lives in Washington Heights.