New Stage Theatre Company Presents ELECTRONIC CITY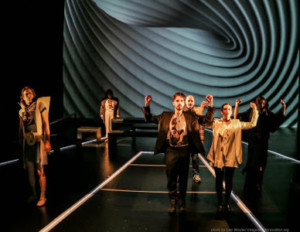 New Stage Theatre Company (www.newstagetheatre.org) will bring its signature blend of inventive choreography and striking visual design to a modernist masterpiece of German theater with its production of "Electronic City" (2003) by Falk Richter, translated by Marlene J. Norst, adapted and directed by Ildiko Nemeth. Performances are April 12 to May 10 at The New Stage Performance Space, 36 West 106th Street (basement level).
"Electronic City" is the story of Tom and Joy, who seek belonging, connection, and meaning amid lives in which living is squeezed between long-distance travel, the buffeting of instant communication and the commercial pressures of their jobs. Tom, lost and confused, and Joy, paralyzed by the constant demands of her barcode scanning job, collide at an airport gate. The two are so fully, hypnotically, and unhappily controlled by devices, mass media, and the general speed of modern life that, though they seek each other throughout the play, their finding each other on the same small stage is far from guaranteed.
The production paints the isolation and alienation of our technology-driven, image-saturated culture with a dynamic mix of projections, music, movement, and Richter's compelling text. Filled with disembodied, Siri-like voices, scrolling trolling, vapid TV news-style soundbites and humor, the production emphasizes the stark emotional contrast between human need and robotic response.
Since its premiere in 2003, "Electronic City" has been translated into over 40 languages and performed around the world. In an era defined by social networks, smartphones, and heavily edited reality TV, "It's a plea for meaningful human interaction," says director Ildiko Nemeth. She has updated Richter's original text to reflect major technological changes in the intervening years-the Siri voice, for example, is an adjustment, "representing a new type of 'virtual goddess' ruling the system."
New Stage performed an earlier version of the piece at Theater for the New City in 2016. Larry Litt, writing for New YorkTheatre Wire, characterized the production as "a social fantasy in the mode and message of Charlie Chaplin's Modern Times meets Everyman," calling it both fun and tragic. "Tom and Joy represent the difficult adjustment low and middle level workers must make to survive," he wrote. "There's no salvation, only a modern madness that can be shared."
Falk Richter (www.falkrichter.com), originally from Hamburg, is counted among the most important German playwrights and directors of his generation. His plays are produced worldwide; the best-known are "God is a DJ,." "Electronic City," "Under Ice-The Opera" and "Trust." In 2018, the French government named him a Chevalier de l'Ordre des Arts et des Lettres and German critics voted him Director of the Year in a poll by the journal Theater heute (Theater Today). His recurring themes are lost identities, the inability to communicate, loneliness and isolation in the confused media world war and politics. Characters of his plays are usually denied close ties as they renegotiate affiliation and identity. Fearing loss, yearning for self-realization, they struggle for love, closeness and belonging.
Richter's works have provoked anger and harassment from members of Germany's far right. In 2017, he prevailed in court over attempts to censor his play "FEAR" (Berlin Schaubühne, 2015). The court's ruling and the outpouring of support for Richter were considered victories for freedom of expression in a Europe increasingly threatened by extremism.
Director Nemeth shares the playwright's concern for the pulsating anxieties of modern life, where a life dominated by social media can feel like a netherworld without connection to specific real-life people. Richter is also known for incorporating multiple art forms, including music and choreography, into theatrical works; this style mirrors the approach of New Stage Theatre Company. Nemeth's production of "Electronic City" explores a sense of isolation and alienation with an original dynamic mix of projection, music, movement and Richter's compelling text.
Ildiko Nemeth, originally from Budapest, Hungary, founded the New Stage Theatre Company in 2002 to create original works, premiere works by excellent foreign playwrights in New York, and create opportunities for a multicultural group of artists. The company has developed a distinctive theater style in which visual elements are not just accessories but part of the content, powerfully conveying subconscious dimensions of the action. In productions at Clemente Soto Velez, La MaMa, Theater for the New City and Dixon Place, New Stage earned its reputation as a "daring downtown experimental group" (Irene Backalenick, Backstage) that "creates wonder for mature sophisticated audiences" (Larry Litt, NY Theatre Wire). The company's works are distinguished by their bold visual style and a compelling mix of absurdist and physical humor to deal with dark and difficult themes.
Since its inception, New Stage Theatre Company has presented 18 premieres and received 17 nominations from the NY Innovative Theatre Awards (NYITA). In 2016, New Stage received NYITA's prestigious Caffe Cino Fellowship, awarded to a company that consistently produces outstanding work. Its 2015 production of "Night (Thyestes 2.0)" by Charles L. Mee received NYITA's Outstanding Performance Art Production Award. In 2012, NYITA named the 10th anniversary of New Stage Theatre Company a "story of the year" noting, "For a decade Ildiko Nemeth has been bringing her unique brand of sophisticated, inspired and startling stage craft to NYC." The company's most recent main stage production, "Rechnitz" (2018), won praise from audiences and critics for its grappling with dark but essential themes of atrocity and complicity. "New York needs more dauntless directors like [Nemeth]," declared Jessica Rizzo in The Theatre Times.
In 2017, the company established its permanent home The New Stage Performance Space, at 36 West 106th St in Manhattan. Here it enthusiastically welcomes audiences and continues to present boundary-defying works and to support the creation of original, multidisciplinary productions that engage artists from theatre, dance, music, visual art and performance art.
"Electronic City" is directed by Ildiko Nemeth and performed by Beth Dodye Bass, Tatyana Kot, Bjorn Bolinder, Maciej Bartoszewski, Brandon Lee Olson (as Tom), Jeanne Lauren Smith (as Joy), Rikin Shah and Chris Tanner. Lighting design is by Federico Restrepo. Costume design is by Brandon Lee Olson. Projection design is by Eric Marciano and Hao Bai. Artwork is by Chris Sharp.
This program is made possible by the New York State Council on the Arts with the support of Governor Andrew Cuomo and the New York State Legislature.
This program is supported, in part, by public funds from the New York City Department of Cultural Affairs in partnership with the City Council.