Negro Ensemble Company Presents HERCULES DIDN'T WADE IN THE WATER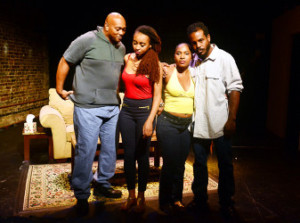 From May 16 to 27, The Negro Ensemble Company, Inc. will present the world premiere production of "Hercules Didn't Wade in the Water" by Michael A Jones. The play is winner of the troupe's 2017 Emerging Playwrights Competition. Called a "drama with comedy," it is a story of displacement of Black families and the forces that lead to it in modern America. Performances are at Theatre 80 St. Marks, 80 St. Marks Place.
It is 2005 and a young Chicago man named Tupelo has traveled to New Orleans to work hard and build up a stake so he can marry his girlfriend, Charmaine, who has been unable to tell him she is pregnant. Storm warnings are out for Hurricane Katrina. Despite these, Tupelo and his likable and naturally funny cousin, a young man named Youngblood, have gambled on reporting for a day's work due to their financial pressures. They miss meeting their boss and find themselves clinging to a rooftop, surrounded by murky water that is festering with disease, alligators and the unknown. Meanwhile in Chicago, Charmaine's cousin, Maxine, has endured the accidental death of her infant. Having split from her husband, Eugene, over the tragedy, she moves in with Charmaine just the night when Tupelo has disappeared. Separation from loved ones gnaws at each character as the play reveals their struggles for love and happiness. Charmaine must compartmentalize her anxiety over possibly losing Tupelo in order to pursue her career and drive her ambitions forward. Maxine and Eugene must master their grief in order to restore their dreams of success, their marriage and their sanity. All of this is happening in the face of one of America's greatest natural disasters. The characters are sensitively and intelligently drawn and the play dives through suspense and pathos with all of them. The two couples are ultimately reunited. Playwright Michael A. Jones calls the piece a drama with comedy, not only because it has a happy ending, but also for the comic relief provided by Youngblood's malaprops. For example, Youngblood, a callow young man, seeks inspiration in classical stories and confuses the story of Hercules with the biblical story of Sampson. (This gives the play its title.) "You laugh to keep from crying at the people's misfortunes," Jones says. The play was initially inspired by Michael A. Jones' experiences while visiting New Orleans in 2008, shortly after Hurricane Katrina, where he met a variety of people while visiting the Lower 9th Ward. Based on stories he heard, he invented the situation of two young men clinging to a rooftop in the flood and began free-associating life stories that could bring them there. These became the backstories of the two couples in Chicago, which grew to fill in the play and eventually came to its forefront. Jones found himself writing about how the two couples chase the American Dream and the interpersonal and financial obstacles that keep them from it. By selecting one of America's greatest natural disasters as the backdrop, Jones ushers us to a deep understanding of modern Black people's ambitions and destinies that is heightened by the historical moment. The actors are: SJ Hannah as Tupelo, Adrain Washington as Eugene, China Colston as Charmaine, Seven Svatomir as Maxine and Leon Morgan as Youngblood. Set design is by Chris Cumberbatch. Lighting design is by Melody A Beal. Sound design is by Jacqui Anscombe. Costume design is by
Ali Turns
. "Hercules Didn't Wade in the Water" and "Swing" by Holly Eaton were the two scripts that won the NEC's Emerging Playwrights Competition in 2016-17. The company had produced three plays, each receiving four performances at La MaMa. First place was awarded to "Hercules," which entitled Jones to a Showcase production this season. The second place award winner, "Swing," was given a development period and an additional reading. This reading will be held on Monday, May 21 at 7:00 PM at Theatre 80 St. Marks. In the play, a woman endeavors to move with her daughter to California, but cannot escape exigencies of her life in New Jersey. The piece explores what can happen when one tries too hard to run away from a past one's still living in. Playwright Michael A. Jones is also author "Josh: The Black Babe Ruth," which was presented by
Woodie King
, Jr.'s
New Federal Theatre
in 2008 and again by Theater for the New City in 2017 and 2018. His other plays include "It Takes a Village to Raise...Hell," produced by The Marian Holding Theatre; "Family Matters," produced at Pittsburgh Playwrights Theatre Company and "Angela's Justice," a play about
Angela Davis
that was presented by Theater for the New City's 2014 Dream Up Festival. His play, "The Skin I'm In," is touring the New York City public schools. He is a founding member of the Uptown Playwrights' Workshop. As an actor, Jones' credits include "A Night with
August Wilson
's Women," presented by Juneteenth Legacy Theatre at Nuyorican Poets Cafe (2010 AUDELCO winner, Outstanding Ensemble) and "Fences," presented by Morningside Players (2016 AUDELCO winner, Best Revival). Director
Charles Weldon
has been Artistic Director of
Negro Ensemble Company
, Inc. for 13 years. He has directed the company's productions of "A Soldier's Play" by
Charles Fuller
(NEC 50th season revival, 2017), "Colored People Time" by
Leslie Lee
, "The Waiting Room" by
Samm-
Art Williams
, "Savanna Black and Blue" by
Raymond Jones
, "Ceremonies in Dark Old Men" by Lonnie Elder and the workshop of "Hercules Didn't Wade in the Water" by Michael A. Jones. He has also directed and acted prolifically in regional theaters. Weldon began his performance career in 1960 as lead singer with The Paradons, a Doo-Wop group from Bakersfield, CA, and co-wrote and recorded the smash hit "Diamonds and Pearls." He performed in the original San Francisco production of "Hair" and the Broadway musical "Buck Time Buck White" with Mohammed Ali. He joined the
Negro Ensemble Company
in 1970 and acted in many of its classic plays including "A Soldier's Play," "The Great McDaddy," "The Offering," "The Brownsville Raid" and the Company's Broadway production of "The River Niger." His films include "Stir Crazy," "Serpico," "The River Niger," "Malcolm X" and Showtime's "The Wishing Tree." He has won a "HENRY" (Excellence inRegional Theater) for Best Supporting Actor in "Gem of the Ocean" by
August Wilson
and an Audelco Award for Best Supporting Actor in "Seven Guitars" by
August Wilson
at Signature Theater. His TV credits include "Roots: The Next Generation" and many NYC-based police dramas. He co-founded the Alumni of the
Negro Ensemble Company
. ABOUT THE
Negro Ensemble Company
, INC.
NEC's awards include a Pulitzer Prize (1982, "A Soldier's Play"), two Tony Awards, eleven Obies and many more. Its legacy reads like a Who's Who of America's Black theater artists. In 2009,
Signature Theatre
presented a season of readings of various plays from the NEC canon, with
Douglas Turner
Ward as curator and
Ruben Santiago-Hudson
as associated artist. Prior to the 1960s, there were virtually no outlets for the wealth of black theatrical talent in America. In 1965, Playwright
Douglas Turner
Ward, producer/actor
Robert Hooks
, and theater manager
Gerald Krone
founded The
Negro Ensemble Company
, Inc. (NEC). The River Niger by
Joe Walker
, originally produced at, St. Marks Playhouse (NEC's home theatre), moved to Broadway and was awarded 1973 Obie Awards for Distinguished Performance by
Douglas Turner
Ward; Best American Play,
Joseph A. Walker
, and Distinguished Performance by
Roxie Roker
. Other works include
Peter Weiss
' "Song of the Lucitanian Bogey" (1967), Lonnie Elder's "Ceremonies in Dark Old Men" (1969) and
Charles Fuller
's "Zooman and the Sign" (1980). In 1981, NEC mounted "A Soldier's Play" by
Charles Fuller
, which won the Pulitzer Prize. A film version, "A Soldier's Story," was released in 1984 and nominated for three Academy Awards. NEC has produced more than two hundred new plays and provided a theatrical home for more than four thousand cast and crew members. Among its ranks have been some of the best black actors in television and film, including
Louis Gossett
Jr.,
Sherman Hemsley
,
Denise Nichols
,
Esther Rolle
,
Adolph Caesar
Laurence Fishburne
,
Glynn Turman
,
Reuben Santiago
-Hudson,
S. Epatha Merkerson
, and
Phylicia Rashad
; playwrights include
Steve Carter
(intentionally lower case),
Samm-
Art Williams
,
Leslie Lee
. NEC continues to be a constant source and sustenance for black actors, directors, and writers as they have worked to break down walls of racial prejudice. Last summer, the National Black Theatre Festival in Winston-Salem, NC conferred an award on The Negro Ensemble Inc. for 50 years of excellence in theater.
Tickets: $25 General Admission; $20 Students, Seniors and Groups of 10 or more.
Box office: 866-811-4111, https://web.ovationtix.com/trs/pr/991358. Group sales 212-582-5860
PHOTO: "Hercules" by Michael A. Jones in workshop at La MaMa, directed by
Charles Weldon
, presented as part of
Negro Ensemble Company
's 2017 Emerging Playwrights Competition. L-R: Jimmy Gary, Jr.,
Brittany N. Williams
, China L. Colston,
Chaz Reuben
. Photo by
TANJA.com
.