Date of Birth: February 01, 1938
Date of Death: July 24, 2012 (74)
Birth Place: Philadelphia, PA, USA
Latest News on Sherman Hemsley
Sherman Hemsley News
Norman Lear To Receive Legend Award At The 3rd Annual African American Film Critics Association TV Honors
by Chloe Rabinowitz - Aug 9, 2021
The African American Film Critics Association (AAFCA) today announced that Norman Lear would receive the AAFCA TV Honors Legend Award as part of its Special Achievement Honoree class during the 3rd annual affair. The virtual ceremony will take place on Saturday, August 21st at 4:00pm PT/7:00pm ET.
Dominion Entertainment To Stream BLACK NATIVITY: A GOSPEL CHRISTMAS MUSICAL EXPERIENCE
by Chloe Rabinowitz - Dec 16, 2020
The pandemic has not stopped the producers of the hit holiday musical Black Nativity from bringing their production to audiences around the world. Black Nativity: A Gospel Christmas Musical Experience is known for sold out performances in Atlanta, and cities in the southeast, will return this year as a streamed theatrical concertized performance.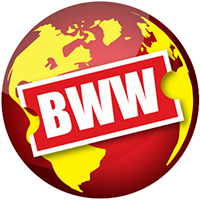 The Royal Alex To Dim Marquee Lights To Honour Salome Bey On September 15t
by Stephi Wild - Sep 14, 2020
The Royal Alex will dim its marquee lights to honour Salome Bey on Tuesday, September 15th, 8 PM.
REAL to REEL Honors Michael Feinstein With Special Guest Kristin Chenoweth
by Chloe Rabinowitz - Jun 10, 2020
The Hollywood Museum in partnership with Los Angeles City Councilmember Mitch O'Farrell will present REAL TO REEL LIVE (VIRTUAL EDITION 2020). Michael Feinstein will be receiving the Inspiration Award, and Kristin Chenoweth will be appearing as a special guest.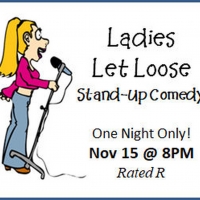 Anita Wise, Mary Dimino, Judy Cianciotto, Chris Rich Come to Pax Amicus Castle Theatre in LADIES LET LOOSE
by Stephi Wild - Nov 15, 2019
Jodi Weiner will present Ladies Let Loose at the Pax Amicus Castle Theatre this Friday November 15th starring Chris Rich, Anita Wise, Mary Dimino and Judy Cianciotto.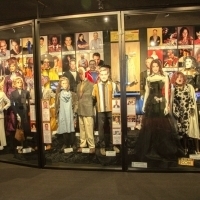 Photo Flash: Inside the Opening Gala For the 'Real To Reel: Portrayals and Perceptions of LGBTs in Hollywood' Exhibit
by Stephi Wild - Jul 6, 2019
Donelle Dadigan, Founder and President of The Hollywood Museum in partnership with Los Angeles City Councilman Mitch O'Farrell (CD13), proudly unveiled the 2019 salute to the LGBT community's contributions to the entertainment industry last night to launched Los Angeles' Gay Pride weekend festivities.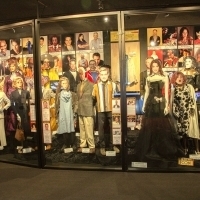 Photo Flash: Hollywood Museum & Councilman Mitch O'Farrell Present REAL TO REEL: PORTRAYALS AND PERCEPTIONS OF LGBT'S IN HOLLYWOOD
by A.A. Cristi - Jun 7, 2019
Lily Tomlin, upon accepting her award, remarked 'My partner Jane and I are honored and want to thank you for this award. It is amazing to see this whole outpouring for the LGBT community. Jane, couldnt be here tonight, but asked that I share her remarks 'We love the thought of being called Trail-Blazers. It makes us feel current and something out of Marvel Comics.'  Neither of us has a good sense of direction, so we thought being called trail-blazers implies that we somehow new where we were going. So thank you for thinking of us as trail-blazers, rather than as museum pieces.  Of course, there were times, Im afraid, we got lost on that trail and were more bewildered than blazing.  We are still blazing, but we have had to cool down a bit. After all, we need to take care not to add to global warming.'

Charles Weldon, Artistic Director Of Negro Ensemble Company, Dies At 78
by Julie Musbach - Dec 14, 2018
Actor/Director Charles Weldon, who was Artistic Director of The Negro Ensemble Company (NEC) since 2005, died December 7 at Mt. Sinai Hospital, NYC. He was 78.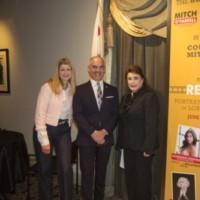 Photo Flash: The Stars Come Out in Support of LGBTQ Community and to Honor Stephanie Beatriz and Julie Newmar
by Stephi Wild - Jun 9, 2018
President/Founder of The Hollywood Museum, Donelle Dadigan, along with Council Member Mitch O'Farrell and Board President Esteban Montemayor of Christopher Street West, kicked off Pride weekend with the annual 'Real to Reel' exhibit that shines the spotlight on the Lesbian, Gay, Bisexual, and Transgender (LGBTQ) community in television and film through the decades. This year's event also feature a special recognition with The Future of Hollywood Award presented to actress Stephanie Beatriz and the Legacy Award to TONY Award winning actress, Julie Newmar.

Comedy Night At Playhouse On Park Returns, Today
by BWW News Desk - May 19, 2018
Playhouse on Park continues its Season Nine Comedy Series, presented by Series Sponsor Shop Rite, today, May 19 at 8pm. Tickets are now on sale for the show featuring co-headliners Chris Rich and Corey Manning.   As a result of winning the prestigious Ladies of Laughter Contest, a national comedy competition held at Caesar's Palace, Chris was give a long-running spot on Comedy Central's Premium Blend. She's also appeared as a featured comedian on ABC's 'The View.' She's worked with Jerry Seinfeld, Sherman Hemsley, Joy Behar, Gilbert Gottfried, Roseanne, and Tony Danza, to name a few.
Sherman Hemsley Frequently Asked Questions
How many Broadway shows has Sherman Hemsley been in?
Sherman Hemsley has appeared on Broadway in 2 shows.
How many West End shows has Sherman Hemsley been in?
Sherman Hemsley has not appeared in the West End