Little Lord's SKINNAMARINK To Premiere March As Part Of Next Door At NYTW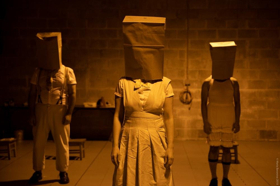 Little Lord presents the world premiere of their most ambitious work to date, SKINNAMARINK, as part of Next Door at NYTW. Part recess, part ritual, part recruitment, SKINNAMARINK is an absurd and vicious take on American education and indoctrination. Directed by Michael Levinton, SKINNAMARINK, running March 8-23 with an opening set for March 13, will transform the Fourth Street Theatre (83 East 4th St, Manhattan) into a one-room schoolhouse of horrors.
SKINNAMARINK is based on the McGuffey's Eclectic Readers, a series of elementary school reading books that were widely used in American schools beginning in the 1830s with more than 122 million copies reputedly sold by 1925. Pre-dating the pastel-colored world of Dick and Jane, these brutal little readers helped shaped the minds and behaviors of Americans for generations. Some are reportedly still used today (yes, today!).
"The simple, rich language of these primers and their blatantly moralistic underpinnings equally fascinated and frightened us," says Little Lord's Michael Levinton. "They quickly launched us to question our current mess of American belief systems: How were we taught to read? To think? To behave? How were we punished? What is our relationship to authority? To discipline? And to shame? In the end, SKINNAMARINK questions what kind of people are the most useful in society... and how we handle the rest."
The cast for SKINNAMARINK includes Kaaron Briscoe, Joshua William Gelb, Fernando Gonzalez, Polly Lee, Michael Levinton, Meg MacCary, Morgan Lindsey Tachco, and Kate Weber.

The production team for SKINNAMARINK includes Marika Kent (scenic design), Karen Boyer (costume design), Cha See (lighting design), Joseph Wolfslau (sound design), Whitney G-Bowley (choreography), Kaitlin Nemeth and James Wyrwicz (production stage managers), Daniel Allen Nelson (production management), Brittany Coynes (associate producer), Morgan Lindsey Tachco (creative producer), and Michael Levinton (artistic director).
Little Lord is an ensemble of experimental performance makers led by Michael Levinton. Aggressively reinterpreting classic, neglected, and found texts, Little Lord plunders the literary canon in order to forge new plays from old parts. Little Lord holds a funhouse mirror up to our shared cultural memories in order to challenge and delight audiences with the possibilities of the theatrical form.


Performances of SKINNAMARINK will take place March 8-23 at the Fourth Street Theatre, located at 83 East 4th St in Manhattan. Critics are welcome as of March 8 for an official opening on Wednesday, March 13. Tickets, which are $25 for previews and $30-$40 for regular performances, are available online at littlelord.org, by phone at 212-460-5475, or in-person at the NYTW Box Office. Standard ticketing fees apply. New York Theatre Workshop members and donors receive discounted tickets for the Next Door at NYTW series.
Photo Credit: Maria Baranova