Click Here for More Articles on DANCE - THEATER
Kyoung's Pacific Beat to Bring PILLOWTALK to The Tank This Winter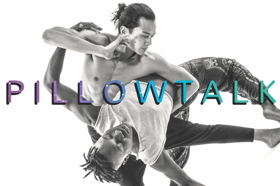 The Tank will present the World Premiere of PILLOWTALK by Kyoung's Pacific Beat written and directed by Kyoung H. Park and presented as part of The Exponential Festival at The Tank (312 West 36th Street between 8th and 9th Avenues), January 11-27.
Performances will be Thursday, January 11 at 8pm, Friday, January 12 at 4:30pm & 8pm, Saturday, January 13 at 3pm & 8pm, Monday, January 15 at 8pm, Wednesday, January 17 at 8pm, Thursday, January 18 at 8pm, Friday, January 19 at 8pm, Saturday, January 20 at 3pm & 8pm, Wednesday, January 24 at 8pm, Thursday, January 25 at 8pm, Friday, January 26 at 8pm, and Saturday, January 27 at 3pm & 8pm. Tickets ($25) are available for advance purchase at www.thetanknyc.org. The performance will run approximately 75 minutes, with no intermission.
Set in Brooklyn 2017, PILLOWTALK brings to life one night in the lives of Sam and Buck, a recently married interracial couple. Through a formal exploration of theatrical naturalism and the codified gender norms of ballet's pas de deux, PILLOWTALK queers the intersections of race, gender, and class to challenge our assumptions of love and marriage. Confronting the backlash against marriage equality and #BlackLivesMatter, PILLOWTALK explores how liberation and oppression co-exist in our most intimate spaces, transforming social and cultural traditions into radical performances of change.
PILLOWTALK is performed by JP Moraga (Street Children with Vertigo Theater at The New Ohio, NYTimes Critic's Pick) and Basit Shittu (Next Faggot Nation at HERE), two queer men of color, in a play written and directed by Kyoung H. Park (Artistic Director of Kyoung's Pacific Beat) with choreography by Katy Pyle (Artistic Director of Ballez), live music by Helen Yee (Miss Julia at LaMaMa), sound design by Lawrence Schober (Primary with Sanguine Theatre Company; Asking for Trouble at EST), set and lighting design by Marie Yokoyama (Three Trees with Pan Asian Rep; We in Silence Hear a Whisper with Red Fern Theatre), costume design by Andrew Jordan (Christopher Williams' Il Giardino d'Amore at Danspace Project) , and dramaturgy by Jess Applebaum (One Year Lease).
"We are so thrilled to be kicking off our spring season with PILLOWTALK" said The Tank's Artistic Director Rosalind Grush. "The multi-disciplinary nature of the piece opens up stunning possibilities for human expression on topics that are vital, urgent, and deeply relevant to the larger conversations that we are having as a society now about how we can love each other. We could not be prouder to be providing a home for this important project and a platform for these incredibly talented voices to share this story."
"PILLOWTALK is an extraordinarily vital work of art, and its relevance has only deepened since we saw a workshop version last spring" said Nic Adams of The Exponential Festival. "What we loved about the play is its expert balance of the personal and the political, its fluid dance between performance styles, its queering of the classic American drama and the pas de deux, not to mention the bravura acting, writing...alright, everything. We loved everything about it. The Exponential Festival is proud to present this work with Kyoung's Pacific Beat and The Tank during the winter festival season."
Kyoung H. Park (Playwright/Director) was born in Santiago, Chile and is the first Korean playwright from Latin America to be produced and published in the United States. He is author of Sex and Hunger, disOriented, Walkabout Yeolha, Tala, and many short plays including Mina, which is published in Seven Contemporary Plays from the Korean Diaspora in the Americas by Duke University Press. Kyoung writes and directs his own work as Artistic Director of Kyoung's Pacific Beat, a peacemaking theater company. He is a member of the Ma-Yi Writer's Lab, NYTW Usual Suspect, co-founder of The Sol Project, and serves in the Dramatist Guild's Devised Theater Committee. Fellowships: Creative Mellon Fellowship, Field Leadership Fund, Edward Albee Foundation, Theater of the Oppressed j(Brazil), Target Margin Theater Inst. for Theater-Making; grants: Arvon Foundation (UK), GK Foundation (South Korea), Foundation for Contemporary Arts, TCG Global Connections, Princess Grace Special Projects; residencies: Baryshnikov Arts Center, LaGuardia Performing Arts Center, BRIC Arts Media Center, Performance Project @ University Settlement, Vermont Studio Center; 2010 UNESCO Aschberg-Laureate. Kyoung has been a grant panelist for the NEA, TCG, and ART/NY. MFA: Playwriting (Columbia University).
Kyoung's Pacific Beat is a peacemaking theater company based in Brooklyn, New York, which promotes a culture of peace through the production of new works of theater written and directed by Kyoung H. Park. KPB develops its work over the course of multiple years, in collaboration with artists from different cultures and different disciplines. During this process, KPB researches and engages in local communities to explore personal and communal experiences of oppression and transforms these stories through radical experimentations with theatrical forms, bringing together like-minded individuals that believe peace matters. Learn more at www.kyoungspacificbeat.org.
The Tank is a non-profit arts presenter serving emerging artists engaged in the pursuit of new ideas and forms of expression. We serve over 1,000 artists every year in over 400 performances, and work across all disciplines, including theater, comedy, dance, film, music, public affairs, and storytelling. Our goal is to foster an environment of inclusiveness and remove the burden of cost from the creation of new work for artists launching their careers and experimenting within their art form. The heart of our services is providing free performance space in our 98 seat proscenium and 56 seat blackbox that we operate in Manhattan, and we also offer a suite of other services such as free rehearsal space, promotional support, artist fees, and much more. We keep ticket prices affordable and view our work as democratic, opening up both the creation and attendance of the arts to all. Since its founding in 2003, artists who have come through The Tank include Alex Timbers, Amy Herzog, Lucy Alibar, Mike Daisey, Reggie Watts, Kyle Abraham, Andrew Bujalski, We Are Scientists, and tens of thousands of others. Go to www.thetanknyc.org.
The Exponential Festival presents and promotes theatrical performances created by New York-based artists and exhibited across Brooklyn and Manhattan. Since 2016, Exponential has partnered with artists and venues like Title:Point, The Brick, Darian Dauchan, The Bushwick Starr, Banana Bag & Bodice, Vital Joint, Eliza Bent, Chez Bushwick, BOOM BAT GESTURE, Triskelion Arts, Designated Movement Company, The Glove, Megan Hill, JACK, LMnO3, CPR, Witness Relocation, Oye Group, and Kate Benson/Lee Sunday Evans. We celebrate the increasing growth and importance of unique venues and local artists, working together to keep theatre kicking. Visit www.theexponentialfestival.org for more information.