HENRY V Goes Once More Unto The Breach At The ATA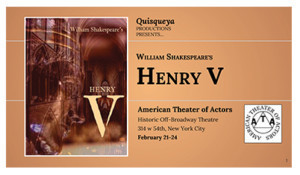 Quisqueya Productions presents a limited showing of a re-imagined version of Shakespeare's HENRY V. Shakespeare's definitive parable of war and warriors will directed by Broadway veteran, Mary Lou Rosato, at the legendary American Theatre of Actors - one of the last great theaters of the famed off-off Broadway movement - for a special limited run, February 21 - 24 (Thursday - Saturday @ 7:30 p.m. with special matinees on Saturday & Sunday @ 2:00 p.m. - Invited previews start Feb 18) The ATA is located at 314 W 54th St, New York City. Tickets available at https://www.smarttix.com/Event/hen393
Presented in contemporary dress with allusions to period style, Quisqueya Productions hopes to show - in this stunning new production - the duality of mankind; the eternal battle between modern thinking and warlike desires. Producer/performer, Laris Macario, who appears as Henry was quoted as saying "Henry gets caught up in his own legend ... as we all do," Macario has accepted the challenge of playing several of Shakespeare's men of conviction, who see their missions as a way to justify a place on the throne and, in many respects, come closer to God. Others in his canon are Marc Antony in Julius Caesar and Lucius in Titus Andronicus leading the pack. "In these uncertain times, the story of a valiant soul leading the common man to victory is that much more necessary," he concluded.
Broadway luminary, Roger Rathburn appears in the production as the Archbishop of Canterbury and the King of France. Rathburn was seen on Broadway in No, No, Nanette, Five O'Clock Girl; OB: Children of Adam; Las Vegas: Mame; among others. His own canon of appearances in Shakespeare include The Tempest (Gonzalo and Prospero), Henry IV, Hamlet, As You Like It (Corin, Adam).
Helming the production is another Broadway notable: Mary Lou Rosato with credentials including A Midsummer Night's Dream, Measure for Measure, Merry Wives of Windsor, Hamlet and Henry V; with non-Bardian Broadway works including Salome in the first Broadway production of The Robber Bridegroom; Once Upon A Mattress, The School For Scandal, The Suicide, The Inspector General, The Three Sisters, The Time Of Your Life, Edward II, and The Beggar's Opera.
The ensemble cast includes, Sylvain Panet-Raymond, Sam Tilles, Julian Evans, Megan Smith, Kaitlyn Farley, Joe Penczak, Jared Kirby, Patrick Hamilton, Yosef Podolski, Diego Tapia, Mark Guerette, Suzanne Kennedy, and Tom Kalnas.