Ed Asner Presents Susan Campanaro as Lavinia Draper in MISSING PERSON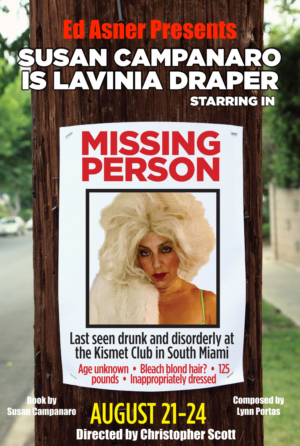 Ed Asner will present Missing Person, a play with music starring Susan Campanaro composed by Lynn Portas with book by Ms. Campanaro for 5 performances only (August 21-24) at The Playroom Theater (151 West 46th Street- just east of Broadway).
Missing Person is the boozy tale of Lavinia Draper, fallen socialite and one-time Broadway understudy of Betty Buckley, who is eternally chasing her boozy dream of becoming an entertainer. The story begins with Lavinia waking up from a black out in a holding cell in South Florida on a public intoxication, drunken disorderly charge. This is a cautionary tale of a woman whose dreams have repeatedly been deferred by self-inflicted victimization and a sabotaging addiction to drama. She finds herself once again trapped by her own dysfunction, but this time she is actually missing a real opportunity to finally prove herself as an entertainer.
Directed by and developed with Christopher Scott, the evening is choreographed by Dance Molinari.
The performance schedule is: Wednesday, Thursday, Friday at 8pm and Saturday at 6:30pm & 9pm. Tickets are $30 and will be available at the door (cash only). For more information, please call Maximus Productions at a??(646) 593-7303a??.a??
Missing Person recently completed a workshop in April at The Susan Batson Studio Theatre.
Susan Campanaro (Book/Performer) is a New York City based actor, writer, entertainer and director. Most recently she was Sophia in The Golden Girls Musical Parody: World Pride Edition. Her one woman musical: Missing Person is an original play that features the New York City Nightlife character Lavinia Draper. Lavinia, a boozy ex-Broadway understudy from Cats, was an original creation from the mind of Susan. For the past 20 years she has performed weekly as a headline entertainer in the Gay Nightlife in New York City, Cherry Grove, Fire Island and Wilton Manors, Florida. Her other off-Broadway credits include Tony n' Tina's Wedding, Cowboy Mouth, Aunt Chooch's Birthday Party, My Big Gay Italian Wedding /Funeral and Wild Mushrooms. She also starred in and directed the Off-Broadway show, All Dolled Up. Susan stars in and directed a short film, The No Matter What Club that will be premiered during the Reel Recovery Film Festival this year in Los Angeles and New York City. Film/TV Credits: Barrio Boy, Window Dressing, Miami or Bust: A Hoboken Bet, Real with Me, Summer of Sam, Sopranos and Autopsy. Susan teaches improvisation and acting at Susan Batson Studio, Dance Molinari and Orlando Reparatory. In addition, she is a Creative Mentor at Road Recovery. Susan is passionate about cultivating talent and has developed and directed numerous one person shows. AEA/SAG/AFTRA, Florida State University BA Theater.
Lavinia Draper was brought up with a silver spoon in her mouth as a Palm Beach socialite from the law family of Draper, Draper, Draper and Curtain. She ran away from a life of privilege to pursue a career as a showgirl at Circus Circus Casino in Las Vegas. She sang at Slots of Fun Lounge and entertained high rollers in the penthouse suite of the Riviera. She has been a featured atmospheric actor on "The Love Boat," "Fantasy Island," and "Eight Is Enough" where she met her idol Betty Buckley. She was Ms. Buckley's stand-in for the film Carrie, which led her to be one of her standbys in Cats. She was released from her contract and became a sensation in the NYC nightlife scene. With her underground fame she was able to land entertainer jobs at the Ice Palace on Fire Island, The Stonewall, The Duplex and Therapy. She has been seen at the speakeasy exit of The Stonewall each Gay Pride for the past 40 years. She is now pursuing a career as a lounge singer at The Colony Hotel in her hometown of Palm Beach.
Lynn Portas (Composer/Lyricist/Performer) was the musical director of the NYC production of Tony and Tina's Wedding, where she worked with Susan Campanaro for several years in New York and on tour. Lynn is the sole creator of the original "EmusiApp" which sends musical text messages on Apple and Android devices. She is the composer of the musicals 108 Waverly and The First Time (book and lyrics by Dan Clancy). She has scored several films and performs nightly as a pianist and vocalist.
Christopher Scott (Director) Artistic Director, Masterworks Theater Company, Artistic Associate: Amas Musical Theater. Off-Broadway: God Shows Up, The Glass Menagerie, A Class Act, Nancy Friday's My Secret Garden, Golf: The Musical, For Lovers Only Tails, The Big Bang, Greed... NYC: 1st Irish Festival; 59E59; NYC Fringe, NYMF; Actor's Studio PDW. Acting: Broadway, Off -Broadway, Tours, Regional. Teaching: NYU, Baruch, Michael Howard Studio, Member SDC. Graduate: Boston Conservatory.
Dance Molinari/ NYC Chicago/Los Angeles - Janine Molinari, Artistic Director (Choreography) Now in their 19th year, Dance Molinari (DMO) is a company that trains young professional artists for Broadway, National Tours, Films, TV and the music industry. DMO consists of master class instructors, directors, choreographers, writers, video photographers, editors, cabaret artists and producers.