Columbia University School of the Arts Presents HADRIAN & ANTINOUS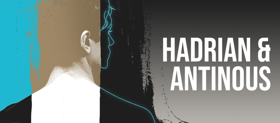 Columbia University School of the Arts presents Mark Barford's (Columbia MFA Directing Candidate 2019) production of Hadrian & Antinous.
Beneath an endless sky, young Antinous searches the heavens for a sign of what his future will hold. His next test - an uncertain journey to a distant shore - will prove to be his greatest yet. For when this insignificant page from Greece meets Rome's most powerful man, their love will turn the world.
Hadrian & Antinous unearths an ancient story, adds a modern voice and speaks to what it is to love, to mourn, and to remember those who have been forgotten.
FEATURING
Jack Becker, Sarah Chapin*, Drew Gardner, Seth Hatch, Ezra Li, Kohler McKenzie*, Uma Paranjpe, Andres Robledo*, Joey Santia, Tricia Sorresso, Kelly Strandemo*, and Kiana Wu.
* Appearing courtesy of Actors' Equity Association
PRODUCTION TEAM
Producer Sami Pyne, Dramaturg James Monaghan, Production Stage Manager Alison R. Simone*, Assistant Stage Managers Robbie Armstrong and Emily Todt, Lighting Designer Jenn Burkhardt, Scenic Designer Sarah Nietfeld, Costume Designer Summer Lee Jack, Sound Designer Matt Coggins, Composer Theo Teris, Projection Designer Ted Boyce-Smith, Choreographer Daxx Jayroe Wieser, Company Manager Yuchen Xia, and Graphic Designer Annie Jin Wang.
Hadrian & Antinous is written by Mark Barford (Directing Candidate "19) and Anna Jastrzembski (Playwriting Candidate "19) and will run for a strictly limited engagement at The Lenfest Center for the Arts at 615 W. 129th St. Performances are March 27-30 at 8pm, with a 2pm matinee Saturday, March 29.
Tickets: $15 General Admission/ $5 Seniors/ FREE with any Student ID (enter code: "BLOOMS").
Ticketing Info: https://lenfest.arts.columbia.edu/events/directing-thesis-hadrian-antinous
Director: Mark Barford
Mark Barford is an Australian stage director, writer and teacher based in New York City. He specializes in the development of new work and the reimagining of classics. Most recently he worked with director Barrie Kosky on La Boheme at the Komische Oper in Berlin and with Ivo van Hove on Network at the Belasco on Broadway.
His recent directing credits include the award-winning production of F*cking Men at The Vaults London, Edinburgh Fringe Festival (Assembly Festival), International Dublin Gay Theatre Festival, and The King's Head Theatre London (multiple sold-out seasons).
As resident director for The Music Theatre Company of W.A/ ICW productions, he directed large-scale productions of The Phantom of the Opera, The Sound of Music, The Mikado, CATS, and Company.
Other directing/writing highlights include: antidote (Croatian National Theatre), Hadrian & Antinous, King Richard II, The Cherry Orchard, Freddie, Dark Meat, The Only Living Boys in South Jersey, Hillary & Monica, The Cat in the Box, and Never Mind the Monsters.
He is a graduate of the Acting Shakespeare program at The Royal Academy of Dramatic Art and holds a Bachelor of Arts (Film & Theatre) and Graduate Diploma of Education (Secondary Teaching) from Murdoch University. Mark is currently completing an MFA in Theatre Directing at Columbia University under the tutelage of Anne Bogart and Brian Kulick. www.markbarford.com
The Oscar Hammerstein II Center for Theatre Studies at Columbia University School of the Arts presents a season of thesis acting and directing productions as well as a festival of new plays by emerging playwrights each year. The Theatre Program at the School of the Arts offers MFA degrees in: Acting, Directing, Playwriting, Dramaturgy, Stage Management, and Theatre Management & Producing. For more information about the Theatre Program, visit http://arts.columbia.edu/theatre.