CONTACT HIGH: An Original New Musical Comes to Theater 511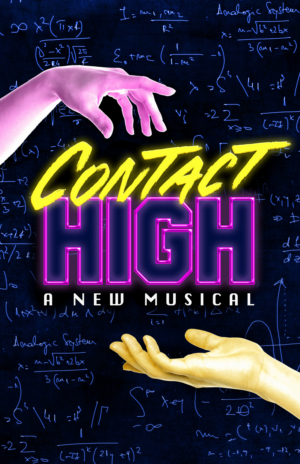 CONTACT HIGH, an original new musical with book, music and lyrics by Kyle Reid Hass and Jeremy Swanton is slated for a limited engagement run August 15th - September 7th at Theater 511, 511 West 54th Street. The official press opening night is on Thursday, August 22nd. Mr. Hass also directs the production. Musical direction is by Emily Erickson.
CONTACT HIGH tells the compelling story of the unlikely friendship between two high school seniors: Jean Simon - a drug dealer and recovering heroin addict and Haley Walter Keys - a misunderstood teen genius with a severe phobia of physical human contact. The production draws its inspiration from the teen angst musicals that got the creators through high school and is a testament to the resilience one can find in the hope of a better tomorrow. www.contacthighmusical.com
CONTACT HIGH is not only a story about coming of age, but about coming of age today. The show addresses the heroin epidemic among American high schoolers, particularly in the Midwest. It deals with the stigmas surrounding mental health and the isolation a student might feel while struggling to overcome these stigmas. The climax of the show touches on the subject of gun violence in American high schools, especially the notion that teachers should be armed with guns as a solution to the recent outbreak of school shootings. "We've tried to tell a story young people in 2019 can relate to - giving dignity, strength, and eloquence to our characters 18 and under" says Hass.Co-Creator
Jeremy Swanton
adds that "as 23-and-22-year-olds, we remember graduating high school not so long ago, and we've seen things grow even scarier for young people now than they were then. We're trying to write the musical we could have used in high school. We hope the show can inspire and bring hope to young people - that someone might come to the show and think, "I'm not alone."The cast of CONTACT HIGH features
Gabriella Marzetta
,
Kyle Reid Hass
,
Laura Thoresen
,
Jeremy Swanton
,
Dana Norris
, Iyana Colby,
Johnny Rabe
(Ralphie, A Christmas Story OBC), Erika Reyes, Keith Mankowski and Nathaniel Peart.CONTACT HIGH features lighting design by Andrew Garvis.
Ellie Handel
is the Production Stage Manager.CONTACT HIGH began as a short screenplay written by
Kyle Reid Hass
in high school, entitled The Science Fair. In 2016, he drew from the plot and characters from The Science Fair as inspiration for a stage musical. The musical received a reading that same year, after which
Jeremy Swanton
came on board as co-writer. One year later, a workshop production of the show opened under the name Science Fair: A Game-Changing New Musical at Theatre Row's
Studio Theatre
. In 2018, Kyle and Jeremy presented songs from the show at Feinstein's/54 Below and began work on a cast recording of the musical while the latest draft was still in development. The album, Contact High: A New Musical, was recorded in their apartment and released in March, 2019 to streaming services (Apple Music, Spotify, Google Play etc). In April of 2019, the musical was sponsored for a one-night-only production in Northbrook, Illinois by SunCloud Health, an outpatient treatment center specializing in recovery from substance abuse. After the performance, a talkback was conducted by the creators of the show and representatives from SunCloud in an effort to fight the stigmas surrounding drug addiction and mental health. CONTACT HIGH will run Off-Broadway at Theater 511 August 15th-September 7th.
Kyle Reid Hass
(Book, Music, Lyrics, Director) is a playwright/composer/lyricist, performer, and director. A co-founder of
Passion Projects Theatre
Company, Kyle and his tight-knit community of collaborators strive to bring theatre to the community that is inspired by - and inspires - a love for the craft. He is one half of the musical theatre writing duo, Hass and Swanton. You can learn more about his collaborations with
Jeremy Swanton
by visiting
www.hassandswanton.com
or the Hass and Swanton YouTube Channel.
Jeremy Swanton
(Book, Music, Lyrics) is a playwright/composer/lyricist and performer. Jeremy is a graduate of the Performance Studies Department at NYU. In 2018 he was the recipient of the Undergraduate Performance Studies Award. He is the Co-Founder of
Passion Projects Theatre
Company and is one half of the musical theatre writing duo, Hass and Swanton. You can learn more about his collaborations with
Kyle Reid Hass
by visiting
www.hassandswanton.com
or the Hass and Swanton YouTube Channel. Performances of CONTACT HIGH are Mondays and Tuesdays at 8PM, Wednesdays at 2PM and 7PM, Thursday and Fridays at 8PM, and Saturdays at 5PM and 9PM. There are 28 performances in total. The running time is two hours (which includes the intermission). There are 21 performances in total.General Admission tickets are $42 and premium seating is available for $77. They are available for purchase online at
https://ci.ovationtix.com/35107/production/1014717
or at the box office prior to each performance.
More Hot Stories For You