Review: SIDEWAYS THE EXPERIENCE at NYC's Theatre at St. Clement's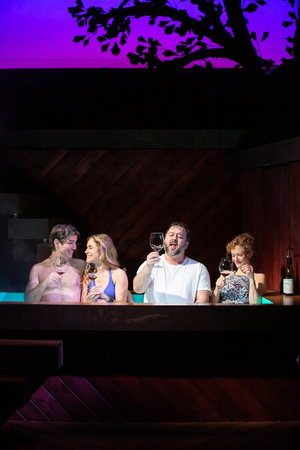 Remember the movie that shamed you for liking merlot? Well, Sideways is back but now you can get shamed from the stage. The Off-Broadway comedy, Sideways The Experience, recently opened in New York City at Theatre at St. Clement's, bringing with it lots of laughs and appreciation for wine.
We follow Miles (Brian Ray Norris), as he grapples with his iffy writing career and his weakness for a good pinot, while heading to Wine Country with his womanizing and recently engaged pal, Jack (Gil Brady). What is thought of as a last hurrah binding moment before Jack's wedding, turns out to be a wild fiasco with plenty of highs and lows, and ample amount of drinking.
But even when Jack's promiscuity knock him smack in the face, and Miles' career (and love life) is in shambles, the two always have each other, no matter how big the mess. Their friendship never ends and neither does their love for fine wine.
And speaking of wine, there's plenty of it if you choose the proper ticket option. There are three tiers of prices starting at $55 for entrance only into the play. If you go (and are a bonafide wino like Miles), stick to the VIP experience that gives you a food and wine pairing with bottomless wine options. Plus, the duck pot pie is a savory must-try.
Sideways The Experience is now extended until Sunday, May 24th at Theatre at St. Clement's in New York City.
Photo Credit: Jeremy Daniel