Anthony J. Piccione Brings Greed, Corruption, Politics, and REVOLUTION to the Stage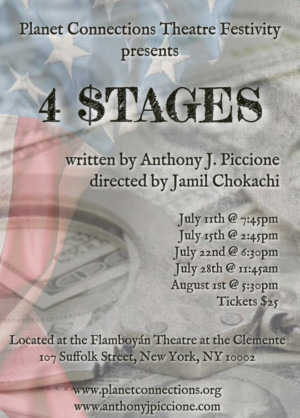 Acclaimed playwright Anthony J. Piccione brings us the four stages of how this country got where it is today in his latest production...
4 $tages, Part of the 10th anniversary season of Planet Connections Theatre Festivity
at the Flamboyan Theater at the Clemente, 107 Suffolk Street, NYC (btw Rivington & Delancey) will run Wednesday 7/11 @7:45pm-9:15pm; Sunday 7/15 @2:45pm-4:15pm; Sunday 7/22 @6:30pm-8pm; Saturday 7/28 @11:45pm-1:15pm; Wednesday 8/1 @5:30pm-7pm
Playwright/Producer Anthony J. Piccione is EVERYWHERE and now he's part of the Planet Connections 10th Anniversary season with a movement-based, abstract journey through America's 40-year economic decline.
4 $tages is an avant-garde drama in one-act striking at the core of some of the biggest issues facing American society in the 21st century. This multi-layered tome of greed, corruption, and revolution explores the fundamental issues plaguing the American political and economic systems - from wealth inequality and corporate greed to runaway imperialism. Come and learn what the 4 stages of how we made America "great" actually are...along with the possibility of where this journey will take us.
Anthony J. Piccione is an award-winning playwright whose eclectic canon of one-acts have previously been presented in NYC at the Midtown International Theatre Festival, the Hudson Guild Theatre, and Manhattan Repertory Theatre, as well as regional venues such as Playhouse on Park, Hole in the Wall Theatre, the Windsor Art Center, and Windham Theatre Guild. His full-length drama A Therapy Session with Myself received a staged reading at the Dramatists Guild Foundation this past October, with a full production being planned for the near future, while his one-act drama What I Left Behind was recently named the NYWinterfest's Best Short Play of 2018. His work as a playwright has been published at Heuer Publishing, and his articles and reviews have been frequently published at OnStage Blog. Visit www.anthonyjpiccione.com to learn more. Tickets and further info: planetconnections.org/
This summer, Planet Connections Theatre Festivity (PCTF), the brainchild of arts professional Glory Kadigan, turns 10 years old. In that decade, PCTF has successfully changed the landscape of the theatre festival and all of New York independent theatre. The multi-award-winning theatre festival will celebrate in a big way by premiering more than 50 timely and topical plays and musicals written by the next generation of playwrights. Each play contains a powerful message serving as a parable of various world themes. The Tenth Planet: Planet Connections Theatre Festivity will run fromJuly 9 through August 5, 2018 at The Clemente, 107 Suffolk Street, NYC.www.planetconnections.org. Artists presenting works from all across America, including Denver, Los Angeles, New Orleans, Providence and New York City; and from all over the planet, including Japan, Yugoslavia, Russia, Peru, France, Belarus, & Haiti are part of this years festivity.
A defining facet of PCTF is its truly tangible connection to the world. Each artist within each season uses their work to shed light on causes that matter and inspire audiences to get involved. PCTF's artists raise awareness - and funds - for a charity of their own selection. Furthering its message, PCTF is the country's first eco-friendly arts festivity, providing green marketing and promotional materials and supporting sustainable design production practices.
Related Articles View More Off-Off-Broadway

Stories

Shows
More Hot Stories For You