Click Here for More Articles on SHAKESPEARE SPOTLIGHT
Schaubuhne Berlin's Gritty RICHARD III Arrives at BAM Tonight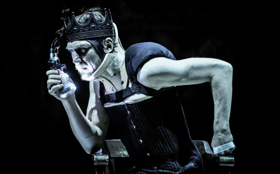 Reimagining Shakespeare's rabidly ambitious king with a confrontational interpretation, Thomas Ostermeier returns to BAM with Richard III, running tonight, October 11, through October 14 at BAM's Harvey Theater.
The influential German director and artistic head of Berlin's Schaubühne Theatre turns Shakespeare's study of evil into a gritty, unflinching spectacle. The full-throttle adaptation is set in a mud-splattered arena, designed by Jan Pappelbaum, where glitter falls from the sky as a club-footed sociopath stalks the stage. Playwright Marius von Mayenburg converts Shakespeare's poetic pentameter to forthright prose and Lars Eidinger portrays the antihero as part rock star, part ghoulish comedian.
The production isn't restricted to the demonization of one man - it is also a portrait of a powerful elite torn apart by internal strife, out of whose midst a perverse dictator emerges.
Ostermeier contends that Richard's monstrosity is not exceptional, but rather representative of our most basic human instincts. "The true horror of watching Richard III" says Ostermeier, "should be the recognition that what we see is actually a visit to our very own innermost abyss."
IF YOU GO:
Richard III
By William Shakespeare
Translation and adaptation by Marius von Mayenburg
Schaubühne Berlin
Directed by Thomas Ostermeier
Set design by Jan Pappelbaum
Costume design by Florence von Gerkan in collaboration with Ralf Tristan Sczesny
Music by Nils Ostendorf
Video by Sébastien Dupouey
Dramaturgy by
Florian Borchmeyer
Lighting design by Erich Schneider
At BAM Harvey Theater (651 Fulton St.)
Oct 11-14 at 7:30pm
Tickets start at $35
In German with English titles
Iconic Artist Talk: Thomas Ostermeier
In conversation with Branden Jacobs-Jenkins
Oct 12 at 6pm
BAM Rose Cinemas (30 Lafayette Ave)
$25 General Public; $12.50 for BAM Members
Thomas Ostermeier was born in 1968 in Soltau. He began his theatrical career in 1990, acting under director Einar Schleef in his Faust project at Berlin's Hochschule für Künste. After the project concluded in 1991, Ostermeier began studying directing at the Ernst Busch Academy of Dramatic Arts in Berlin, where he met his mentor Manfred Karge. Ostermeier briefly served as Karge's assistant director and also acted in Weimar and at the Berliner Ensemble. In 1996 Ostermeier took over as artistic director for the Baracke at the Deutsches Theater, where he began to develop his capitalist realism aesthetic, championing audacious plays that challenged modern societal values. Early productions included Fat Men in Skirts by Nicky Silver, Brecht's Mann ist Mann, and Shopping and Fucking by Mark Ravenhill. Since September 1999, Ostermeier has served as artistic director of the Schaubühne Berlin. His productions have toured extensively and won numerous awards from international festivals. In 2009 he was appointed Officier des Arts et des Lettres by the French Ministry of Culture, and in 2011 he received the Golden Lion of the Venice Biennale. Ostermeier was last at BAM with An Enemy of the People (NWF 2013) and The Marriage of Maria Braun (NWF 2010).
BAM Howard Gilman Opera House, BAM Rose Cinemas, and BAMcafé are located in the Peter Jay Sharp building at 30 Lafayette Avenue (between St Felix Street and Ashland Place) in the Fort Greene neighborhood of Brooklyn. BAM Harvey Theater is located two blocks from the main building at 651 Fulton Street (between Ashland and Rockwell Places). Both locations house Greenlight Bookstore at BAM kiosks. BAM Fisher, located at 321 Ashland Place, is the newest addition to the BAM campus and houses the Judith and Alan Fishman Space and Rita K. Hillman Studio. BAM Rose Cinemas is Brooklyn's only movie house dedicated to first-run independent and foreign film and repertory programming. BAMcafé, operated by Great Performances, offers a dinner menu prior to BAM Howard Gilman Opera House evening performances. Limited commercial parking lots are located near BAM. Visit BAM.org for information. For ticket information, call BAM Ticket Services at 718.636.4100, or visit BAM.org.
Photo by Arno Declair
Related Articles
More Hot Stories For You