Renee Taylor Wins 2018 United Solo Special Award For MY LIFE ON A DIET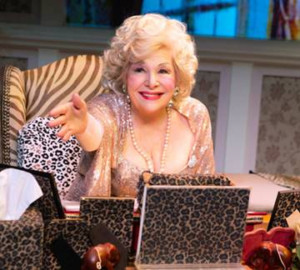 Last night, Renée Taylor won the annual The United Solo Special Award, which recognizes artists who have made significant recent contributions to solo theatre during the year, for her critically acclaimed autobiographical comedy MY LIFE ON A DIET. Along with Ms. Taylor, this year's nominees included Derek DelGaudio (In & Of Itself), Alison S. M. Kobayashi (Say Something Bunny!), John Lithgow (Stories By Heart), Chita Rivera (An Evening with Chita Rivera) and Bruce Springsteen (Springsteen on Broadway).
Receiving a standing ovation when accepting the award, Ms. Taylor, holding a large bouquet, said, "I'm so surprised. I came here thinking I was going to present flowers to Bruce Springsteen." She also told the audience, filled with fellow solo performers from the festival, "When you are onstage by yourself, you have to be very brave. During my run this past summer, I was afraid every single night right before I went on. Then I would say to myself, 'What's the worst that could happen?! They can throw things at me! ... So? I'll just duck.' It's good to be afraid. And when you face your fear, the response just may be a lot of love. Just like this wonderful award."
Previous recipients of the United Solo Special Award are Anna Deavere Smith (2010 - for Let Me Down Easy), Patti LuPone (2011 - The Gypsy in My Soul), John Leguizamo (2012 - Ghetto Klown), Fiona Shaw (2013 - The Testament of Mary), Billy Crystal (2014 - for the return of 700 Sundays), James Lecesne (2015 - The Absolute Brightness of Leonard Pelkey), Staceyann Chin and Cynthia Nixon (2016 - MotherStruck!) and Michael Moore (2017 - The Terms of My Surrender).
The special award was presented last night at the closing night gala for the ninth season of United Solo, the largest festival of its kind in the world. United Solo presented 130 productions -- up to five performances every day -- between September 13th and November 18th at Theatre Row in the heart of New York's theatre district. Other awards were presented at last night's award ceremony to participants in this year's festival, including Best Actor, Best Director, Best Production, as well as the Audience Award, presented in partnership with Backstage magazine.

As a premier platform for one-person theatre, United Solo presents, promotes, and recognizes solo performances of all kinds. The world's largest solo theatre festival, United Solo features both award-winning, internationally renowned performers and emerging talents, and presents shows in a wide variety of categories, including drama, comedy, storytelling, musical theatre, dance, multimedia, stand-up comedy, magic, and performance art. Many are original world premieres, while others are adaptations of classic theatre and literature. Since its founding in 2010, the festival has presented over 1,000 productions from six continents at Theatre Row on 42nd Street in New York, where it is a resident company. United Solo Europe, an overseas showcase, was created in 2013. Since 2017, United Solo offers a series of Master Classes, giving solo performers new tools to develop their talents. This educational program has included classes led by Allan Corduner, Pau Aran Gimeno, James Lecesne, Fiona Shaw, Austin Pendleton, Anne Bogart and Olympia Dukakis. More information about United Solo can be found at www.unitedsolo.org
MY LIFE ON A DIET, the critically acclaimed autobiographical comedy written by Renée Taylor and Joseph Bologna, and directed by Mr. Bologna, enjoyed an extended engagement Off-Broadway at Theatre at St. Clement's (423 West 46 Street) from July 12th through September 2nd, 2018. In MY LIFE ON A DIET, Taylor looks back on a life full of memorable roles in Hollywood and on Broadway, and just as many fad diets,. The self-described "diet junkie" dishes out juicy anecdotes about -- and a few weight loss tips from -- Hollywood legends such as Joan Crawford, Marilyn Monroe, Marlon Brando, Cary Grant and Barbra Streisand (she used to think that if she ate like star, she'd just might look and live like one). By sharing her high and lows - on and off the scale - as only she could, Renée Taylor proves how the ability to laugh gets you through it all.
With Joseph Bologna, RENéE TAYLOR collaborated on 22 plays, four films, and nine TV movies and series. They appeared together on Broadway in their plays Lovers and Other Strangers (1968), It Had to Be You (1981), and If you ever leave me ... I'm going with you! (2001); and Off-Broadway in Bermuda Avenue Triangle (Promenade Theatre, 1997). For film, they received an Academy Award nomination for the 1970 film adaptation of Lovers and Other Strangers. The following year, they co-wrote and co-starred in Made for Each Other (Writers Guild of America Award nomination for Best Comedy). Renée and Joe co-directed, co-wrote, and co-starred in the 1989 film adaptation of It Had to Be You, and the 1996 film Love Is All There Is (which introduced a young Angelina Jolie). For television, the couple won Emmy Awards in 1973 for writing "Acts of Love and Other Comedies," and were nominated once again the following year for writing the TV movie "Paradise." They co-directed, co-wrote, and co-starred in the 1984 HBO movie "Bedrooms" (Writers Guild Award). Renée made her professional stage debut at 15 in a Purim Pageant at Madison Square Garden, and earned her Actors Equity card at age 19 for appearing in The Rehearsal at The President Theatre. Her other stage credits include: Nora and Delia Ephron's Love, Loss, and What I Wore; Agatha Sue, I Love You (directed by George Abbott); Luv (directed by Mike Nichols); Elaine May's 1964 improvisational revue The Third Ear; and William Gibson's Dinny and the Witches at the Cherry Lane Theatre. Her many film credits also include: Jerry Lewis' The Errand Boy, Mel Brooks' The Producers, Elaine May's A New Leaf, Neil Simon's Last of the Red Hot Lovers, Lovesick, White Palace, Life During Wartime, Tyler Perry's Temptation: Confessions of a Marriage Counselor, and more recently, The Do-Over and How To Be a Latin Lover. Known for her Emmy nominated role of Sylvia Fine in "The Nanny," Renée's other notable TV acting credits include "Daddy Dearest" and the groundbreaking HBO sitcom "Dream On" (she has the distinction of appearing on these three television shows simultaneously). More recently she has had recurring roles in "How I Met Your Mother," "Bob's Burgers," and "Happily Divorced," and can currently be seen on Amazon's "Gown and Out in Beverly Hills." Renée holds an Honorary Doctorate from Hofstra University.
For more information, visit MyLifeOnADietPlay.com