Rattlestick Playwrights Theater Sets Unplugged NEW SONGS NOW Concert Series Lineup
Rattlestick Playwrights Theater has announced the line-up for NEW SONGS NOW, an unplugged concert series, presented in association with New Neighborhood and Rosalind Productions, Inc. taking place Sunday, July 23 through Thursday, July 27 at 8:30pm at Rattlestick Playwrights Theater (224 Waverly Place New York, NY 10014). All tickets are general admission, with a suggested donation of $10.
An unplugged concert series. Two different songwriters share new music in an open-studio environment each night. New Songs Now is a chance to listen to music and speak with the songwriters afterwards about the work. Songwriters include: Aya Azziz, Heather Christian, Carmel Dean, Ty Defoe and Tidtaya Sinutoke, Greg Felden, Emily Gardner Hall, Matt Gould, Ben Wexler, Jean Rohe, and U.S. Open (Jeff Biehl, Steve Boyer, William Jackson Harper, Alex Mandell, Bobby Moreno, Diana Oh, and Shawn Randall). Lineup subject to change.
---
LINE-UP:
JULY 23: GREG FELDEN / Carmel Dean
A staple of the LA Americana scene, Greg Felden's songs are honest, raw and focused on grand, essential ideas. His debut album, Made of Strings, is scheduled for release this year. "This is some of the best, most impacting music I've heard in a very long time... Greg Felden. Remember that name." - American Highway.
Carmel Dean is a Composer, Arranger, Musical Director and Pianist. She was most recently the Musical Director/Conductor of the Broadway musical If/Then starring Idina Menzel, and was Music Supervisor of the subsequent National Tour. Other Broadway credits include Hands on a Hardbody , American Idiot , and The 25th Annual Putnam County Spelling Bee . Off-Broadway credits include Everyday Rapture, Vanities and Elegies - A Song Cycle by William Finn. International credits include Chicago (Hong Kong) and the 2000 Olympic Games Opening and Closing Ceremonies (Sydney). Carmel has also served as Chita Rivera's Musical Director for many national and international appearances, and she performed with Green Day on the Grammy Awards in 2010. As a composer, her work includes A Girl Called Vincent with Dick Scanlan; the YouTube series Project: Song Blog; music for the Disney TV show Johnny & the Sprites; and Songs of Innocence & Experience (co-composed with William Finn, Deborah Abramson, Vadim Feichtner & Gi-hieh Lee.)
JULY 24: Ty Defoe & Tidtaya Sinutoke / Heather Christian
Ty Defoe (Giizhig) is a lyricist, book writer/playwright, and performer from the Oneida and Ojibwe Nations. Credits: Clouds are Pillows for the Moon (Yale Institute for Music Theatre, ASCAP Musical Theatre Workshop, Kilroy's Honorable Mention List), Hart Island Requiem (Civilians R&D), Red Pine (Native Voices at the Autry; Institute for American Indian Arts in Santa Fe), The Way They Live (Co-collaboration with The Civilians at the Metropolitan Museum of Art), Heather Henson's Crane: On Earth, In Sky (Ibex Puppetry at La MaMa Theater, NYC). Developing: Gender Nation, Crossing Borders (CAP21 Residency), Sunrise Prayer (Johnny Mercer Writers Colony) andYellow Cycle. Participated in 2015 Johnny Mercer Songwriter Project, 2016 Robert Rauschenberg Residency. Concerts at 54 Below, Joe's Pub, Bruner Walter Auditorium at Lincoln Center in NYC, and toured Greece, Japan, Turkey at Ankara's International Music Festival, and Festival of World Cultures in Dubai. Member of ASCAP and Dramatists Guild. Alum of CalArts, Goddard, and NYU's Graduate Musical Theater Writing Program. He/Him tydefoe.com
Tidtaya Sinutoke is a Thai born, NYC-based composer, writer, and musician. Her works include themes of self-discovery, gender issues, travel, social injustice and companionship. Composition credits include: Clouds are Pillows for the Moon (Yale Institute for Music Theatre, ASCAP Musical Theatre Workshop, Kilroy's Honorable Mention List), Hart Island Requiem (Civilians R&D, EtM Con Edison Composer-in-Residence), Gender Nation, Crossing Borders (CAP21 Residency), Sunrise Prayer (Johnny Mercer Writers Colony) and Yellow Cycle. She participated in the 2014 Composer-Librettists Studio at New Dramatists, the 2015 Johnny Mercer Songwriter Projects, the 2015 New York Foundation for the Arts (NYFA) IAM Mentoring Program, the 2016 Robert Rauschenberg Residency and the 2016-2017 Etm Con Edison Composer-in-Residence. A proud member of ASCAP, and the Dramatists Guild. MFA: NYU's Graduate Musical Theatre Writing Program. tidtayasinutoke.com.
Heather Christian is the daughter of a blues musician and a go-go dancer and is an Obie Award winning composer/performer. She is a recent Sundance Fellow and Ars Nova Uncharted Member with new musical Annie Salem, alongside Rachel Chavkin. Recent composing/performing credits include her own multi-media concerts Animal Wisdom (Set to premiere in 2017) and North (LaMama NYC), the TEAM's Mission Drift, (National Theater in London) Ripe Time's The World is Round (BAM NYC), Of Mice and Men (West Yorkshire Playhouse), the entire summer '16 season at Hudson Valley Shakespeare (Macbeth, As you Like It, Measure for Measure) as well as numerous compositions for plays with music and experimental soundscape operas for dance. Short film scores includeMan Rots from Head, Eat, Pauline Alone, Woman in Deep, and Gregory Go Boom, which took a 2014 Sundance Grand Jury Prize. Her first score for a feature film, Lemon premiered at Sundance Film Festival January of 2017. She is a long time musical and performative collaborator in devised theater with the TEAM, Jane Comfort Company, Mark Dendy, Mac Wellman, Big Dance Theater, Taylor Mac, and Witness Relocation. She was recently named one of TimeOut NY's Downtown Innovators To Watch and has been nominated for a Drama League Outstanding Performance Award. She has released 8 records and can be seen all over the world as Heather Christian & the Arbornauts in concert halls and dive bars avant-torching.
JULY 25: Jean Rohe / U.S. OPEN
"A sure-footed young singer-songwriter," in the words of The New York Times, Jean Rohe writes one-of-a-kind narrative songs, concerned as much with the internal world as with the external. Her songs, which range from fantastical riffs on old folktales to autobiographical sojourns, to "phonojournalism", a genre of her own invention, have won recognition from the ASCAP Foundation and the New York Songwriters Circle. She can be found fronting her large ensemble, collaborating as one half of the duo Robinson & Rohe, or playing intimate solo sets in the US and abroad. Her latest release with her band, Jean Rohe & the End of the World Show, won three Independent Music Awards in 2014. An Elmore Magazine reviewer hailed it as "enchanting" and "remarkable in so many ways I can think of no comparison". A true citizen artist, she gracefully approaches matters of social concern with artistry and heart. Her 2013 video release, "National Anthem: Arise! Arise!" is an aspirational alternative national anthem for the United States, which has now been performed by choirs and bands across the country and was published last year in the second edition of the popular songbook Rise Up Singing (Rise Again). No Depression wrote, "Not only does she make astoundingly beautiful music but she is thoughtful, reflective, and courageous."
In 2016, Jean was a finalist in the Telluride Troubadour songwriting contest. She is hard at work on her performance memoir, The Odysseus Agreement, as well as two new records, one with her band and the other with Robinson & Rohe, both set for release in early 2017.
Hell Yeah! We are the U.S. Open! WE'RE A BAND! WITH A BEAUTIFUL A.F. OBJECTIVE--TO MOVE YOUR BODIES. Roll Call! Jeff Biehl! Steve Boyer! William Jackson Harper! Bobby Moreno! Diana Oh! Shawn Randall! United Colors of Benneton REPRESENT!
JULY 26: Ben Wexler / Aya Aziz
Ben Wexler's recent composition projects include Lucy Thurber's The Insurgents (LAByrinth), Ship Show (YIMT), Hollywood Arms (Sundance),Speech and Debate (Sycamore Pictures), The Washington Square Park Project(Joe's Pub) and Kicking and Screaming (Symphony Space). Associate Conductor for Fun Home (Public Theater), and music arranger for Fun Home's Spotify Session. Resident composer for A Broader Way Foundation, founded by Idina Menzel and Jeanine Tesori. Workshops/fellowships include BMI (Harrington Award), New Dramatists, Rhinebeck Writers Retreat, and The Dramatists Guild Fellowship.
Aya Aziz is a songwriter and performance artist based between New York and Beirut, Lebanon. Aya wrote and performed her first full production, Sitting Regal by the Window, in 2014 at the Metro Al-Madina Theater in Beirut. The show then featured in both the Fringe and Planet Connections Theater Festivity festivals in New York. The re-written iteration of the show, now titled Eh Dah? Questions for my father was produced by the Hypokrit Theatre Company the following year and taken to the summer 2016 New York Musical Festival. There at NYMF, Eh Dah? won the award for Most Outstanding Book and Aya for Most Outstanding Individual Performance. Aya is a longtime member of Girl Be Heard, a nonprofit theater company devoted to foregrounding issues affecting women and girls around the world. She works with Girl Be Heard as a teaching artist for middle school girls in multiple public afterschool programs around the city. Aya is currently finishing her B.A in Anthropology and Political Science at Hunter College.
JULY 27: EMILY GARDNER HALL / Matt Gould
Emily Gardner Xu Hall is an actor, multi-instrumentalist, composer-lyricist and writer. Musicals: Untitled Cherry Orchard Musical, a feminist pop adaptation for a multi-racial cast of multi-instrumentalists, secret Shakespeare musical adaptation. NY: Bryony Lavery's Stockholm. Regional: Snow Queen(Triad Stage), Light Princess (Arden Theatre Company). Readings/workshops: Public Theater, Signature, Ma-Yi, Red Bull, P73 and others. Composer-lyricist: Alum of Johnny Mercer Songwriters Project, New Dramatists Composer-Librettist Studio, and Catwalk residency. BA Music and English, Wellesley College, MFA NYU Graduate Acting Program. www.emilygardnerhall.com
Matt Gould is a composer who has received the Richard Rodgers Award (2012, 2014), a Jonathan Larson Award, and the ASCAP Foundation's Harold Adamson Lyric Award and Michelle and Dean Kay Award. With Griffin Matthews he created the documentary musical Witness Uganda (a.k.a. Invisible Thread ), which had its New York premiere at Second Stage Theatre and its world premiere at American Repertory Theater. Mr. Gould's upcoming original works include The Family Project (co-written with Mr. Matthews), Lempicka (National Alliance for Musical Theatre), and Baby Girl with Pulitzer Prize winner Paula Vogel. He wrote Twilight in Manchego (directed by Tony winner Billy Porter) for the New York Musical Theater Festival and has written, arranged, and conducted music for theaters around the country. He also translated, adapted, and directed Romeo and Juliet in Pulaar, a language spoken in Mauritania. Mr. Gould has performed in Uganda, Mauritania, Japan, and across the U.S. A graduate of Boston University's College of Fine Arts, he is a frequent speaker and guest lecturer at schools and universities. He is the co-director of UgandaProject.
---
Since 1994, RATTLESTICK PLAYWRIGHTS THEATER has created, developed and produced many of the nation's greatest playwrights and their works. Our mission is to provide a positive, nurturing experience for emerging playwrights, to present diverse and challenging plays that otherwise might not be produced, and to foster the future voices of American theater. When we take on a playwright, we guarantee him or her a second production, regardless of the reception of the first. We have produced the first plays and early works of some of today's leading voices, including Annie Baker (The Aliens), Sheila Callaghan (That Pretty, Pretty), Jesse Eisenberg (The Revisionist), Martyna Majok (Ironbound), Adam Rapp (The Hallway Trilogy), Lucy Thurber (The Hilltown Plays), and Craig Wright (The Pavilion). They have also produced works by some of our nation's most important playwrights, including Charles Fuller (One Night...), Craig Lucas (Ode to Joy), Dael Orlandersmith (Horsedreams), and José Rivera (Massacre, Sing to Your Children), whose risky and challenging works other theaters are unwilling to produce. For more information, visit www.rattlestick.org.
ROSALIND PRODUCTIONS INC. Headed by Abigail Rose Solomon, Rosalind Productions, Inc. is a prolific producer of new and classic work on and Off-Broadway, as well as nationally. Currently, the company is a co-producer of the new Broadway musical War Paint, starring two- time Tony Award winners Patti LuPone and Christine Ebersole, as business legends Helena Rubinstein and Elizabeth Arden. Past Broadway shows include If/Then and The Miracle Worker. Off-Broadway, the company produced the New York Premiere of The Last Seder, New York Premiere of A Splintered Soul and John Patrick Shanley's Savage in Limbo. In Los Angeles: Misalliance, Proof, As You Like It and the World Premiere of Stages. The mission of Rosalind Productions, Inc. is to explore stories in which the female characters are as vital, complex and influential as the male characters, with the goal to entertain, empower and enlighten audiences. Go to www.RosalindProductions.com.
NEW NEIGHBORHOOD is a theater/TV/music company whose sincerity and authenticity are so combustible they cannot be housed under one roof for too long without doing severe structural damage. With new work, bruised work, all-singing, all-dancing, foul-mouthed musical work, New Neighborhood finds a show, produces the shit outta it, and disappears into a cloud of train smoke. Recent projects include the world premiere of Suzanne Heathcote's I Saw My Neighbor on the Train and I Didn't Even Smile (co-produced with Berkshire Theatre Group), the west coast and New York premieres of Rolin Jones's These Paper Bullets! (produced in association with Geffen Playhouse and Atlantic Theater Company), and simultaneous productions of Chekhov's Three Sisters and the world premiere of Aaron Posner's No Sisters (co-produced with Studio Theatre); Season One of Fox Television's "The Exorcist" (produced in association with Morgan Creek Productions and 20th Century Fox Television); and the debut album of Honus Honus, Use Your Delusion. Upcoming: One Night Only (running as long as we can), Fall 2017 (co-produced by WP Theater and Monica Bill Barnes & Company). Visit www.newneighborhood.net.
More Hot Stories For You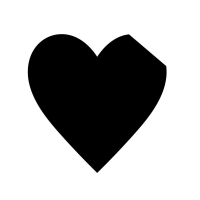 Performance Space New York Announces Spring 2023 Season of its HEALING SERIES

December 1, 2022

Performance Space New York has announced the Spring 2023 season of its Healing Series, the second part of its year-long reflection on the political potency of healing and the role performance plays in it, in the midst of what feels like a momentous shift in art-making to foreground modes and practices of care.
---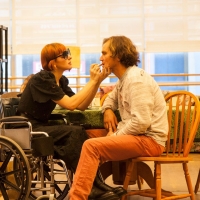 DES MOINES Starring Michael Shannon & More Announces New Preview & Opening Dates

December 1, 2022

Theatre for a New Audience has announced new preview, press, and opening dates for Denis Johnson's Des Moines. Due to the detection of Covid within the Des Moines company, performances November 29 – December 3 have been canceled, with the production now beginning December 4.
---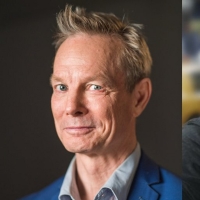 Bill Irwin and John Douglas Thompson to Star in ENDGAME at Irish Repertory Theatre

December 1, 2022

Irish Repertory Theatre has announced two productions to begin its 2023 season. Irish Rep will present Endgame by Samuel Beckett January 25-March 12, 2023, on the Francis J. Greenburger Mainstage, with an opening night set for February 2, 2023.
---
The Tank to Present Four World Premiere Productions for Winter-Spring 2023 Season

December 1, 2022

The Tank has announced the Core Productions that will make up their Winter-Spring 2023 season. The Tank's Core Production series serves companies and solo artists as they create new works for performance.
---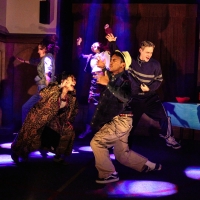 Photos: Get a First Look at YOUR OWN PERSONAL EXEGESIS at Lincoln Center Theater/LCT3

December 1, 2022

Get a first look at production photos for The Lincoln Center Theater/LCT3 production of YOUR OWN PERSONAL EXEGESIS, currently in previews, opening on Monday, December 5 at the Claire Tow Theater.
---