BWW Review: PLACES Performed at 59E59 is an Outstanding Production Now Going to Edinburgh Fringe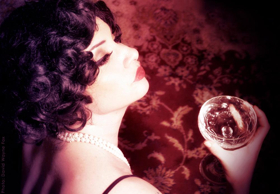 "By opening our eyes to our past, we are more able to see our present."
by Alla Nazimova in Places
Places is an outstanding production written and performed by Romy Nordlinger, directed and developed by Kate McHugh. The solo show, complemented by multi-media, was just performed at 59E59 Theaters as part of East to Edinburgh, the theatre's annual preview for the Edinburgh Festival. It will soon move to Scotland for a month long run from August 4th to the 27th. Places recounts in detail the fascinating life of Alla Nazimova, a once famous star who is unknown to many. It is important piece of theatre that will touch the minds and hearts of viewers.
Nazimova was born in Russia in June of 1879 as Adelaida Yakovlevna Leventon, the daughter of an abusive father. She found her home and honed her talents with the Moscow Art Theatre and the famous theatre practitioner, Konstantin Stanislavsky. Nazimova adopted the stage name Alla Nazimova and became a major star in Moscow and Europe before fleeing to America in 1905 where she made her Broadway debut in November of 1906 in the title role of Hedda Gabler. Her talent and box office successes helped to launch the careers of some of the most renowned playwrights including Ibsen and Chekhov. Yet, Nazimova was a controversial figure who was open about her sexual preference for women to the displeasure of many in the entertainment establishment. Her career continued to blossom when she left New York for Hollywood and became the highest paid silent screen actress of the day. The screen star's lavish parties at "The Garden of Allah," her Sunset Boulevard home, dubbed "The Garden of Allah" were legendary. Nazimova was a true maverick. She formed Nazimova Productions and worked as Hollywood's first female producer, director, and screenwriter. Her production of Salome in 1923 was led by an all-gay cast was an inspiration for art cinema. But her progressive, experimental filmmaking was hardly suited for the times. As she was no longer a big box office draw, she experienced a downward spiral that left her in financial ruin and caused her to live in obscurity to the end of her life. Alla Nazimova's remarkable contributions to the film industry have since been recognized with a star on the Hollywood Walk of Fame.
Romy Nordlinger is brilliant in the role of Alla Nazimova. She brings her character to life and captures the passion, the drama, and the humor of the spirited actress. Nordlinger's reimagining of Nazimova's personal and professional life is inspirational, a beautifully honest portrayal of a talented woman who was a true trailblazer for the LGBT community.
Compliments all around to the team that brings Places to the stage. They include Nick T. Moore, Sound Designer and Composer; Adam Burns, Graphics and Video; Tamara Geisler, Production Manager; Jason Beckmann, Assistant Director; David Wayne Fox, Photographer; Maya Graffagna, Costume Consultant. It is a co-production between Yonder Window Theatre Company and Parity Productions and is made possible in part by the support of Jack Sharkey.
Audiences for Places not only experience theatrical history but have an opportunity to consider timeless social statements about struggle, success and acceptance. This is a show that should have a long life in the theatre.
For more information about Places that includes the Edinburgh Fringe run, visit: https://www.placestheplay.com/.
To support Places, visit: www.parityproductions.org/donate.html.
Photo Credit: Courtesy of Places.
Related Articles View More Off-Broadway

Stories

Shows