BWW Review: ON BLUEBERRY HILL at 59E59 Theaters is a Mesmerizing Two-Hander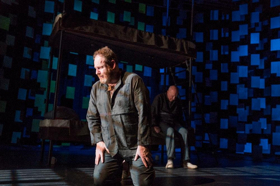 "We were souls burned in the same fire."
By Christy in On Blueberry Hill
59E59 Theaters is now presenting On Blueberry Hill, a two-hander that is mesmerizing its audiences. Written by Sebastian Barry and superbly directed by Jim Culleton, this affecting play stars Niall Buggy and David Ganly. It is produced by Fishable: The New Play Company as part of the 59E59 Theaters' Origin's 1st Irish Festival. Don't miss the opportunity to experience a drama that deftly combines heartache and humor in a story that you will long remember. It will only be on stage through February 3.
The play takes place in a jail cell where two men, PJ and Christy tell their stories. Both of these "forgotten men" are convicted murderers and very different individuals who were thrust together as cellmates. PJ is a former seminarian and an only child who expresses a deep affection for his mother while Christy talks about his life as a hard- working family man. As they each recount their personal histories, there is a surprising and unexpected connection between the men. This is a riveting tale of youth, promise, murder, betrayal, and redemption. The show has been aptly named for the iconic Fats Domino Song, "On Blueberry Hill" that expresses great longings.
The play stars Niall Buggy as Christy and David Ganly as PJ. These accomplished actors master Sebastian Barry's finely crafted dialogue and capture the emotional, dramatic and humorous moments of their character's stories. Some of the many compelling moments include Christy describing his father's murder; PJ talking about his mother's cooking; Christy recalling when he first met his wife; and PJ remembering his murder trial.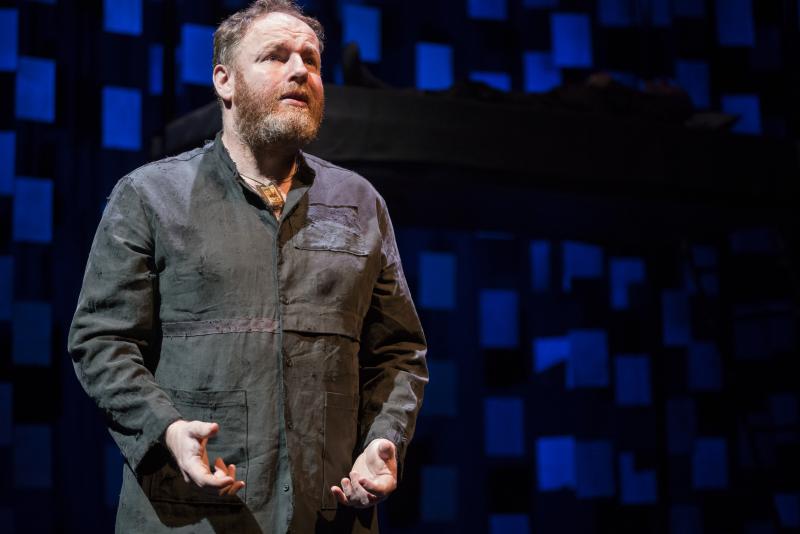 The design team has done a fine job of bringing the show to the Upper East Side stage. They include set and costume design by Sabine Dargent; lighting design by Mark Galione; and sound design by Denis Clohessy. The stage manager is Steph Ryan.
On Blueberry Hill is a bittersweet tale that must be seen. Our compliments to 59E59 Theaters Artistic Director, Val Day and Managing Director, Brian Beirne for bringing the show to metro area audiences.
On Blueberry Hill will be performed for a limited engagement through February 3. The show runs for 1 hour and 45 minutes with no intermission. The performance schedule is Tuesday - Friday at 7:15 PM; Saturday at 2:15 PM & 7:15 PM; Sunday at 2:15 PM. Performances are at 59E59 Theaters (59 East 59th Street, between Park and Madison Avenues). Single tickets are $25 - $35 ($24.50 for 59E59 Members). To purchase tickets, call the 59E59 Box Office at 646-892-7999 or visit www.59e59.org.
Photo Credit: Patrick Redmond