BWW Review: IMAGINING MADOFF is an Excellent and Intriguing Play
"The best kept secrets are the ones you never tell."
By Bernard Madoff in Imagining Madoff
Imagining Madoff, written by Deb Margolin and directed by Jerry Heymann is now on stage at 59E59 Street Theaters. This remarkable, three-person play was nominated for the Charles MacArthur Award for Outstanding New Play or Musical at the 2012 Helen Hayes awards when it premiered in Washington, DC. It is an intense and fascinating fictionalized view of Bernie Madoff, the man behind the Ponzi scheme that devastated countless people's financial fortunes.
In the play, we get an intimate portrait of Bernie Madoff, a crude scoundrel who is recounting to a biographer his business dealings and personal life. The show also depicts his all night visit to a Jewish scholar and poet, Solomon Galkin. This relationship between the men is an integral part of the story, as it shows the stark differences between their personalities and senses of morality. The show also portrays the legal testimony by a secretary who assisted Madoff for over a decade. While she denies knowledge of any illegality, her statements about Madoff's business practices reveal the culture of secrecy at his company. The play's scenes shift deftly between Madoff's prison cell, the study of Solomon Galkin, and the witness stand where his secretary testifies.
The cast features the superb acting talents of Jeremiah Kissel as Bernard Madoff; Gerry Bamman as Solomon Galkin; and Jenny Allen as A Secretary. Kissel masters the role of Madoff, a self-absorbed, ruthless womanizer. Bamman is ideal in the role of the soft- spoken, studious and thoughtful Holocaust survivor, Solomon Galkin. And Allen is perfectly cast as A Secretary who speaks honestly, yet cautiously about Bernie Madoff.
The Creative Team has done a great job of bringing Imagining Madoff to the Upper East Side stage. They include scenic design by Dara Wishingrad; costume design by Kara Branch; lighting design by Michael O'Connor; sound design by Andy Evan Cohen; and prop design by Leila Ben-Abdallah. The Production Stage Manager is Emma Burns; the Dramaturg is Merri Milwe; the Casting is by Stephanie Yankwitt, CSA, Margaret Dunn, TBD Casting; the Consultant is Rabbi Joseph Telushkin.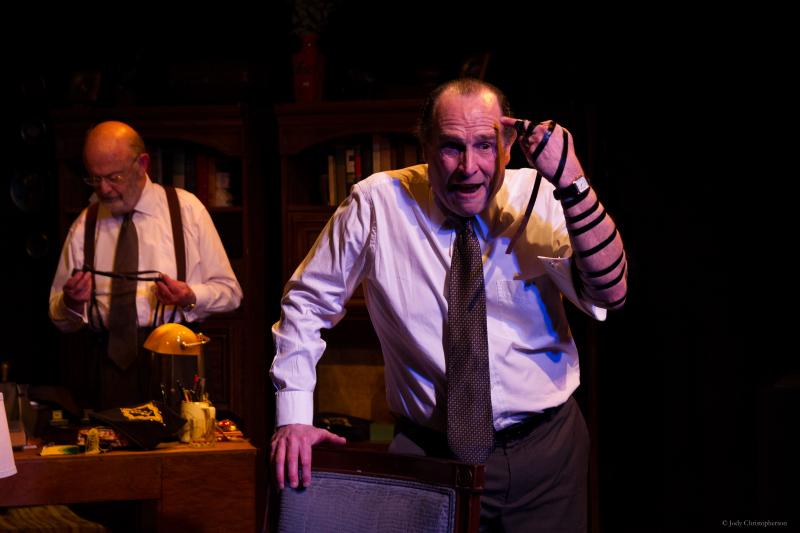 Imagining Madoff is an outstanding piece of theatre. It portrays Bernard Madoff as the ruthless opportunist people consider him to be. The show is performed in 59E59 Theater's intimate space where audience members get a close up perspective of the drama and tension of the story. We suggest that this one will sell out soon so get your tickets!
Imagining Madoff is produced by New Light Theater Project. The show will be presented at 59E59 Theaters (between Park & Madison Avenues) for a limited engagement through Saturday, March 23. The show runs for 90 minutes with no intermission. The schedule is Tuesday - Friday at 7:30 PM; Saturday at 2:30 PM & 7:30 PM; Sunday at 2:30 PM. Single tickets are $25 ($20 for 59E59 Members). To purchase tickets, call the 59E59 Box Office at 646-892-7999 or visit https://www.59e59.org/.
Photo Credit: Jody Christopherson.