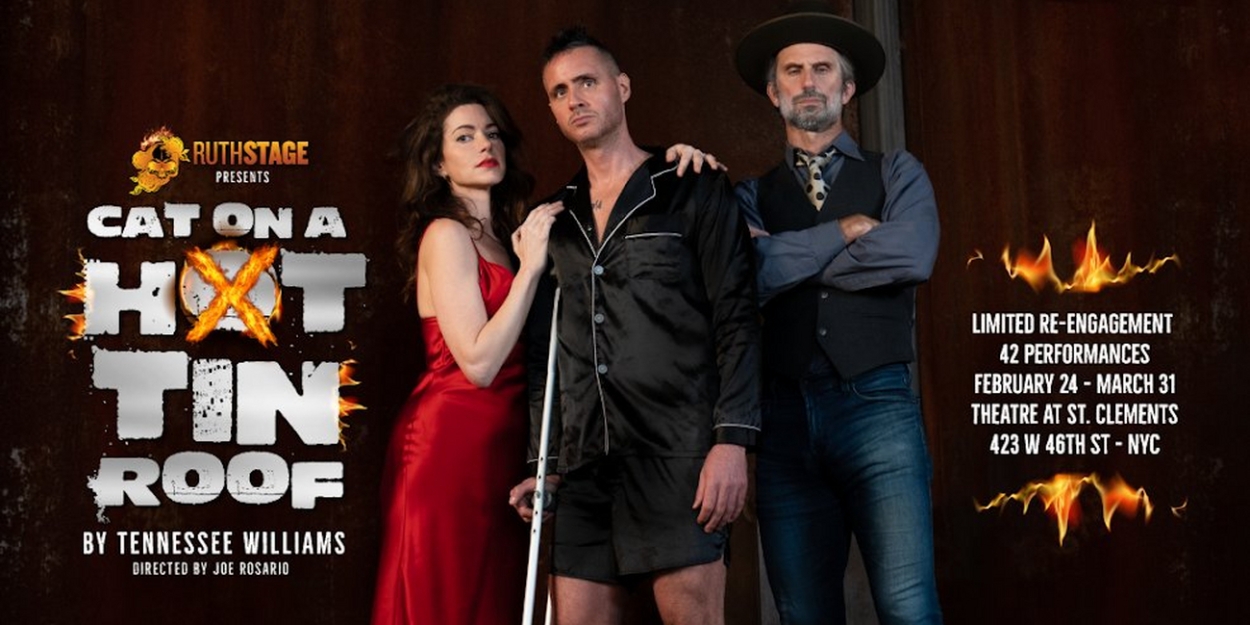 Alison Fraser to Reprise Role in CAT ON A HOT TIN ROOF Off-Broadway; Complete Cast Announced
Performances of Ruth Stage's Cat on a Hot Tin Roof are set to begin on Friday, February 24, 2023, ahead of an opening night set for Sunday, March 5, 2023.
Ruth Stage has announced that two-time Tony Award nominee Alison Fraser (The Secret Garden) will reprise her role as 'Big Mama', as well as announcing the complete casting for their provocative and controversial modern staging of Cat on a Hot Tin Roof.

Ruth Stage's Cat on a Hot Tin Roof returns to the Theatre at St. Clement's (423 W 46th Street) after a hit off-Broadway premiere run last summer. The original 35 performance run was the first time in history that the Tennessee Williams estate had granted permission for the show to be staged off-Broadway.

"Alison Fraser redefined the role of the pained 'Big Mama' and delivered a knockout punch that was both haunting and powerful," added Ruth Stage ahead of today's release.

Ms. Fraser will be joined by previously announced leads: Courtney Henggeler ("Cobra Kai" series regular) in her New York City stage debut as the central role of 'Maggie the Cat,' Matt de Rogatis reprising his critically acclaimed role as 'Brick, and Obie and Drama Desk Award winner Frederick Weller (To Kill a Mockingbird, "In Plain Sight") as 'Big Daddy'.

Completing the cast are Christine Copley as 'Mae', Adam Dodway as 'Gooper', Milton Elliott as 'Rev. Tooker', and Jim Kempner as 'Doc Baugh'.

In addition, Tony Award winning Broadway producer Joseph Grano (Jersey Boys) has joined the shows' production team. Mr. Grano is currently producing A Beautiful Noise on Broadway.

This landmark production will be helmed by returning director Joe Rosario and his creative team which features Matt Imhoff as the set designer, Christian Specht as the lighting designer, Tomas Correa as sound designer and Jesse Meckl as the stage manager. Casting is by Ruth Stage.

Ruth Stage's off-Broadway premiere of the Tennessee Williams masterpiece concluded its run on August 14, 2022, playing to sold out audiences and standing ovations. On the heels of the show's success, the Tennessee Williams estate has issued an unprecedented re-engagement license to the maverick theatre group.

Performances of Ruth Stage's Cat on a Hot Tin Roof are set to begin on Friday, February 24, 2023, ahead of an opening night set for Sunday, March 5, 2023. This strictly-limited 42 performance re-engagement will run through Friday, March 31, 2023.

Tennessee Williams' sultry, southern storm of a play about greed, deceit, self-delusion, sexual desire and repression, homophobia, sexism, and the looming specter of death won the Pulitzer Prize in 1955. Ruth Stage's modern and haunting interpretation is set in an estate in the Mississippi Delta of Big Daddy Pollitt, a wealthy cotton tycoon. The play examines the relationships among members of Big Daddy's highly dysfunctional family, primarily between his son Brick and Maggie the Cat, Brick's wife.

The production is presented by arrangement with Concord Theatricals on behalf of Samuel French, Inc.

Tickets, priced between $39 and $125, are on sale now.


BIOGRAPHIES
COURTNEY HENGGELER
(Maggie) stars as 'Amanda LaRusso' on the global hit Netflix series, "Cobra Kai", the much-buzzed reboot of The Karate Kid, which is in its fifth season on Netflix. For her work on the series, Henggeler has been hailed as a "natural screen comic" by The Hollywood Reporter and the "season's MVP" by Entertainment Weekly. Upcoming, she will star in George Clooney-directed The Boys in the Boat opposite Joel Edgerton. Based on #1 New York Times bestselling author Daniel James Brown's 2013 book of the same name, the film tells the triumphant underdog story of the University of Washington men's rowing team, who stunned the world by winning gold at the 1936 Berlin Olympics. Henggeler will play Hazel Ulbrickson, the wife of Edgerton's Coach Ulbrickson. Henggeler has made many memorable television appearances, including as 'Missy', the twin sister of Jim Parson's 'Sheldon', on CBS's smash hit "The Big Bang Theory"; recurred as 'Claudia' on CBS's "Mom" opposite Anna Faris and Allison Janney; plus The CW's "Jane The Virgin", Netflix's "Fuller House", Hulu's crime drama "Into The Dark", Fox's long-running hit "Bones", ABC's comedy series "Happy Endings", and many more. For film, she has appeared in Friends With Benefits opposite Mila Kunis and Justin Timberlake; and Tyler Perry's Nobody's Fool starring Tiffany Haddish and Tika Sumpter. Also an emerging producer and screenwriter, she recently made her debut as writer and executive producer with the Lifetime original movie, The Secret Life of a Celebrity Surrogate. She continues to develop projects for television and film. Henggeler lives on Long Island with her husband and two children.
(Brick). Some previous New York City credits for Matt de Rogatis include 'Frederick Clegg' in the United States premiere of The Collector at 59E59, 'Richard III' in Austin Pendleton's Wars of the Roses (124 Bank Street Theater), 'Tom' in The Glass Menagerie (Wild Project), and 'Roy' in Lone Star (Triad). He was last seen on stage as 'Brick' in Ruth Stage's summer 2022 off-Broadway premiere of Cat on a Hot Tin Roof (Theatre at St. Clement's). Find Matt on social media @themightydero and www.mattderogatis.com
Frederick Weller's (Big Daddy) extensive theater work includes eight principal roles on Broadway (including Bob Ewell in To Kill a Mockingbird, Shane Mungit in the original Take Me Out and Williamson in Glengarry Glen Ross opposite Alan Alda and Liev Schreiber), as well as twelve principal roles off-Broadway (including 4 roles for playwright Neil LaBute). He has received an Ensemble Obie Award, an Ensemble Drama Desk Award, two Drama Desk nominations, and two Lucille Lortel nominations. Outside of New York, Frederick is probably best known for his role as Marshall Mann on the series "In Plain Sight" (USA Network), which ran five seasons from 2007-2012. His many other film and TV credits include Spike Lee's BlacKkKlansman, Steven Soderbergh's Mosaic (HBO), and the mini-series "The Beach Boys: An American Family". He can currently be seen in Apple TV's Causeway with Jennifer Lawrence and Peacock's The Independent with John Cena.
(Big Mama) is a two-time Tony Award nominee for The Secret Garden (Drama Desk nominee also) and Romance/Romance, and she received the Callaway Award for Best Classical Actress for her portrayal of Lady Utterwood in Heartbreak House. Other Broadway roles: Dorine in Tartuffe, Helena Landless in Edwin Drood, and Tessie Tura in Gypsy. Off-Broadway roles she has originated include Sharon in Aaron Mark's Squeamish (Off-Broadway Alliance, Outer Critic's Circle nominee), Trina in March of the Falsettos and In Trousers, Nancy Reagan and Betty Ford in First Daughter Suite (Lucille Lortel,Drama Desk nominee), Arsinoé in The School For Lies, Sister Walburga in The Divine Sister, and The Matron (opposite Shirley Knight) in the world premiere of Tennessee Williams' In Masks Outrageous and Austere. She has recorded dozens of albums, including three solo efforts: Alison Fraser-A New York Romance, Men In My Life, and Tennessee Williams: Words and Music. Film and TV on IMDB.
CHRISTINE COPLEY
(Mae) recent theater credits include: Betsy/Lindsey in Clybourne Park, Church Lady in Between Riverside and Crazy, Roberta in Danny and the Deep Blue Sea, Beatrice in A View from the Bridge, and Stella in A Streetcar Named Desire. YouTube series: "Jackie in Craft Out Loud with Jackie Scrapbooks". Film credits: Mommy's Box, Settling Down (in post-production).
ADAM DODWAY
(Gooper) has appeared with Ruth Stage and Matt de Rogatis in Cat on a Hot Tin Roof, directed by Joe Rosario, and Wars of the Roses: Henry VI & Richard III, directed by Austin Pendleton and Peter Bloch. Other roles include Luke in An Apartment in Purgatory (Hudson Guild Theatre), Ben (Look Howard, Angel), Bobby in Small Craft Warnings (Theatre Row), Wilbur in Charlotte's Web (TheaterWorksUSA), Peter in The Diary of Anne Frank and Charlie in Brigadoon (St. Bart's Players), Francis (La Cage aux Folles), Captain in Sleepy Hollow (Emerging Artists Theatre). Film: Vultures, directed by L.A. Teodosio. CUNY Hunter College (MA Theatre), HB Studio, NYU Steinhardt (BM Music Theatre). Proud member of NY Eastside Aikikai (Aikido Shodan black belt), NYC Office Suites, SAG-AFTRA, and AEA. @aikidodway
(Rev. Tooker). This is Milton Elliott's 4th show with Ruth Stage. He is reprising his role as 'Reverend Tooker'. His previous roles with Ruth Stage include the 'Ghost' in Hamlet and 'Second Murderer' in War of the Roses. He is a graduate of the American Academy of Dramatic Arts. Other shows include Black Eagles, performed at Crossroads Theater, Ford's Theater, and The Manhattan Theater Club, respectively. He was also in the first National Tour of Neil Simon's Biloxi Blues. Fear can be conquered. Outside the box is welcomed. Meaningfulness is essential. Onstage is a magical place.
JIM KEMPNER
(Doc Baugh) is a film and theatre actor with training at HB Studios, The Freeman Studios, and The Harvey Lembeck Comedy Workshop. NYC: 'Mark Rothko' in Red, 'Polonius' in Hamlet, and 'Serge' in Art. Film: Steven Soderberg's "The Girlfriend Experience", the pilot of "Shoot Me Nicely", and a series of short films based on his 50-episode web series, "The Madness of Art". Jim owns and runs the Jim Kempner Fine Art gallery in Chelsea.
(Director) is a writer, producer, actor and director from the New York City area. As an actor he has appeared on "The Sopranos", "Ed", "Law and Order", "Sex and the City", "Law and Order SVU", "Oz", "100 Centre St", "Hope and Faith", and the original pilot "Thunderbox". Joe has also appeared numerous times on "The Chappelle Show" and "The View" in various comedic skits and was a re-occurring character on the "Late Show with David Letterman". He has also appeared in over 50 commercials. Rosario is also an award-winning filmmaker and producer. His films and scripts have been official selections at over 50 festivals including Cannes, Barcelona and the New York International Film Festival. His feature length drama, Snapshot, starring Zach McGowan of "Shameless", was one of his winning submissions. A resident of New Jersey, Joe is also an accomplished acting teacher and he coaches many actors seen on TV and film. Rosario directed the summer 2022 off-Broadway premiere of Cat on a Hot Tin Roof at the Theatre at St. Clement's in New York City.
(Set Design) is an award-winning scenic and lighting designer, and the resident scenic designer for Ruth Stage. He designed the critically acclaimed off-Broadway production of Cat on a Hot Tin Roof this past summer at Theatre at St. Clement's. Additional Off Broadway: soot and spit (New York Times Critics Pick), Love and Yogurt: A Modest Proposal (world premiere, Cherry Lane Theatre), A Little Princess (US Premiere), Disney's High School Musical, Frankenstein. Additional NYC: Danny and the Deep Blue Sea, Rabbit Hole, Proof, Hamlet. US National Tour: A Charlie Brown Christmas, Live! Regional: Stephen Temperley's A Christmas Carol (premiere): Crazy For You, Anna in the Tropics; Boston Lyric Opera; Opera Naples. www.matthewimhoff.viewbook.com

JESSE MECKL
(Stage Manager) is a graduate of the New School for Drama (2018), who earned a Dramatic Arts degree with an emphasis on directing, acting, and stage management. Jesse has enjoyed working in all three disciplines to add his voice to this community of artists. His favorite productions include: A Midsummer Night's Dream (The New School for Drama), Echoes of Ebola (ASM: Playwrights Horizons), Fabuloso (Theatre Row), The Land of Cheesecake and Ice Cream (Theatre Row), KATIE (Theatre for the New City), and Wars of the Roses: Henry VI & Richard III (Bank Street Theatre & Theatre for the New City). He's thrilled to be RETURNING to Cat on a Hot Tin Roof, and is extremely grateful to be a part of this ensemble. @JTFreckle96

Christian Specht (Lighting Design). Ragtime, The Music Man, Crazy for You, Hello Dolly, Bright Star, Cabaret (SSTI); Engineers Not Found (Honest Accomplice Theatre); Duets of Difference (Creative Traffic Flow); Peter and the Starcatcher, 1776, Freaky Friday, Children of Eden (Samford University); Turn of the Screw (VST), Glen Campbell, The Manhattan Transfer, Mandy Patinkin: Dress Casual, Ann Hampton Callaway (Angelina Arts Alliance); Around the World in 80 Days/ ALD, Freaky Friday/ ALD (Alley Theatre); Titanic The Musical (ALD) (Signature Theatre); Ain't Too Proud/ intern (Kennedy Center); Originally from Leesburg, GA. MFA in Lighting Design, Virginia Tech; BFA Performance, Valdosta State University. @Spechtc5792, Christianspechtlighting.com
TOMAS CORREA
(Sound Design) Tomás Correa is an actor and creative technologist from Sleepy Hollow NY. His previous credits include Argonotica at New School for Drama (Hylas / Sound Design), Arrogance at Parsons School of Design & Aalto University (Projection & Sound Design), and Adam & Eve at Hudson Street Theatre (Sound Design). Most recently Tomás has worked as a developer specializing in augmented reality for theater. He currently works as the VR specialist for Parsons School of Design. Tomás holds a BFA from The New School.
JOSEPH GRANO
(Co-Producer) currently serves as the Principal Partner of the JJG Family Office, which primarily engages in advisory services. He is currently a Director on the VIRTU public board. From 2001-2004, Mr. Grano was Chairman and Chief Executive Officer of UBS Financial Services Inc. (formerly UBS PaineWebber). In addition to being one of the financial service industry's leading executives, Mr. Grano is involved in a wide range of educational and philanthropic endeavors. In 2002, Mr. Grano was appointed by President George W. Bush to serve as the Chairman of the Homeland Security Advisory Council. He relinquished his position in August 2005. Mr. Grano joined PaineWebber in February 1988 as President of Retail Sales and Marketing and became President of PaineWebber Group in December 1994. As President, he oversaw a series of important and dramatic restructurings at the firm, including the acquisition of Kidder, Peabody in 1995 and J.C. Bradford in 2000. Finally, Mr. Grano was instrumental in helping to bring about the merger of PaineWebber with UBS in 2000, when Mr. Grano was named President and CEO of UBS PaineWebber, and the following year was named Chairman and CEO. Prior to joining PaineWebber, Mr. Grano was with Merrill Lynch for 16 years, holding various senior management positions including Director of National Sales. In 1987, he was named the industry's best retail marketing executive in a survey conducted by Investment Dealers' Digest. Mr. Grano was Chairman of the Board of Governors of the NASD and a member of the NASD's Executive Committee. Before joining Merrill Lynch, Mr. Grano served in the U.S. Special Forces (Green Berets). He became one of the Army's youngest officers, achieving the rank of Captain. Mr. Grano has been awarded 6 Honorary Doctorate Degrees from Pepperdine University and Babson College, as well as Honorary Doctor of Humane Letters degrees from Queens College, City University of New York, and Central Connecticut State University. In addition, he holds an Honorary Doctor of Business Administration degree from the University of New Haven. Mr. Grano served as Vice Chairman of the Queens College Foundation Board of Trustees and was on the Board of Directors of the YMCA of Greater New York and on the Board of Lenox Hill Hospital. He is a member of the City University of New York's Business Leadership Council and President of the Advisory Board for LEAD (Law Enforcement Against Drugs). In 1996, Mr. Grano was a recipient of the Ellis Island Medal of Honor in recognition of distinguished contributions to our country, and in 1998 he received the "La Bellissima America" award for his leadership role in preserving the heritage of Italian Americans. In October 2002 he received the Corporate Leadership Award from the Thurgood Marshall Scholarship Fund for his commitment to education. In 2000, he became the 39th recipient of the USO Gold Medal Award for Distinguished Service and was named Business Leader of the Year by Georgetown University's School of Business. In 2004 Mr. Grano received the Sons of Italy Foundation National Education & Leadership Award. In 2012 Mr. Grano was honored at the NJ Vietnam Veterans' Memorial Foundation and he received the Quiet Professional Award from the Green Beret Foundation for his patriotic contributions to our country. Mr. Grano also won a Tony Award as a producer of the record-setting musical Jersey Boys. Mr. Grano is the author of the book You Can't Predict a Hero which was on Businessweek's best seller list in 2009.
(1911-1983) explored passion with daring honesty and forged a poetic theatre of raw psychological insight that shattered conventional proprieties and transformed the American stage. The autobiographical The Glass Menagerie brought what Mr. Williams called "the catastrophe of success," a success capped by A Streetcar Named Desire, one of the most influential works of modern American literature. An extraordinary series of masterpieces followed, including Vieux Carre, Sweet Bird of Youth, The Rose Tattoo, Orpheus Descending and the classic Cat on a Hot Tin Roof.
RUTH STAGE
is an edgy and innovative New Jersey based nonprofit theater group, founded by the late Bob Lamb in 1982. Over the last four decades, our maverick organization has produced nearly 200 productions. Our nonprofit has employed hundreds of actors, stage managers, designers, crafts people and a litany of other behind the scenes artists. Our productions, seen by hundreds of thousands of theater goers, have inspired generations to get involved in the arts. By re-introducing thought provoking, seminal playwrights like Tennessee Williams to more audiences, Ruth Stage aims to keep the classics alive. Ruth Stage re-imagines, reinvents and accessibly presents must see, formative works to audiences of all ages. Another unique aspect of our theater group is our Foundation for the Arts initiative. A portion of all our fundraising dollars is dedicated to supporting other organizations in the communities around us. Ruth Stage has given out tens of thousands of dollars in grants to deserving causes. Vietnam veterans, families of fallen first responders, students in the arts and a handful of theater groups have been the recipients of our awards. In September of 2022 Ruth Stage gave away our premiere gift, The Bob Lamb Community Grant, to the Autistic Community Theater group in New York City. In October of 2021 we also sponsored a gala event in Soho called Theater Saves Lives where we partnered with the Cholangiocarcinoma Foundation to raise money and awareness for those living with Bile Duct cancer.