IT'S A WONDERFUL LIFE Returns to Irish Rep for the Holidays Tonight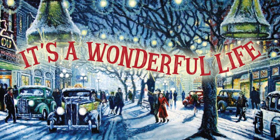 Irish Repertory Theatre presents IT'S A WONDERFUL LIFE, adapted by Anthony Palermo (Scrooge & Marley). Directed by Charlotte Moore (The Home Place), IT'S A WONDERFUL LIFE begins performances tonight, November 29, 2017 at Irish Rep Theatre (132 West 22nd Street) on the W. Scott McLucas Studio Stage, with an opening night set for December 3, 2017, and will run through December 31, 2017.
Christmas Eve, 1946... George Bailey, the nicest guy in town is in a terrible predicament. We find him perched precariously on a bridge, on the verge of suicide. Enter Clarence, George's guardian angel, who has not yet earned his wings. Clarence shows George what Bedford Falls would be if George had never been born! This beloved holiday-season drama is brought vividly to life in a stage adaptation of Frank Capra's classic film of sacrifice and redemption in small-town America. Set in a radio station in the 1940s, with a live sound FX artist, this poignant drama features six actors portraying 25 unforgettable characters. P.S. - Clarence wins his wings.
Irish Rep previously staged IT'S A WONDERFUL LIFE in a 2012 production, directed by Moore. The production was revived, by popular demand, for the 2013 holiday season.
The cast for IT'S A WONDERFUL LIFE will feature Haley Bond (Fiddler on the Roof) as "Mary Bailey," Dewey Caddell (Finian's Rainbow) as "Ensemble," Orlagh Cassidy (The Ruins of Civilization) as "Ensemble," Rory Duffy ("Blue Bloods") as "Live Sound Engineer/Ensemble," Aaron Gaines (The Show Off) as "George Bailey," and Ian Holcomb ("CoExisting") as "Ensemble."
The production will feature set design by James Morgan (Desperate Measures), costume design by Barbara Bell (You Can Never Tell), lighting design by Brian Nason (The Emperor Jones), sound design by Zach Williamson (New Girl in Town), and live sound effects by Rory Duffy. April Kline (Off the Meter, On the Record) will serve as production stage manager.
IRISH REPERTORY THEATRE, co-founded by Producing Director Ciarán O'Reilly and Artistic Director Charlotte Moore, opened its doors in September 1988 with Sean O'Casey's The Plough and the Stars. The Irish Rep is currently the only year-round theatre company in New York City devoted to bringing Irish and Irish American works to the stage. Recognized with the Jujamcyn Theatres Award, a special Drama Desk Award for "Excellence in Presenting Distinguished Irish Drama," an Outer Critics Circle Award for Outstanding Achievement, and the Lucille Lortel Award for "Outstanding Body of Work," the Irish Rep has celebrated the very best in Irish theatre for over twenty-five years, from the masters to the new generation of Irish and Irish American writers who are transforming the stage. Nearly 38,000 audience members annually attend productions at our theatre located in the heart of New York's Off Broadway community. Once here, they witness the Irish Rep's engaging perspective on the Irish and their unique contributions to the world of drama.