Review: JOAN at ASB Waterfront Theatre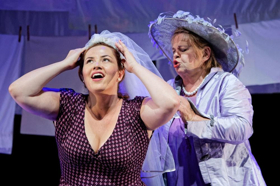 The Giltrap Audi Season of Auckland Theatre Company's 'Joan' is ingenious; originally crafted and constructed, an honour to the duality of our tears and the power of motherhood.
Having already tasted the fine wine after an exquisite journey with "The Daylight Atheist", award-winning playwright Tom Scott's story about his father, I was unsure how I was going to feel about 'Joan', Scott's play about his mother.
'Joan' takes us on a different path and so it should.
Director Tim Gordon and Set designer Rachael Walker have delivered with innovation and insightful creativity.
Accolades to the originality of the construction of this piece, ingeniously reflecting Joan herself; ducking and diving between the pathos and the humour; between youth and age; between pride and disappointment and even life and death. Characters chop and change before our eyes; a clever mirroring of Joan's thoughts.
The set is original in function and style. The washing line, a metaphor for motherhood, creates a cradle of intimacy and love that Joan could never find the words for but clearly felt.
The survival strategies of this woman were beautifully orchestrated by both Ginette McDonald and Kate McGill who play the older and younger Joan.
McGill solved all problems with her faith in the future and McDonald masking the pain of brokenness and the psychological effects of long term anguish.
McDonald's excellent sense of timing paid homage to the woman who was proud of being a Gemini; Joan using her sharp and clever wit to counteract the deep sadness of disappointment and isolation that she lived with.
The measure of a great show is when you find yourself thinking about it during random moments of your own life and 'significant other' and I have found ourselves laughing at many of the very clever and hugely hilarious one-liners, 'I speak for the room' being our mutual favourite. You'll have yours. Go see it.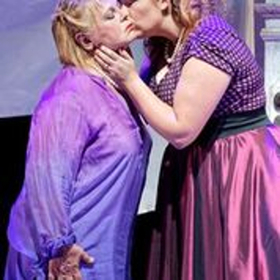 Auckland Theatre Company
Joan
ASB Waterfront Theatre
February 12-23
Bookings: https://www.atc.co.nz/auckland-theatre-company/2018-19/joan/