Sons of Serendip from America's Got Talent Bring Holiday Cheer to Kean Stage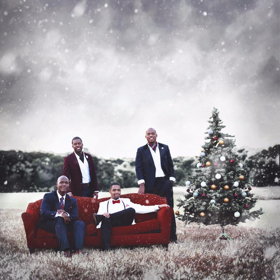 The classical crossover ensemble Sons of Serendip will present their holiday show,Christmas: Beyond the Lights, at Kean University's Enlow Recital Hall in Hillside, N.J., on Saturday, December 9. This is the quartet's second visit to Kean Stage and, this time, they have invited the award-winning Kean University Gospel Choir to share the stage with them.
"I am very excited for the opportunity to bring in the Christmas spirit with Sons of Serendip!" said Kean Gospel Choir president Danielle Thomas of Lafayette. "An event like this allows us to expand our vocal skills and show a different side of the Kean University Gospel Choir."
Fans of America's Got Talent may remember this quartet who, in 2014, were fourth place finalists on the television show. They also appeared last year on the America's Got Talent Holiday Spectacular,performing The Christmas Song (Chestnuts Roasting on an Open Fire) along with the Silhouettes, the runner-up from Season 6.
"We're excited to be coming back to Kean Stage," said lead singer Micah Christian. "We're looking forward to sharing our Christmas concert there."
Kean Gospel Choir member Richonda Fegins of Linden is excited about the upcoming performance.
"These men are truly talented, and it is an honor to be able to be on stage with them," she said.
Sons of Serendip got its start when Christian met Cordaro Rodriguez, Kendall Ramseur and Mason Morton while they were all graduate students at Boston University. Each was trying to find their way in life and, through a serendipitous series of events, they found each other. Christian had been singing since the age of 12 but never considered it as a career. Instead, he studied theology, earned a Master of Divinity and spent a year volunteering in a rural community in Peru.
"I wanted music to be a part of my life but not necessarily the thing," said the Massachusetts native. "I thought that would somehow take away from the experience of music that I loved. But being on the road with these guys, I learned I was wrong."
Morton, who hails from Atlanta, Ga., is a former teacher who plays the harp. He was mentored by the principal harpists from the Atlanta Ballet and Boston Symphony Orchestra. Rodriguez, a former attorney from Charlotte, N.C., is the group's pianist and guitarist. He began teaching himself piano at age 10 and became well versed in several other instruments as well as music production. Ramseur, also from Charlotte, was a cello instructor and is now the group's cellist and vocalist.
Ramseur reconnected with Rodriguez at Boston University and they roomed together along with Morton. During his difficult year in Peru, Christian contacted Rodriguez and asked him if he would make an album with him if he came back to the states.
"He and I enjoyed working together, and I really needed to find a way to get music back into my life," said Christian. "Making music and performing made me feel so alive."
Then Christian heard about America's Got Talent and told Rodriguez to ask his roommates if they wanted to audition. Everyone said yes.
"That completely changed everything," said Christian. "When we got together for the first time, we knew we had something here. We only practiced together twice before we sent in a video. They contacted us three weeks later and asked for more material."
That was something they didn't have, so the four men, who all had opposing work schedules, met from 11 p.m. to 2 a.m. for two weeks to practice and record a few more songs. They appeared on the show throughout Season 9, performing songs such as Chris Isaac's Wicked Game and Evanescence's Bring Me to Life. They ultimately came in fourth place.
"We kept getting further and further and the next thing you know, we're in the finals," said Christian. "We went from not having a group at all to having tours and albums planned."
It was surely serendipity, combined with the magic spark of their combined talents that brought Sons of Serendip together. The group has since released three albums, one of which is Christmas Beyond the Lights, which includes holiday classics plus a few original songs, many of which they will perform at Kean Stage's Enlow Recital Hall.
"We try to take the songs everyone has heard thousands of times and make them fresh, like you're hearing them for the first time," said Christian. "We'll have a good time laughing, crying and sharing stories. There will be an interactive element to the show. We hope to capture all the emotions of the holiday season."
That interactive element came through at their last Kean Stage appearance when Christian and Ramseur performed an impromptu rendition of Amazing Grace in the theater lobby after the show with Kayla Richardson, a 14-year-old student from the Institute of Music for Children in Hillside.
"We heard she had a beautiful voice," said Christian. "It was one of those moments we'll never forget. I hope we see her again at the Christmas show."
This year, the inclusion of the Kean Gospel Choir will be among the show's added surprises.
Sons of Serendip will perform on Saturday, December 9, at 7:30 p.m. at Kean Stage's Enlow Recital Hall, 215 North Ave., Hillside. Tickets are $40 to $60 and are available at the Box Office in Wilkins Theatre, by phone at 908-737-7469 or online at www.keanstage.com.

Related Articles View More New Jersey

Stories

Shows
More Hot Stories For You