Photo Flash: First Look at Cent. Stage Co.'s DRACULA
Audiences and critics alike are raving over Bram Stoker's Dracula, written and directed by Charles Morey and running now through October 28 in the Lackland Performing Arts Center. Before Twilight and True Blood, only one vampire commanded "the children of the night." In this blood-thirsty tale of unholy terror, Count Dracula slips into Victorian London with a cargo of his native Transylvanian soil - so he can rest between victims. The city seems helpless against his frightful power, and only one man, Dr. Van Helsing, can stop the carnage. But to do this, he must uncover the vampire's lair and pierce his heart with a wooden stake.
Featuring a cast of professional actors from across the tri-state area, Dracula is directed by Charles Morey. Morey is a director, playwright and former artistic director with more than forty-five years' experience in the professional theatre and extensive credits from coast to coast. Performances for Dracula continue now through October 28. Specific performance dates are Fridays Oct. 19 and 26 at 8PM; Saturdays Oct. 20 and 27 at 8PM; Sundays Oct. 21 and 28 at 2PM; Wednesdays Oct. 17 and 24 at 2PMand Thursdays Oct. 18 and 25 at 7:30PM. All performances will be held in the Sitnik Theatre of the Lackland Performing Arts Center. Centenary Stage Company's production of Dracula is sponsored by season sponsor Heath Village and series sponsor The House of the Good Shepherd.
Adult ticket prices for Dracula are $25.00 matinee performances, $27.50 Friday evening performances, and $29.50 Saturday evening performances. Tickets for children under 12 are $17.50 matinee and Friday evening performances and $20.00 Saturday evening. Thursday evening performances are $27.50 for all seats with a Buy One/Get One rush ticket special. BOGO ticket special is only valid in person at the Centenary Stage Company box office beginning at 5:30PM. BOGO is not valid for advance ticket sales and may not be combined with any other offer or discount. Centenary Stage Company also offers special Buffet Matinees on Wednesday afternoon performances for groups of 25 or more. Enjoy lunch/brunch in one of our private dining rooms and receive discounted tickets to the performance. To reserve a buffet matinee or to inquire about additional group sales contact the Centenary Stage Company box office directly. Centenary Stage Company also offers a variety of discounts for groups, students and alumni, staff and faculty of Centenary University. Contact the box office directly for a full listing of all CSC special promotions, offers and discounts.
For more information or to purchase tickets visit centenarystageco.org or call the Centenary Stage Company box office at (908) 979-0900. The box office is located in the Lackland Performing Arts Center at 715 Grand Ave. Hackettstown, NJ. The box office is open Monday through Friday from 1-5pm and two hours prior to each performance. Centenary Stage Company can also be found across social media platforms; Facebook, Instagram, and Twitter. Like and follow to receive the latest in CSC news and special offers.
Photo Credit: Pat Lanciano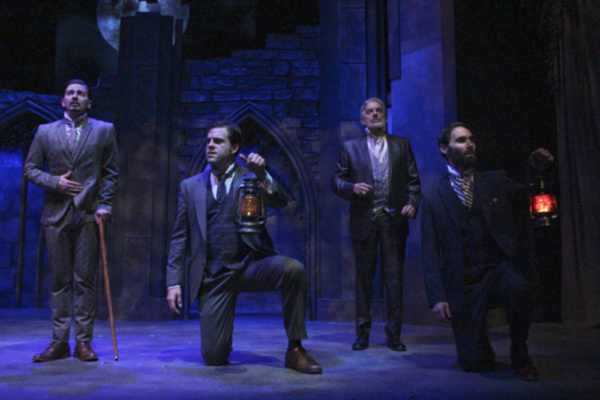 Christopher John Young as Jonathan Harker, Peter Kendall as Arthur Holmwood, Carl Wallnau as Dr. Van Helsing and Nicholas Wilder as Dr. John Seward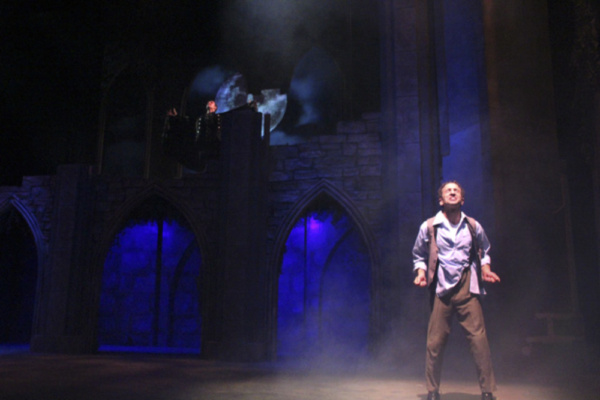 Mar LeVasseur as Count Dracula and Gary Littman as R.M. Renfield

Peter Kendall as Arthur Holmwood, Nicholas Wilder as Dr. John Seward, Haley Barna as Lucy Westenra and Carl Wallnau as Dr. Van Helsing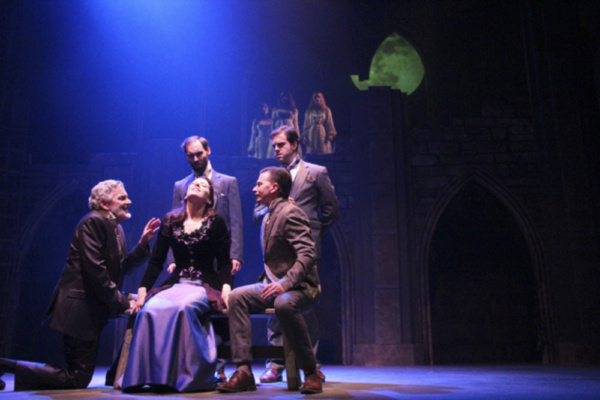 Carl Wallnau as Dr. Van Helsing, Emaline Williams as Mina Murray Harker, Nicholas Wilder as Dr. John Seward, Christopher John Young as Jonathan Harker, Peter Kendall as Arthur Holmwood, BriAnna Morris, Ally Borgstrom and Kathryn Pedersen as Dracula's brides