La Strada Theater Ensemble Presents HAPPENSTANCE An Evening of Plays about Rolling the Dice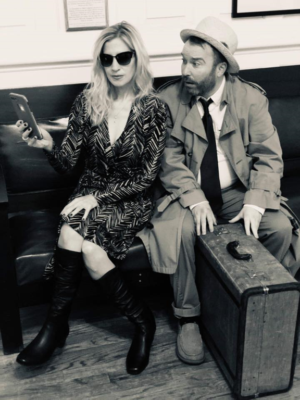 La Strada Theater Ensemble is one of New Jersey's premiere developmental theater companies to collaborate actors from the tri-state area with playwrights from throughout across the world. HAPPENSTANCE is a collection of new short plays with theater artists from the New Jersey and New York on stage!

La Strada's HAPPENSTANCE: An Evening of Plays about Rolling the Dice... is a twisty evening of new plays...designed to make you laugh, make you think and entertain you. The evening plays three performances at the Jersey Arts Center, 66 South Main Street, 3rd Floor Herb Herbst Theater in Ocean Grove. La Strada Theater Ensemble is an organization fueled by the passion of new works, emerging artists and revivals of important plays. La Strada asks how much does luck, fate and destiny play into your life choices? The evening is directed by founding member and artistic director A.J. Ciccotelli, features world premieres of legendary and Emmy Award winning writer William Mastrosimone and Hollywood Vampire writer Tom Cavanaugh and features Christine Nagy of 107.6 Lite-FM's Bob and Christine Morning show.
A bumbling traveler seeking his destiny meets a beautiful and mysterious blonde who lives in a dark and dangerous world who tries to convince him that his destiny might be in front of him in The Un-Destined Traveler by local Toms River resident A.J. Ciccotelli.
A big beautiful woman is working out when she's approached by a slender, attractive, seemingly "Fitness Guru"! We find out that our big, beautiful woman is NOT putting up with it this time in the east coast premiere of I'm Fat! by local Edison resident Tom Cavanaugh.
· A self-absorbed photographer breaks into her enigmatic literature happy ex's apartment to find clues to her whereabouts but her ex's foul-mouthed roommate wants her to admit her part in the break up in A.J. Ciccotelli's world premiere of Monica, Where Are You?
· An idealistic young man looks for the young woman he shared a magical night with only to be confronted by her friends and the reality that not everyone is who they claim to be in the world premiere of Air Guitar by legendary playwright and Emmy award winning William Mastrosimone.
The evening stars Sienna Grinwald-Alves, Joey Iozzi, Brendan Keffner, Margaret Leone, Tara London, Samantha Maidlow, Christine Nagy, Alexandria Pascucci, Jared Pesciotta, Madison Starr Wicker and W. Allen Wrede.
Tickets are $25/$20 for students and senior citizens with an ID. The performance will be held at Jersey Shore Arts Center, 66 South Main Street, 3rd Floor (Elevator Available) Herb Herbst Theater in Ocean Grove.
For tickets and information please visit us online at www.lastradaensemble.org or by emailing us at lastradaensembletheater@gmail.com or calling us at (732) 455-2748.