Daniel Robert Sullivan Announces Instagram Contest For A DOG STORY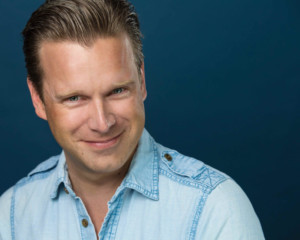 The Bickford Theatre at the Morris Museum has its latest star and a new Instagram contest. Daniel Robert Sullivan,of JERSEY BOYS and MOTOWN THE MUSICAL, will lead a company of four in the first regional production of A DOG STORY after its well-reviewed New York City run last year. A charming twist on the classic romantic comedy, A DOG STORY follows a career-driven lawyer who discovers there's more to life when you "get a dog!"
Daniel Robert Sullivan announced today, "We're giving away tickets to our opening night performance and party to those who love their dogs! To enter, follow the Morris Museum on Instagram, post a picture of your dog, tell us about him/her, then hashtag #ADogStory and #BickfordTheatre. Post by April 6th and the picture with the most likes will win! You'll be able to join us opening night, April 13th."
A DOG STORY will be performed from April 12-22, 2018. The book of the show is written by Eric H. Weinberger, music and lyrics by Gayla D. Morgan.
Director Eric Hafen shares, "This bright and positive new musical made me smile. Hearing the music made me laugh and love. Everyone knows that a dog can be emotionally transforming to the soul. If you love dogs as much as I do, you will love A DOG STORY."
The rest of the cast includes Allie Ambriano, Shabazz Green, and Clare Fitzgerald.
PERFORMANCES:
Thursday, April 12, 7:30PM and April 19, 2:00PM and 7:30PM
Friday, April 13, and April 20, 8:00PM
Saturday, April 14 and April 21, 8:00PM
Sunday, April 15 and April 22, 2:00PM
SPECIAL EVENTS:
There will be an opening night cast party for Bickford Theatre subscribers and members of the press following the performance on Friday, April 13. Gayla D. Morgan, composer and lyricist, will be in attendance this evening.
There will be a post-performance chat with the cast and creative team on Thursday, April 19. Gayla D. Morgan will also be in attendance that evening.
TICKETS:
$45 General Public; $40 Seniors; $38 Morris Museum Members; $33 Groups (10 or more); $20 Students (with a valid student ID). There is a $3 service charge per ticket.
Tickets may be purchased online at http://morrismuseum.org/main-stage-performances/, by phone at 973.971.3706, or in person at the Bickford Theatre Box Office. The Bickford Theatre is an integral part of the Morris Museum, located at 6 Normandy Heights Road in Morristown, NJ, and offers free parking and full accessibility. Box Office hours for phone sales are Monday through Friday, 10:00am to 5:00pm. Walk-up hours are Tuesday through Friday, 11:00am to 5:00pm.
ABOUT THE BICKFORD THEATRE:
The Bickford Theatre is a professional theater that produces and presents year-round entertainment, including a Main Stage Series, two Children's Theatre series, a Jazz Showcase, and other special performances and concerts. The theatre is an Equity Producing Theatre member of the New Jersey Theatre Alliance, a not-for-profit organization of 30 professional theaters throughout the state, and works in conjunction with Actors' Equity Association and the Stage Directors and Choreographers Society. From its beginnings in 1994 to the present, tens of thousands of theater-goers from across the tri-state area have enjoyed the Bickford Theatre's many entertaining and diversified offerings in theatre, music and dance. Eric Hafen has been Producing Artistic Director at the Bickford Theatre since 2001.