BWW Review: CHARLEYS AUNT at The Shakespeare Theatre of NJ is a Comedic Jewel
"College gents will do anything"
by Brassett in Charley's Aunt
Treat yourself to the comedic jewel of the fall theatre season. Charley's Aunt by Brandon Thomas is now being performed at The Shakespeare Theatre of New Jersey. With the creative, clever direction of Joe Discher and a cast that is ideal in their roles, you'll be laughing out loud at the situations that occur in this timeless story about the unpredictability of love. The play was a big hit when it debuted in Victorian England in 1892 and enjoyed popularity on both the British and American stages.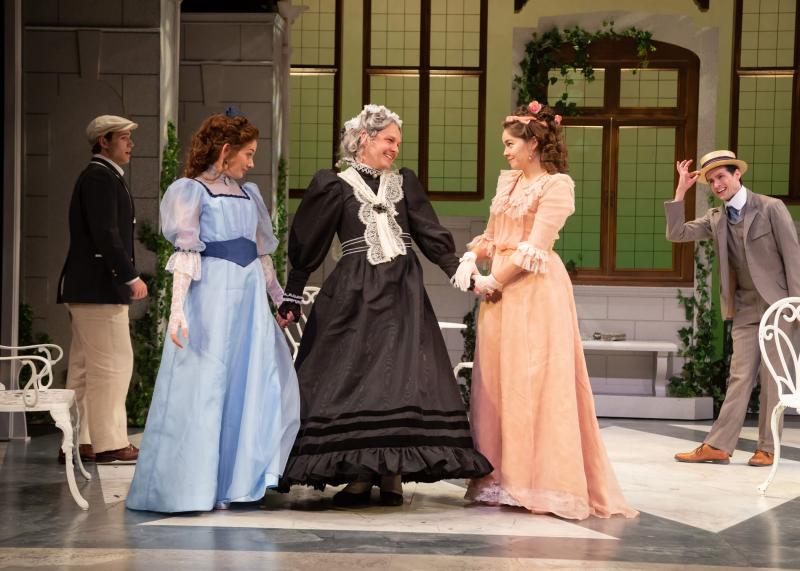 Romance is in the air when two Oxford College chums try to romance the lovely girls of their dreams. Charles Wykeham hopes to win the affection of Amy Spettigue while Jack woos Kitty Verdun. But, the young women live under the strict guidance of their elderly and bombastic guardian, Stephen Spettigue. Jack and Charles make plans to invite the girls for a luncheon to meet Charles' wealthy aunt, Donna Lucia D'Alvadorez who is due to arrive from Brazil. The young men's plan seems destined to fail when they learn that her visit has been delayed. Because the girls cannot attend without a proper chaperone, Jack and Charles convince a friend, Lord Fancourt Babberly, known as "Babbs" to dress as a woman and impersonate Donna Lucia D'Alvadorez. There are endless shenanigans in this farcical tale as Babbs creates a ridiculous, yet at times convincing impersonation. There are even more antics with other dynamic personalities in the story that include the butler, Brasset; Jack's father, Colonel Sir Frances Chesney; the real Donna Lucia D'Alvadorez; and her adopted niece, Ela Delahay.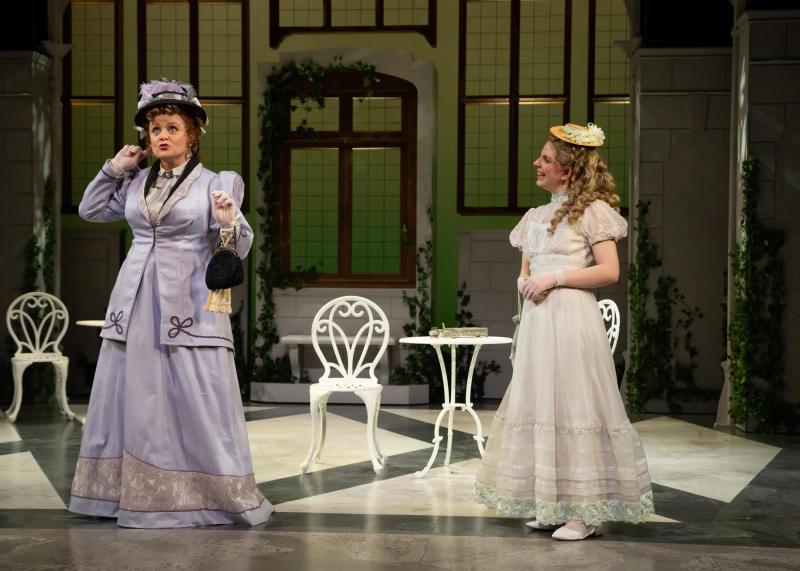 The entire cast shines bright in their roles as they master the fast-moving, hilarious scenes and Brandon Thomas' glib dialogue. The troupe includes Peter Simon Hilton as Brassett; John Ahlin as Stephen Spettigue; Isaac Hickox-Young as Charles Wykeham; Aaron McDaniel as Jack Chesney; Seamus Mulcahy as Lord Fancourt Babberly; David Andrew Macdonald as Colonel Sir Frances Chesney; Emiley Kiser as Amy Spettigue; Erica Knight as Kitty Verdun; Erika Rolfsrud as Donna Lucia D'Alvadorez; and Sally Kingsford as Ela Delahay.
The Creative Team has designed a wonderful setting for Charley's Aunt with scenic design by Brian Prather; lighting design by Matthew E. Adelson; costume design by Natalie Loveland; and sound design by Steven Beckel. Dialect Coach is Julie Foh; the Production Stage Manager is Kathy Snyder.
The production of Charlie's Aunt by The Shakespeare Theatre of New Jersey is a gift to metro area audiences. Everyone needs a good laugh, and this show guarantees that you'll have one. We applaud Artistic Director, Bonnie J. Monte and the Company for continuing to bring Madison audiences the best in classic theatre.
Charley's Aunt runs run time is approximately 2 hours and 30 minutes with two intermissions. Tickets are available by calling the Box Office at 973.408.5600 or by visiting https://www.shakespearenj.org/. The Theatre is located at 36 Madison Avenue, Madison, NJ on the campus of Drew University. They have ticket specials that include $15 student rush tickets that are available 30 minutes prior to performance time with a valid ID. With the 30 under 30 program, patrons 30 and under can purchase tickets for only $30 with a valid ID subject to availability. There is a limited number of "Pay What You Can" tickets on a first come, first served basis. Season Memberships are also available.
Photo Credit: Jerry Dalia