Review: ANNIE at Paper Mill Playhouse has Exquisite Holiday Charm and So Much More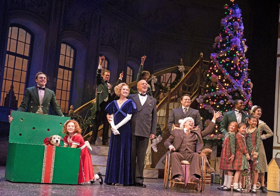 Everybody's favorite redhead returns to Paper Mill Playhouse to delight metro area audiences this holiday season. A marvelous production of Annie is now on the Millburn stage through December 31. Directed by the Playhouse's Producing Artistic Director, Mark S. Hoebee, choreographed by JoAnn M. Hunter, with music supervision and direction by Jeffrey Saver, the show features a brilliant cast. This is the finest production of Annie you could ever hope to see. Invite your friends and bring the whole family to enjoy the show that has pleased musical theatre lovers for generations.
Annie is based on Harold Gray's once popular comic strip, "Little Orphan Annie." The first Broadway production debuted in 1977 and was directed by Martin Charnin. The book is by Thomas Meehan, music by Charles Strouse, and lyrics by Martin Charnin.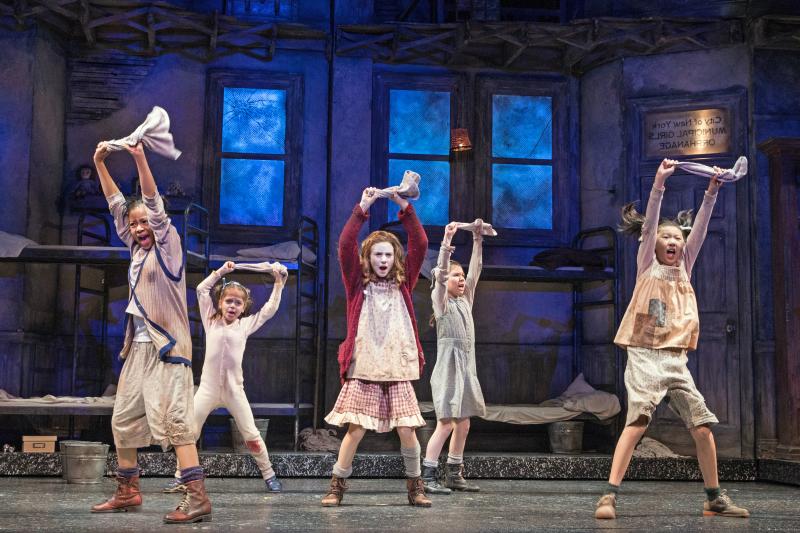 Set in the midst of the Great Depression, the show tells the story of Annie, an 11 year-old orphan who has been taken away from a city foundling home and the tyrannical woman in charge, Miss Hannigan. Annie is given the exciting opportunity to stay at the home of wealthy industrialist, Oliver Warbucks during the holiday season. Warbucks and his staff are absolutely charmed by the little girl and they make a monumental effort to find her real parents using media, investigators and Warbucks' offer of a handsome reward. When Miss Hannigan along with her troublesome brother, Rooster and his girlfriend, Lily St. Regis learn about the money, they plan a dastardly scheme to have Rooster and Lily impersonate Annie's parents. But will they be able to fool Annie and all those who have come to love her?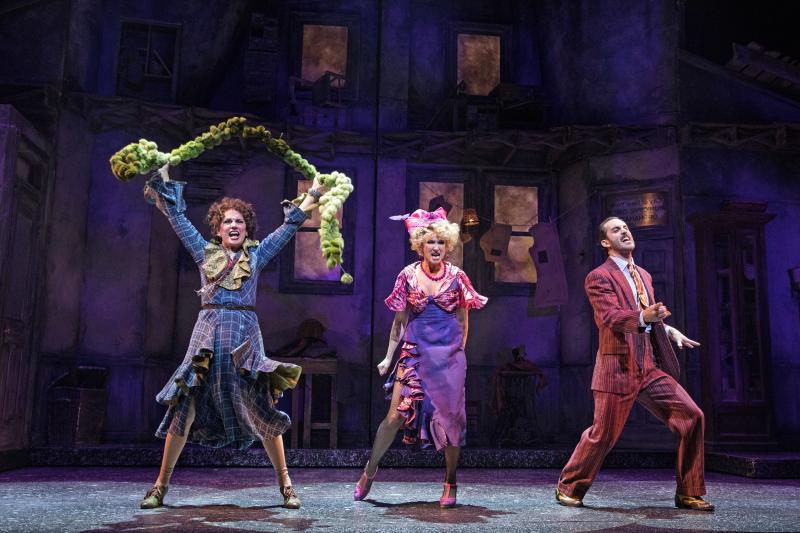 Audiences will be absolutely wowed by the cast of Annie. It is the ideal company to bring the spirit of the holiday classic to life with its heartfelt story and beloved musical numbers. The troupe features Beth Leavel as as Miss Hannigan; Christopher Sieber as Oliver Warbucks; Erin Mackey as Grace Farrell; Cooper Grodin as Rooster Hannigan; Kim Sava as as Lily St. Regis and Kevin Pariseau as Franklin D. Roosevelt. We saw the opening night production with Cassidy Pry who perfectly captured the role of Annie. Peyton Ella will alternate in the part. The orphans are a charismatic group of youngsters with Gabby Beredo as Pepper; Tessa Noelle Frascogna as Molly; Michelle Henderson as Duffy; Eve Johnson as Tessie; Lauren Sun as July; and Sloane Wolfe as Kate.
Rounding out the cast is a muli-talented ensemble that includes Damien Brett, Shavey Brown, AnnEliza Canning-Skinner, Lynn Masako Cheng, Stacia Fernandez, Michael Coale Grey, Ruby Griffin, David Hess, Stacey Todd Holt, Joshua Israel, Allen Kendall, Kate Marilley, Bronwyn Tarboton, and Amy Van Norstrand. And there's also Macy as Sandy the dog and Addison as the Stray Dog.
The score of Annie is wonderfully performed. The show starts off with "Maybe" by Annie followed by "It's a Hard-Knock Life" by Annie and Orphans. "Little Girls" by Miss Hannigan and "Easy Street" by Rooster, Miss Hannigan and Lily offer exciting and comical moments. There are touching pieces like "You Won't Be an Orphan for Long," by Grace, Warbucks and Annie and "Something was Missing" by Warbucks. Audiences will be inspired by some of the show's favorites that include "Tomorrow" and "You're Never Fully Dressed Without a Smile."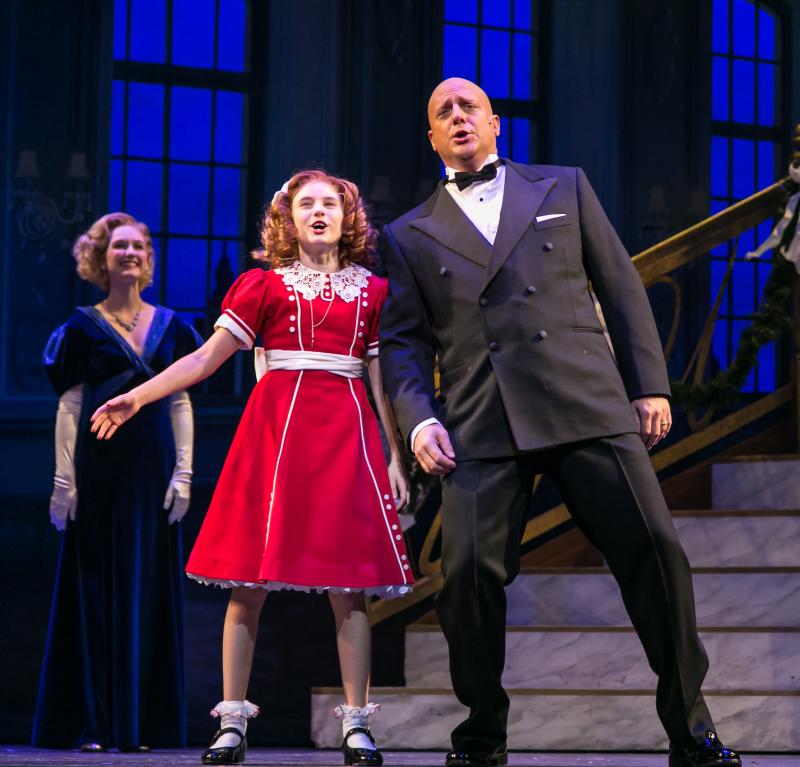 The Production Team has done a superb job of bringing Annie to the stage with set design by Beowulf Boritt; scenic coordination by Jared Rutherford; original costume design by Susan Benzinger; costume design for Paper Mill Playhouse by Leon Dobkowski; lighting design by Charlie Morrison; sound design by Randy Hansen; hair, wig and makeup design by Leah J. Loukas and animals by William Berloni. The Production Stage Manager is Victoria Navarro. Casting is by Telsey + Company, Rebecca Scholl, CSA.
Usher in the holiday season with Paper Mill Playhouse's exquisite production of Annie. This story of struggle, hope, and love brings real meaning to this season of giving.
Annie will be performed eight times a week, Wednesday through Sunday. The run time is 2 hours and 20 minutes with one intermission. Visit www.papermill.org for special holiday schedules. Ticket start at $34. They may be purchased by calling 973.376.4343, at the Paper Mill Playhouse Box Office at 22 Brookside Drive in Millburn, or online at www.papermill.org. Groups of 10 or more can receive up to a 40% discount on tickets and should call 973.315.1680. Students may order $23 rush tickets over the phone or in person at the Paper Mill Playhouse box office on the day of the performance. Paper Mill Playhouse's 2017/2018 season is sponsored by Investors Bank.
Photo Credit: Evan Zimmerman and Jerry Dalia