Click Here for More Articles on SHAKESPEARE SPOTLIGHT
BWW Review: A WINTER'S TALE at The Shakespeare Theatre of NJ is a Vibrant Holiday Production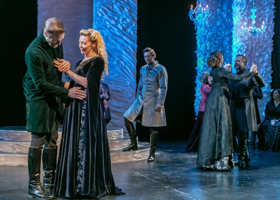 The Shakespeare Theatre of New Jersey is now presenting their marvelous season's finale, The Winter's Tale by William Shakespeare through December 30. With splendid direction by the Theatre's Artistic Director, Bonnie Monte, and an outstanding cast of thespians, this vibrant tale has a clever blend of reality and fantasy that will charm audiences. Take time from your busy holiday schedule and see The Bard's enthralling, magical story unfold on the Madison stage.
The Winter Tale opens with an idyllic scene, one that captures the spirit and joy of the season. Circumstances change rapidly when Leontes, King of Sicilia becomes incensed, believing that his beloved wife, Hermione has been unfaithful to him with Polixenes, King of Bohemia. Leontes baseless jealousy provokes him to imprison his Queen who is pregnant with their second child. Even after the birth of his daughter, King Leontes anger does not subside and horrific misfortunes ensue. But time, love, and mysticism may be able to change the course of this tale and bring the hope of a happy ending.
The enchantment of The Winter's Tale comes from weaving together varied scenes that include romantic encounters, intense tragedies, comedic happenstances, and festive celebrations. Leading the exceptionally talented company are Erin Partin as Hermione, Queen of Sicilia; Jon Barker as Leontes; King of Sicilia; and John Keabler as Polixenes, King of Bohemia. They are joined by Raphael Nash Thompson as Antigonus/Time; William Sturdivant as Autolycus; Ames Adamson as the Old Shepard; Patrick Toon as Camillo; Seamus Mulcahy as the Clown; and Courtney McGowan as Perdita. Two local boys, Xander Egbert-Crowe and Jeff Lin alternate in the role of Prince, Mamillius. The troupe is rounded out by Robert S. Gregory, Ryan Woods, Devin Conway, Katie Langham, Joseph Leitess, Lena Chilingerian, Lambert Tamin, and David M. Farrington. You'll be captivated by scenes that include King Leontes and Queen Hermione playing lovingly with their son, Prince Mamillius; King Leontes' moments of intense personal torture; Paulina's presentation of the baby, Princess Perdita to King Leontes; the Old Shepard discovering the infant child in his field; Autolycus pickpocketing Clown; Perdita and Florizel planning their future together; Polixenes and Camillo attending the sheep-shearing festival in disguise and many, many more.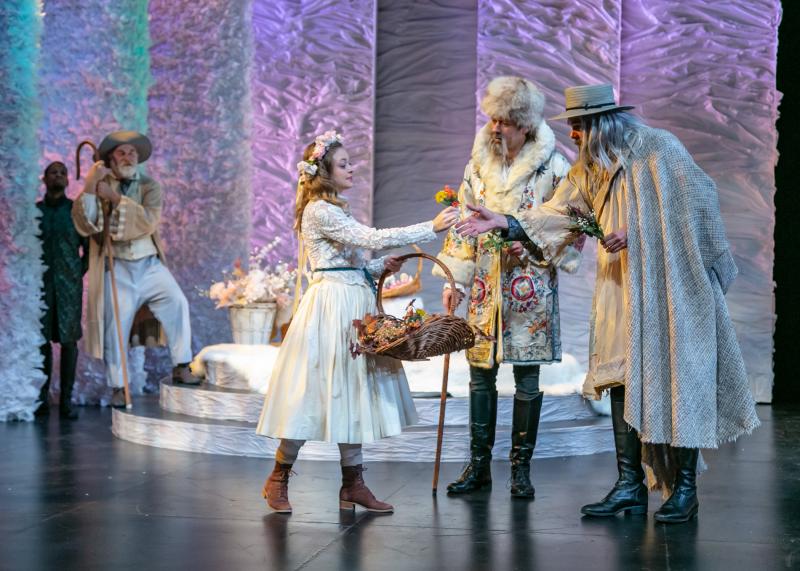 The Creative Team has done a superb job of bringing a beautiful setting for The Winter's Tale to life on the Madison stage. The include scenic design by Brittany Vasta; lighting design by Tony Galaska; costume design by Nikki Delhomme. The Dance Consultant is Danielle Liccardo and the Production Stage Manager is Denise Cardarelli.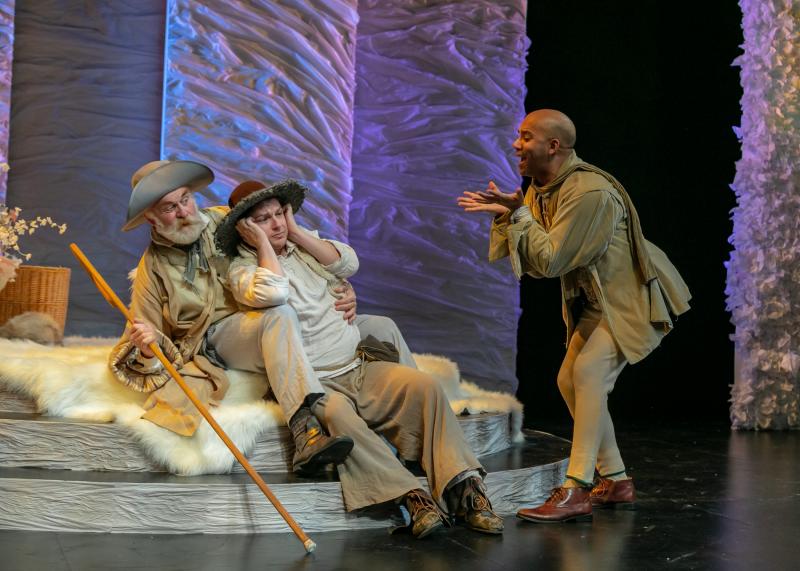 Don't miss the drama, the humor, and the pageantry of The Winter's Tale. We congratulate Bonnie J. Monte and The Shakespeare Theatre of New Jersey on a remarkably successful season that is being topped off with a holiday classic. Get your tickets and enjoy!
Tickets for a The Winter's Tale are now on sale as are subscriptions for the upcoming 2019 season that has just been announced. The Theatre is located at 36 Madison Avenue (at Lancaster Road on the Drew University Campus) Madison, NJ. They have a 30 Under 30 program for patrons ages 30 and under to purchase tickets for $30 with a valid ID. Student Rush tickets are available 30 minutes prior to each performance with a valid ID and a limited number of Pay What You Can for every performance on a first come, first served basis. For purchases and more information call the Box Office at 973.408.5600 or visit: https://www.shakespearenj.org/.
Photo Credit: Jerry Dalia