Interview: Jack Canfora and THE SOURCE at NJ Rep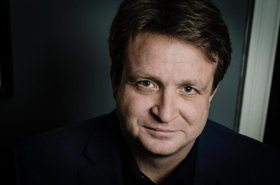 New Jersey Repertory Company will present the world premiere of Jack Canfora's The Source from March 7 through April 7. It has the distinction of being the winner of an Edgerton Foundation New Play Award.
This powerful play examines the forces that shape our views of the world and the influence of the media on our society and individual privacy. It delves into the inner workings of a newspaper dynasty, and deals with the explosive conflict between its founding patriarch, his entitled son, and the ambitious young woman who is caught in the middle.
The Source stars Eleanor Handley, Andrew Rein, and Conan McCarty and is directed by Evan Bergman. It is the fourth play produced by NJ Rep written by the award-winning playwright. Past premieres by Canfora include Place Setting, Poetic License and Jericho. Poetic License and Jericho both moved to Off-Broadway after their original productions at NJ Rep.
Canfora's plays include: Off Broadway - Poetic License (59E59), Jericho (59E59) (New York Times Critics' Pick) Regional - Fellow Travelers (Bay Street Theatre), Barroom Sonata (New Jersey Repertory 2017 Theatre Brut Festival), Jericho (2010 Edgerton Award Winner) (New Jersey Repertory, Florida Repertory Theatre, Phoenix Theatre, Minnesota Jewish Theatre, UpstART Theater Colorado), Poetic License (New Jersey Repertory), Place Setting (New Jersey Repertory) His web series "The Small Time" (co-created with Andrew Rein) won the 2016 Webby Award for "Best Writing" He is thrilled to be working with New Jersey Repertory once again. He lives in New York with his dog, Daisy.
When did you first realize that you were destined to be a writer?
Since I was a child, I had an interest in writing in some form. It's taken many permutations - fiction, songwriting, etc. Finally, my career as an actor, such as it was, made the transition to playwriting sort of natural.
We'd love to know how your education contributed to your craft.
Depends on what you mean by education. I was lucky to have good teachers, both in and out of school. Certainly they cultivated a love of reading that has no doubt deeply influenced me. I haven't really had any formal training as a playwright, but I think my formal training as an actor was actually quite useful to me as a writer. Being inside a play really gives you a good sense of their structures and rhythms. I also taught literature for a while, and teaching plays by the greats, like Miller, Williams, Kushner, really taught me about their architecture on a granular level that no doubt has seeped inside my head in a very helpful way.
What would you advise aspiring playwrights about the profession?
I would advise anyone wanting to be a playwright to read as many plays as possible, see as much theater as they can, and, most critically, write as much as possible. Write and write and write. I'm a partial subscriber to the 10,000 hour rule. Hemingway said "the shortest answer is doing the thing," and while I wouldn't look to him as a role model in many things, this strikes me as true.
The Source is a very timely piece. What are some of the challenges of developing a play that mirrors contemporary society?
Well, I think anything someone writes is a reflection in some way of contemporary society. Even intensely personal-seeming stories are influenced by our socio-political atmosphere. At the same time, overtly political plays should still be rooted, in my view, in human relationships. Usually, I try to come at issues more obliquely than I have in this play. But I think the issues at the heart of this play, which are how media shapes our collective narrative and the vanishing concept of privacy, are also mixed in with the age old questions of the will to power. That's always timely.
Can you tell us a little about the cast and creative of The Source?
The cast is, and I don't use this word lightly, brilliant. They've definitely taken what I've given them and run with it. I count myself lucky to know and work with them. Evan Bergman is directing, and to be frank, I think he sometimes has a better handle on the play than I do. He often does.
How does it feel to be working with NJ Rep again?
Like coming home, corny as that may be. They gave me my start, and have been an invaluable support for me ever since. Everyone there is not only smart and insightful, but also kind. That's not a combination easily found.
What would you like metro area audiences to know about the show?
I think if you're interested in the role of the media in shaping our lives, or how and why the pursuit of power molds people, I think the play will be of interest. The actors are all talented and attractive, and the theater serves nice snacks at intermission.
Can you share with our readers any of your future plans?
I have a play, FELLOW TRAVELERS, directed by the brilliant Michael Wilson, that had a nice reception last summer and has been optioned by The Shubert Organization for a New York run. We're hoping to be busy with that. And in the meantime...I hope to keep on writing.
Anything else, absolutely anything you want BWW readers to know!
I'm super grateful that my play is being given such a good production. It's a tough game a lot of the time, writing, but worth it when you get a chance to work with a great team.
Jack Canfora's website is https://www.jackcanforawriter.com/ You can like him on Facebook and connect with him on Instagram and Twitter @jackcanfora.
The Source runs March 7 - April 7, 2019 at NJ Rep. The theatre is located at 179 Broadway in Long Branch. Previews are Thursday and Friday, March 7 and 8 at 8:00 PM, and Saturday, March 9 at 3:00 PM. A special talk-back with the playwright and director will be held after the first preview, Thursday, March 7. Opening night with reception is Saturday, March 9 at 8:00 PM. Regular performances are Thursdays and Fridays at 8:00 PM; Saturdays at 3:00 PM and 8:00 PM; Sundays at 2:00 PM. Tickets are $50 (opening night with reception, $60; premium seating + $5). All tickets may be subject to a service charge. Annual subscriptions are $225 per person. For tickets or additional information call 732-229-3166 or visit http://www.njrep.org/.
Photo Credit: Courtesy of Jack Canfora