Players Present Thornton Wilder's THE SKIN OF OUR TEETH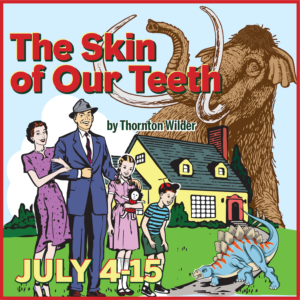 The Peterborough Players continue their season with the Pulitzer prize-winning comedy The Skin of Our Teeth by Peterborough's own Thornton Wilder playing July 4-15!
Meet George and Maggie Antrobus of Excelsior, New Jersey, a suburban, commuter-town couple (married for 5,000 years), who bear more than a casual resemblance to that first husband and wife, Adam and Eve: the two Antrobus children, Gladys (perfect in every way, of course) and Henry (who likes to throw rocks and was formerly known as Cain); and their garrulous maid, Sabina (the eternal seductress), who takes it upon herself to break out of character and interrupt the course of the drama at every opportunity ("I don't understand a word of this play!"). Whether he is inventing the alphabet or merely saving the world from apocalypse, George and his redoubtable family somehow manage to survive - by the skin of their teeth.
The Skin of Our Teeth is directed by Players Artistic Director Gus Kaikkonen and the cast of dozens features Jack Koenig, Dee Nelson, Leon Axt, and Kraig Swartz and local actors Mia Moravis, John Smith, Ray Cote, Chris McCartie, and Eve Pierce. The production also makes the Players debut for Rebecca Brinkley who recently worked with Kaikkonen on the Drama Desk Award nominated production of Hindle Wakes in New York City.
Tickets can be purchased online anytime at www.peterboroughplayers.org and by calling the Box Office at 603-924-7585. Box Office hours are 10am-4pm and 10am-Showtime on show days. Single tickets are $42. And to help celebrate the 4th of July, the Players is offering $20 tickets to the opening night performance on July 4th.
For more information on all upcoming productions, call 603-924-7585 and visit www.peterboroughplayers.org. The Peterborough Players is located at 55 Hadley Rd in Peterborough, NH.
More Hot Stories For You