ALICE! Wonderland Family Playhouse Extended To 6/30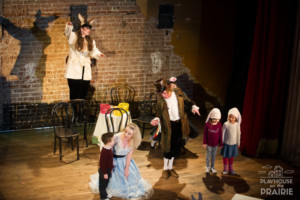 Playhouse On The Prairie presents: ALICE!
Fall down the rabbit hole and enter an exciting Wonderland where the fantastical creatures who live there are ready to take you on wonderful trip through Wonderland! Newly reimagined and adapted from the original "Alice's Adventures in Wonderland" and "Alice Through The Looking Glass" by Lewis Carroll, follow Alice through this charming musical and interactive family adventure that combines the well-loved story with some exciting magical treats!
Cast:Jonathan Teverbaugh, Amanda Marie Parka, Sarah Lyman, Emily Beth Lange, Wesley Whitson, Katherine Turner, Brennan Blankenship, and Katie Harrison
TICKET INFORMATION
GENERAL ADMISSION PRICING: $20, http://www.prohibitiontheatre.com/Alice
EVENT INFORMATION
Show Duration: 1 hour
Show Category: Family Friendly/All ages
Arrive at early to grab a bite at Conservatory before the show and for the super fun, free Easter activities. Enjoy a delicious Easter Brunch Buffet at Prohibition during the show (additional fee), or your family can bring food up from Conservatory into the theatre!