Peter Fogel's TIL DEATH DO US PART...YOU FIRST! Comes To Jupiter Florida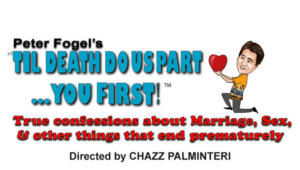 Producer Joe Sallabi has come on board to produce Peter Fogel's hilarious multi-media solo show, "Til Death Do Us Part... You First! True Confessions about Marriage, Sex, & other things that end prematurely -- directed by Academy Award Nominee and Three-Time Emmy Winner Chazz Palminteri (Creator of the hit theatrical franchise A BRONX TALE!)
After two successful SOLD OUT runs at the Lake Worth Playhouse's Stonzek Theater & Art Serve Theater in Ft. Lauderdale in South Florida -- Author/Star Fogel is bringing the funny to the Performing Arts Academy of Jupiter 6743 W Indiantown Rd Jupiter, FL 33458
The Seventy-Five minutes of non-stop laughs are happening for two performances only on January 21 2019 (3 and 8 PM)
https://tildeathdousparttheplay.brownpapertickets.com/
When asked how he came to the produce the show, Sallabi affectionately says, "I've known Peter Fogel for years back in NY where I appreciated his humor and acting ability. Wanting to branch out into different entertainment productions and doing business here locally in Palm Beach County, I thought his solo show would be the perfect vehicle to bring to Jupiter. It truly is a hilarious show with a story all audiences can relate to!"
Eternal Bachelor Peter Fogel has major commitment issues as the love of his life has just broken up with him on Valentine's Day. He senses his own mortality and after much soul searching decides to revisit the scene of all his romantic disasters. Fogel mixes his signature wit along with riotous relatable characters and takes us on a whirlwind comedic journey of searching for your soul mate and the meaning of a real commitment. Fogel laments: "The longest relationship I've had ...is with T-Mobile!"
Proud local Palm Beach County Sponsors are SYS International Yacht Sales, Nitrogen Bar and Grill and Illustrated Properties.
Tickets are $40 and seating is LIMITED. Theatergoers can receive $10 off when they use "JUPITER10" at checkout. For more info, promo video, and tickets, please visit https://tildeathdousparttheplay.brownpapertickets.com or e-mail info@tildeathdousparttheplay.com
Peter J. Fogel is an award-winning comedian, actor, and playwright who's performed in the United States, Canada, and Australia for over 25 years. In addition to writing and performing TIL DEATH DO US PART...YOU FIRST!, Peter's also been the National Touring Star of Steve Solomon's hit solo show "My Mother's Italian, My Father's Jewish & I'm In Therapy!" Peter is also a motivational speaker, copywriter, and author of five books - that include Reboot Your Career: 27 Ways to Reinvent Yourself in The Workplace (If You Still Have a Job! www.rebootyourcareernow.com