The Kentucky Center And Live Nation Present Anthony Jeselnik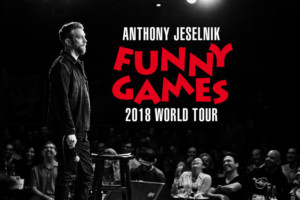 Anthony Jeselnik: Funny Games comes to the Brown Theatre Friday, October 26, 2018 at 7 p.m. Tickets are $38. Kentucky Center members can call the member hotline at (502) 566-5144. Standard tickets are available at www.kentuckycenter.org/presents, by phone (502) 584-7777, (800) 775-7777, and in-person at The Kentucky Center box office and drive-thru. Please call (502) 566-5111 for information about the range of accessibility options we offer to enhance your performance experience.
Anthony Jeselnik is a popular American stand-up comedian, most well-known for his appearances on Comedy Central's "Roasts" and "The Jeselnik Offensive," as well as hosting season 9 of NBC's "Last Comic Standing." Jeselnik released his one-hour comedy specials "Caligula" in 2013 and "Thoughts and Prayers" in 2015.
Anthony has also performed on "Conan," "The Tonight Show," "Jimmy Kimmel Live," and was the first ever stand-up comic to appear on "Late Night With Jimmy Fallon."
"Funny Games" will feature Jeselnik's familiar dark humor, as well as personal anecdotes from his life. The show is suited best for only the most thick-skinned fans of comedy.