(mostly)musicals Is UP FOR DEBATE at the E Spot Lounge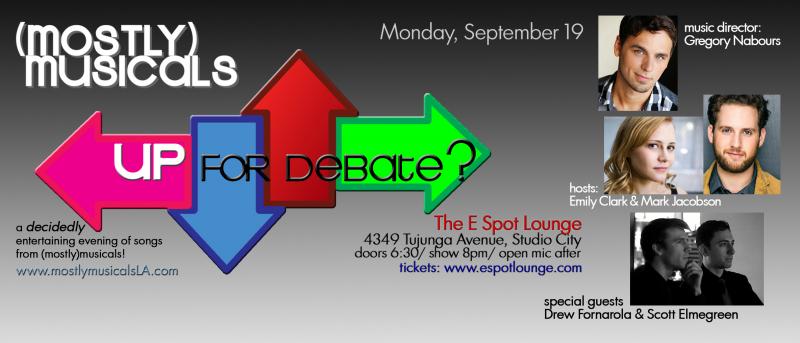 Following the success of August's ROAD TRIP, (mostly)musicals will return to the E Spot Lounge on Monday, September 19 with UP FOR DEBATE, the company's 19th entry in a series of themed cabarets. "It's nearly time for the big election in November, but we wanted to put together a party people could really get behind!" explains producer Amy Francis Schott.
(mostly)musicals wants YOU... to join OUR (political) party! We'll take your mind off that other election with an evening of DECIDEDLY winning songs about politics of all kinds from George and Ira Gershwin, Stephen Sondheim,Benny Andersson and Björn Ulvaeus, Jason Robert Brown, Randy Newman, and more!
You will be delighted by our slate of stellar talent including: Sharon McNight (B'way: STARMITES), Rhett George (B'way: MEMPHIS, WICKED, AIDA), Rena Strober (B'way: LES MIS, STONEFACE at Pasadena), Amanda Kruger (lead singer, Everly Snodgrass), Chad Doreck (GREASE: YOU'RE THE ONE THAT I WANT, SERRANO THE MUSICAL), Cooper Howell (RENT at La Mirada), Emily Clark (SLIGHTLY DRAMATIC), Jonathan Lee (ETTV TOP IDOL finalist), Mark Jacobson (Rogue Machine's CAPTAIN OF THE BIBLE QUIZ TEAM), Rudy Martinez (Welk Resorts' FIDDLER ON THE ROOF), Sherry Mandujano (2 BROKE GIRLS) and more TBA!
UP FOR DEBATE will also feature special guests Drew Fornarola and Scott Elmegreen, writers of musicals including COLLEGE, VOTE FOR ME, and TIANANMEN. Our multi-term incumbent music director, Gregory Nabours, will be at the piano. And write yourself in for a slot in the open mic afterparty (hosted by Emily Clark and Mark Jacobson) immediately following the show!
Exercise your right to vote early by getting your tickets now at www.espotlounge.com.
Doors open at 6:30pm for dinner and drinks. Tickets are $15 with a 2 item minimum.
The E Spot Lounge is located on the upper level of Vitello's Restaurant at 4349 Tujunga Avenue, Studio City, CA. Valet and street parking are available.
For more information, visit www.mostlymusicalsLA.com