World Premiere of THE MOTHER OF HENRY Set in Boyle Heights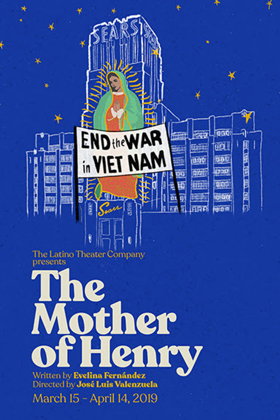 The times they are a changin'. Travel back to the working class melting pot of Boyle Heights of the 1960s with the Latino Theater Company's upcoming production, written by LTC resident playwright Evelina Fernández and helmed by artistic director José Luis Valenzuela. The world premiere of The Mother of Henry runs March 23 through April 14at The Los Angeles Theatre Center. Low-priced previews begin March 15.

Five diverse employees in the return department at Sears form a tight bond as they cope with upheaval in their personal lives, their community and the rapidly changing world around them during the course of one tumultuous and historic year - 1968. Connie, a Latinx single working class mother, realizes her agency and discovers her true identity when the anxieties of war, civil unrest and political assassinations plaguing the country tragically affect her own life. Infused with period music and Fernández's trademark magical realism, The Mother of Henry features the acting talents of Esperanza America, Mary-Beth Manning, Xavi Moreno, Ella Saldaña North, Gary Patent, Robert Revell and Cheryl Umaña.

"The characters are loosely based on my mom and her friends, who worked together at Sears," Fernández explains. "In the '60s, Boyle Heights was still very diverse, and she worked with all kinds of people: Jewish, Italian, Canadian, German, Japanese. So many of the women in the community were patriotic - until their kids died in the war. Then the anti-war movement came to Boyle Heights."

The Sears, Roebuck & Company Mail Order Building, located at 2650 East Olympic Boulevard in Boyle Heights, was built in 1927 as a distribution center for the company's mail order department. Designed in the Art Deco style and one of the largest buildings in Los Angeles, it attracted more than 100,000 visitors in the first month of operation. Considered to be one of the iconic landmarks of LA's Eastside, it has been the subject of several renovation proposals since the mid-1990s. It was designated a Historic-Cultural Monument in 2004 and is listed in the National Register of Historic Places. Click here to view photos.

The creative team for The Mother of Henry includes set designer Emily McDonald, lighting designer Cameron Mock, sound designer John Zalewski, projections designer Yee Eun Nam and costume designer Carlos Brown. The stage manager is MIchelle A. Prudente.

The Latino Theater Company is dedicated to providing a world-class arts center for those pursuing artistic excellence; a laboratory where both tradition and innovation are honored and honed; and a place where the convergence of people, cultures and ideas contribute to the future. Now in its 33rd year, LTC has operated The Los Angeles Theatre Center, a landmark building in Downtown's Historic Core, since 2006.

The Mother of Henry opens on Saturday, March 23 at 8 p.m., with performances thereafter taking place on Thursdays, Fridays and Saturdays at 8 p.m. and Sundays at 4 p.m. through April 14. Five preview performances take place March 15 through March 22 on the same schedule. Tickets range from $20-$50, except opening night which is $60 and includes a post-performance reception. The Los Angeles Theatre Center is located at 514 S. Spring St., Los Angeles, CA 90013. Parking is available for $5 with box office validation at Joe's Parking structure, 530 S. Spring St. (immediately south of the theater). For more information and to purchase tickets, call (866) 811-4111 or go to http://thelatc.org/.