The Television Academy Foundation Announces the 39th College Television Awards Winners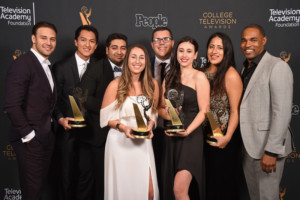 The Television Academy Foundation announced the winners of the 39th College Television Awards, which recognizes and rewards excellence in student-produced programs from colleges and universities nationwide.
The 2019 winners were presented awards by television stars including Alaska (RuPaul's Drag Race All Stars 2), Melissa Barrera (Vida), Jaime Camil (Jane The Virgin/My Boyfriend's Meds), Giselle Fernandez (Spectrum News 1), Jason George (Station 19), Ryan Guzman (9-1-1), Michael Mando (Better Call Saul), Jeanine Mason (Roswell, New Mexico), Kelly McCreary (Grey's Anatomy), RJ Mitte (Breaking Bad), Mishel Prada (Vida), Yeardley Smith (The Simpsons/Small Town Dicks) and Michelle Visage(RuPaul's Drag Race).
Emulating THE EMMY AWARDS selection process, entries for the College Television Awards were judged by Television Academy members. Top honors and a $3,000 cash prize were presented to winning teams in eight categories:
Animation Series: In a Heartbeat- Beth David and Esteban Bravo (Ringling College of Art and Design)
Comedy Series: Everything's Fine: A Panic Attack in D Major- Taylor Ortega and Zack Morrison (Columbia University)
Commercial, PSA or Promo: GE - One More Giant Leap- Scott James, Anthon Chase Johnson, Jason Murray and Jedediah Thunell (Brigham Young University)
Drama Series: Esta es tu Cuba- John Sayage, Brian Robau and Daniel Klein (Chapman University)
News: Montclair News Lab: Hurricane Recover Mission to Puerto Rico- Natalie De La Rosa, Mariano Arocho, Laura Galarza, Babee Garcia, Madison Glassman, Genesis Obando and Madjiguene Traore (Montclair State University)
Nonfiction or Reality Series: Fear Builds Walls- Charlie McCarthy and Rudy Gold (ArtCenter College of Design)
Sports: SportsDesk- Luis Gonzalez, Valerie Ferrante, Amanda Fuentes, Amanda Herrera, Isaiah Kim-Martinez and Jihad Shatara (University of Miami)
Variety: The Blackout's Quarter Update- Peter Condie, Noah Frick-Alofs, Kathryn Karnaze, Max Kliman, Willa Barnett, Ryder Chasin, Grace Dowling, Charlie Heveran, Jake Daniels and Alex Fecteau (Northwestern University)
Two special awards were also presented at the ceremony:
The Loreen Arbus Focus on Disability Scholarship was presented to Chris Violette, a junior at Florida State University, for his eight-minute documentary titled Woman of Steel. The project focuses on the life of Ashley Mae of Seminole County, Florida, who lives with a bionic arm. The $10,000 award celebrates student storytellers whose work sheds light on people with disabilities and is underwritten by the Loreen Arbus Foundation.
The Seymour Bricker Humanitarian Award, a $4,000 cash prize given to a College Television Award-winning project that best highlights a humanitarian concern, was awarded to Montclair News Lab: Hurricane Recover Mission to Puerto Rico. This award was created over two decades ago by the late entertainment attorney Seymour Bricker.
In addition to the red carpet awards ceremony, the nominees took part in a three-day Nominee Summit, hosted by the Television Academy Foundation. The summit, designed to enhance professional development, featured networking opportunities with industry executives, Academy members and Foundation alumni.
During the Summit, students participated in themed panel discussions on topics including "Building A Career in Television" with Creative Artists Agency's (CAA) Ruben Garcia; "The Making of a Reality TV Hit" with Dancing with the Stars Showrunner and Executive Producer Andrew Llinares and Co-Executive Producer Deena Katz; "A Conversation with Outlander" with Executive Producer Toni Graphia and Senior Vice President of Original Programming at Starz Karen Bailey.
The nominees were also treated to site visits and conversations with top executives and talent at HBO, Spectrum News 1 and America's Got Talent, plus a special evening screening of their nominated projects at the Academy's Saban Media Center.
The 39thCollege Television Awards show is available for VOD viewing at TelevisionAcademy.com/CTA.
"Television's most prestigious student competition spotlights the next generation of content creators," said Madeline Di Nonno, chair of the Television Academy Foundation. "With the support of the Television Academy, our donors and sponsors, we are building a pipeline of talented individuals that are diverse, inclusive and relevant to audiences. The Foundation is committed to providing students with opportunities to learn from and network with top industry executives to help guide them as they embark on their dream careers. Congratulations to all of the winners!"
Related Articles View More Los Angeles

Stories

Shows
More Hot Stories For You