The Actors' Gang Announces 2018 Free Shakespeare In The Park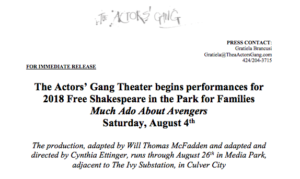 The Actors' Gang will begin performances for the 2018 Free Shakespeare in the Park for Families production of Much Ado About Avengers beginning Saturday, August 4th, continuing a 12-year tradition of free theater in Media Park. Based on William Shakespeare's "Much Ado About Nothing" and inspired by the characters of Marvel's The Avengers, this 45 minute, all?ages production will run every Saturday and Sunday of August at 11am, through August 26th.
Since 2006, over 22,000 community members across Los Angeles have enjoyed 11 free adaptations of Shakespeare, produced by The
Actors' Gang
. This summer, the series will feature an Avengers take on Shakespeare's Much Ado About Nothing, directed by the co-artistic director of The
Actors' Gang
, Cynthia Ettinger. "Much Ado About Avengers" is set amid Thor's visit of Black Panther, the governor of Messina, after a victorious military superhero engagement. Thor arrives chaperoned by Loki, his half-brother, with whom he has bickered and recently reconciled, and his friends and fellow superheroes, Captain America and Iron Man. The anti-romantic Iron Man and Black Widow immediately resume a long-standing "merry war" of words, while Captain America and Gamora, Black Panther's delightful daughter, are smitten by love-at-first-sight and are betrothed at a masked ball, mainly through the efforts of Thor. Scarlet Witch, Hulk, Spiderman and Thanos will also join in this summer's wicked funny lush, romantic superhero Avengers take on Shakespeare's Much Ado About Nothing. "Free Shakespeare in the Park for Families represents one of the best ways to make theater accessible, strengthen our community, and educate and inspire the youngest of audiences." said Cynthia Ettinger, director of Much Ado About Avengers and Co-Artistic Director of The
Actors' Gang
. "This is our twelfth year doing this project as I have been inspired by the ensemble that gives life to each year's adaptation and by all the people of Los Angeles who bring their families and friends to this summertime tradition. Looking forward to this year's new adventure!" Every weekend of August, families are invited to bring a blanket or lawn chairs and enjoy a new Shakespeare adaptation, with the purpose of introducing Shakespeare to children by telling a Shakespearean story through the voices of their favorite superheroes. Each performance is followed by a popsicle celebration where the audience can meet (and take selfies with) the characters! The
Actors' Gang
summer performances are provided FREE-OF-CHARGE thanks to generous support in part by California Arts Council, a state agency and in part by a Culver City Performing Arts Grant with support from
Sony Pictures Entertainment
. Reservations are recommended, but not mandatory. Free tickets are available online or by calling the Box Office at 310-838-4264. Community members wishing to support this free series are encouraged to make a financial or in?kind contribution to the theater at
www.TheActorsGang.com
or by phone at 310-838-4264. Cynthia Ettinger (Actor, Writer and Director) Cynthia Ettinger is a founding member of The
Actors' Gang
, and serves as the company's Co-Artistic Director and Master Teaching Artist. She has performed in and directed numerous plays during the company's 37-year history, including the eight most recent Free Shakespeare-in-the-Park productions. Since 2006, she has also served as a lead teaching artist in the Prison Project and Education Department. Film and TV credits include: The Silence of the Lambs, Thirteen, "Carnivale", "Deadwood", "ER", "Gilmore Girls", "Law and Order: Special Victims Unit" and "Seinfeld". About The
Actors' Gang
Over the past 37 years, The
Actors' Gang
has produced over 200 plays in Los Angeles, in forty-five US states, and on five continents. The company was founded in 1981 by a group of young artists looking to build a theatre that would present relevant and vibrantly entertaining plays. Guided by Founding Artistic Director,
Tim Robbins
, the company provides a supportive environment for a diverse ensemble of artists and the development of their groundbreaking work. The theater company has presented the work of innovative theater artists including Georges Bigot,
Simon Abkarian
,
Charles Mee
,
David Schweizer
,
Bill Rauch
and the Cornerstone Theatre Company,
Tracy Young
, Roger Guenver Smith,
Eric Bogosian
,
Oskar Eustis
,
Danny Hoch
,
Beth Milles
,
Brian Kulick
, Stefan Haves, Namaste Theater Company,
Culture Clash
, Jason Reed, Michael Schlitt and Tenacious D. The
Actors' Gang
ensemble has included accomplished actors such as
Jack Black
,
John Cusack
,
John C. Reilly
,
Helen Hunt
,
Kate Walsh
,
Fisher Stevens
,
Jeremy Piven
,
Ebbe Roe Smith
,
Jon Favreau
, Brent Hinkley,
Kate Mulligan
,
Lee Arenberg
, Kyle Gass and
Tim Robbins
. Guest artists that have appeared on The
Actors' Gang
stage include:
Jackson Browne
,
Sarah Silverman
, Ben Gibbard, John Doe, Tom Morello, Jenny Lewis, Wayne Kramer,
Paul Provenza
,
Zooey Deschanel
,
Serj Tankian
,
David Crosby
, Pink,
Felicity Huffman
, Jill Sobule,
William H. Macy
,
Phillip Baker Hall
,
Jeanne Tripplehorn
, T.C. Boyle. and the late, beloved,
Gore Vidal
. Recent touring productions include Harlequino: On to Freedom, A Midsummer Night's Dream,
George Orwell
's 1984, The Exonerated, Tartuffe, Embedded, The Trial of the Catonsville Nine and The Guys. Over the last thirty years The
Actors' Gang
has toured the U.S. in forty-five states and on five continents, performing across the world from London to Milan, Bucharest, Athens, Madrid, Barcelona, Bogota, Beijing, Shanghai, Hong Kong, Melbourne and Buenos Aires. With our productions, education, outreach programs and tours we strive to strengthen communities in a way that only the medium of theater can. We produce plays that contribute to the ongoing dialogue about our society and culture, while never forgetting that theaters primary purpose is to entertain. Ticketing information Tickets are free of charge. Reservations are recommended, but not mandatory. Free tickets are available online, at
www.TheActorsGang.com
or by calling the Box Office at 310-838-4264. Media Park is adjacent to The Ivy Substation, located at
9070 Venice Blvd, Culver City, CA, 90232
.