THE EMPTY NESTERS Comes to Zephyr Theatre In January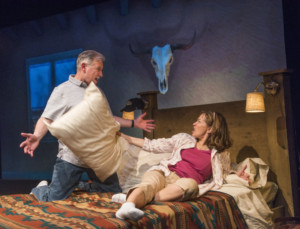 Helicopter parents facing the question of what they want to be when their kids grow up is the focus in the new comedy-drama The Empty Nesters by award-winning playwright Garret Jon Groenveld. This warm and witty look at a couple who drop their youngest child off at college and then take what may be a life-changing trip to the Skywalk at the Grand Canyon, is helmed by Los Angeles based director Richard Seyd, and stars real-life empty nesters John (JW) Walker and Pamela Gaye Walker, who reunite on stage after a 20 year hiatus.
John Walker
is a film producer (The Incredibles - Academy Award-Best Animated Picture, Tomorrowland, The Iron Giant) and actor, whose extensive theatre background includes 30 stage productions with his wife.
Pamela Gaye Walker
is an award-winning actress who has appeared in film, television, and on stages in New York, Chicago, and across the country. The Empty Nesters performs at the Zephyr Theatre, 7456 Melrose Avenue, Los Angeles, 90046, beginning January 17, 2019 (press opening is Sunday, January 20). Tickets are available through
www.EmptyNestersPlay.com
Performances are Thursdays through Saturdays at 8pm, and Sundays at 3pm. In The Empty Nesters, hard working parents Greg and Frances stop for a visit to the Grand Canyon's breathtaking Skywalk, a not-to-be missed sight, after delivering their final child to college in Phoenix. But instead of seeing a limitless horizon full of fresh possibilities, one half of the couple faces an empty chasm, while the other begins to wonder if freedom is only a loss of solid footing. The play received a warm reception in its Bay Area PlayGround debut at The Thick House in May 2015, with audience members exclaiming they identified with the dilemma, and also returning to share the experience with their grown children. It subsequently was performed in San Francisco in spring 2016 at Z Below. The San Francisco Examiner said, "Funny and warm ... a middle-aged couple on the brink, figuratively and literally, light up The Empty Nesters." Talking Broadway said, "There's real heart on display here." The Bay Area Theatredogs said, "It's never a sure thing that hiring a married couple to play a married couple is going to work in the characters' favor, but here there's a big payoff. The Walkers give us recognizable types - he's whiny and a little clueless, she's constantly annoyed and feeling unseen. But Groenveld takes us beyond those façades, and the Walkers open up the emotional lives of these spouses with warmth and compassion ... you sense the depth of their connection and feel the enormity of what they have to lose ... and it's also helpful that there is abundant humor." Appearing as the wife who instigates a startling conversation is
Pamela Gaye Walker
, an award-winning actress, as well as accomplished playwright, screenwriter, and director for both theatre and film. As an actor, her work in film and television includes Wooly Boys with
Peter Fonda
, The Incredibles, Last Rites with
Randy Quaid
, Mercury Rising, Family Law, and Saved By The Bell. Among her stage appearances are: Buckets O' Beckett, with
John Mahoney
, Mercury Theatre, Chicago; Sea Marks, Royal George, Chicago (
Joseph Jefferson
Award Nomination); Hannah Free, The Jewish Wife, Victory Gardens, Chicago, (Actress of the Year); World Premier of
Theresa Rebeck
's What We're Up Against, Magic Theatre;
John Gabriel
Borkman, After The Revolution, Aurora Theatre, Berkeley; The Last Schwartz, Zephyr Theatre, L.A.;
Brooklyn Boy
, TheatreWorks, Palo Alto; Little Shop of Horrors, , Children of a Lesser God, Peninsula Players, Door County, WI. She also played Georgia O'Keeffe in Alfred Stieglitz Loves O'Keeffe at FCT, L.A. (Best Actress & Best Production), as well as in venues large and small around the country. She directed the film Trifles with an all-Pixar cast and crew, has written many screenplays, as well as written and directed the films Improvising the Future and Shakti's Retreat. Also in development - her first book, a memoir, On Stage Naked, from Salvation Army to The Academy Awards.
Co-star
John Walker
has extensive experience in live theatre, acting in 25 shows professionally with his wife, Pamela Gaye. Including college productions, this play marks the couple's 30th appearance on stage together, and when they performed in San Francisco in 2016, it marked the end of a 20-year hiatus. They co-produced
John Logan
's Hauptmann at New York's Off-Broadway
Cherry Lane Theatre
before Walker moved his career into feature films. Prior to producing the Academy Award-winning Disney•Pixar film The Incredibles, Walker served as Associate Producer for the Warner Bros. films Osmosis Jones and The Iron Giant. He served as Executive Producer for Disney's Tomorrowland, and just finished as a Producer for Incredibles 2. He had a seven-year stint as Managing Director of the Tony Award-winning
Victory Gardens Theatre
, where he produced over 20 new plays. Walker also served as President of the League of Chicago Theatres. Garret Jon Groenveld is author of The Hummingbirds, winner of the Internationalists Global Playwriting Prize. It was also winner of the 2012 GAP Festival from the Aurora Theatre in Berkeley. Groenveld is a seven-time recipient of the Bay Area PlayGround Emerging Playwright Award, and has received five PlayGround full-length play commissions. His work has prompted Jon Carroll of the San Francisco Chronicle to call him "a treasure of the community." Missives, his play about a black woman and her gay neighbor, had well-received productions in San Francisco and New York. A poet and playwright currently living in San Francisco, Groenveld holds an MA in Poetry and an MFA in Playwriting from San Francisco State University, and also studied with
Edward Albee
at the University of Houston. Director
Richard Seyd
, a Los Angeles resident, most recently directed the World Premiere production of The 12 at the Denver Center Theatre, written by Tony Award winning
Robert Schenkkan
and
Neil Berg
. He directed By The Waters Of Babylon by
Robert Schenkkan
at The Geffen Theatre, The Lion In Winter and Noises Off at La Mirada Theatre, Present Laughter and The Presentment for
The
Pasadena Playhouse
and A Feast of Fools at The
La Jolla Playhouse
. He also helmed a highly successful production of A Reckoning starring Jonathon Pryce at the Soho Theatre in London's West End. From 1992 to 1997 he served as Associate Artistic Director of
The American Conservatory Theatre
, where he directed The Learned Ladies with
Jean Stapleton
,
Dario Fo
's The Pope And The Witch, Pygmalion, Mrs. Warren's Profession, Oleanna, Rosencrantz And Guildenstern Are Dead, Othello, The Matchmaker, and A Streetcar Named Desire. In the 1980s, he was Associate Producing Director of the San Francisco Eureka Theatre, directing acclaimed productions including Cloud Nine (which ran commercially in San Francisco for a year and a half), The Wash, The Threepenny Opera, and
Dario Fo
's About Face. He has received multiple Drama-Logue, Backstage West, and Bay Area Critics Circle Awards for his direction, including Noises Off (which also ran commercially for over two years in San Francisco). Other works include many productions for
Berkeley Repertory Theatre
, the Oregon Shakespeare Festival, San Francisco Shakespeare Festival, California Shakespeare Festival,
Classic Stage Company
and Wonderhorse Theatres in New York, and The Pickle Family Circus's London Tour.
Tickets are available through www.EmptyNestersPlay.com