TALES OF CLAMOR, A Surprising Hybrid Theatre/Circus Performance, Comes To USC On April 30
Eastwind, an online journal with decades-long roots in Asian American activism, calls the production a "masterful, magical theatrical experience."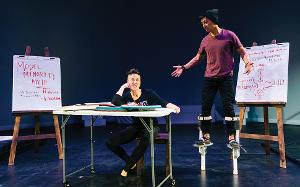 Visions and Voices, the University of Southern California's premiere arts and humanities program, will present Tales of Clamor on Sunday, April 30, on campus at the Bing Theatre.
The unconventional hybrid theatre-circus performance by the Los Angeles-based PULLproject Ensemble mashes up rarely seen footage from the 1981 CWRIC (Commission on Wartime Relocation and Internment of Civilians) Hearings that led to redress for Japanese Americans who were incarcerated during World War II with aerial apparatuses and theatrical scenes set in the past and present.
The Rafu Shimpo, the largest bilingual English-Japanese daily newspaper in the United States, describes Tales of Clamor as "an experience to be not only watched but also felt emotionally."
Eastwind, an online journal with decades-long roots in Asian American activism, calls the production a "masterful, magical theatrical experience."
While the theatrical case study examines the reverberations of a little-known-yet-major moment of American history and explores concepts including the science of sound, the Model Minority Myth, and the Commission hearings, it's really about "people showing up for each other at a critical moment of individual and collective need," explain aerial artist/actor Kennedy Kabasares, writer/actor traci kato-kiriyama, and composer/sound designer Howard Ho, who comprise the award-winning ensemble.
Kennedy Kabasares is an aerial artist and actor who has worked with diverse theatre companies, including East West Players, Singapore Rep, Center Theatre Group, and The 18 Mighty Mountain Warriors. In the 2011 Aerial Acrobatic Arts Festival in Denver, he took first place for static trapeze.
traci kato-kiriyama is recognized for their work as a writer/performer, theatre deviser, cultural producer, community organizer, and audiobook narrator. The director/founder of Tuesday Night Project and author of Navigating With(out) Instruments; traci has performed, spoken, and taught in hundreds of venues over the last 25 years.
Howard Ho is a playwright, composer, and sound designer. As a sound designer, he has worked with Native Voices, the Los Altos Stage Company, East West Players. Playwrights Arena, and Company of Angels. As a playwright, he was a 2016 Center Theatre Group Literary Fellow.
Starting as an experimental workshop, evolving into a staged reading, and now a full-length production, their unique collaboration with Nikkei for Civil Rights and Redress (NCRR) powerfully conveys the importance of solidarity and power of community to break silence and create change.
This presentation of Tales of Clamor is organized by Susan H. Kamei, lecturer at the Van Hunnick History Department and managing director of the Spatial Sciences Institute at the USC Dornsife College of Letters, Arts, and Sciences, and Velina Hasu Houston, Distinguished Professor of Theatre in Dramatic Writing at the USC School of Dramatic Arts.
"Tales of Clamor brings to life the catharsis resulting from the testimonies of hundreds of former incarcerees to a Congressional commission about their wartime imprisonment and its traumatic effects upon their lives," says Kamei, who teaches a history course on the incarceration. "The production packs an emotional punch in capturing the intergenerational consequences of the incarceration and in its advocacy for healing, and this an important opportunity for the USC community and the community at large to experience it."
The performance will be presented one night only and is free and open to the public. Get information and make reservations at visionsandvoices.usc.edu.