Steven Dietz's ON CLOVER ROAD Starring Renee O'Connor Opens Sept. 21 At Little Fish Theatre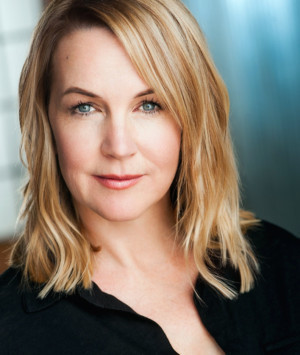 A seedy, abandoned motel room is the location of Steven Dietz's On Clover Road, where a desperate mother unites with a hard-boiled private investigator in the hope of reuniting with her cult-member young daughter. Opening September 21 in its Los Angeles premiere at Little Fish Theatre, On Clover Road spotlights a star turn by actor Reneé O'Connor and is directed by StageSceneLA Award Winner and LFT company member Holly Baker-Kreiswirth.
Kate is a determined mother who has set up a meeting with Stine, a cruel interrogator, at the Cloverleaf Motor Hotel. Kate wants Stine to kidnap her daughter away from the cult she joined four years ago when was 13, and "de-program" her. When Stine brings a disheveled Girl back to the room, Kate has doubts as to her real identity. After the leader of the cult, Harris McLean, is enticed to the room, more than passions are ignited. Barred doors, a gun, lipstick, rope, crunchy peanut butter... nothing is as it seems. And something will go wrong.
Playwright Dietz is one of the most produced playwrights in America (excluding Shakespeare), placing eighth on the list of the Top Ten Most Produced Playwrights in America. He is the recipient of the Kennedy Center Fund for New American Plays Award, the Lila Wallace/Reader's Digest Award, and the 2007 Edgar Allan Poe Award for Best Mystery. A Professor of Playwriting and Directing at UT Austin, Dietz is also a Dramatists Guild "Traveling Master," offering playwriting workshops and master classes around the country.
As the distraught but secretly strong Kate, LFT is thrilled to welcome back company member Reneé O'Connor, best known for her role as Gabrielle, Xena's trusted sidekick on the tremendously popular fantasy series Xena: Warrior Princess. O'Connor was last seen on the LFT stage in Dinner with Friends and recently co-produced the Independent feature film Watch the Sky. Her television series appearances include Hercules: The Legendary Journeys, Criminal Minds, and NYPD Blue. LFT is also excited to introduce actor Jed Sura to its audiences. Sura plays McLean, the charismatic cult leader, and was last seen by local audiences as Burt in Encore Entertainment's Mary Poppins. Sura, spouse of co-star O'Connor, has also appeared on Grey's Anatomy and Criminal Minds. The cruelly blunt Stine is taken on by company member Richard Perloff*, StageSceneLA Award winner for LFT's Chapter Two and a full-time broadcaster with TVG. The role of The Girl will be played by Sara Freedland and Jessica Winward. Freedland has been seen locally at the Orange County New Play Festival and at the Morgan-Wixson Theatre-LA. Winward, an LFT company member, was last seen in LFT's Pick of the Vine and is a teaching artist with A Noise Within Theatre Company.
"This is a play I've been wanting to direct for over two years. It delivers a visceral thrill on every level, and its twists left me breathless not knowing what would happen next," says director Baker-Kreiswirth. "The cast embodies every dark corner of their characters and fully commits to this tension-filled and smartly told story."
On Clover Road will run Fridays and Saturdays at 8:00pm September 21 through October 20, with one Sunday 2:00pm matinee on October 14, which features a special Talkback session where the actors and creative team are available for 10 to 15 minutes for a post-show discussion with the audience.
Founded in 2002 as an artists' ensemble, Little Fish Theatre presents classic and contemporary plays in an intimate setting on Centre Street in downtown San Pedro.
*This production is presented under the auspices of the Actors' Equity Los Angeles Membership Company Rule.