So Cal Premiere of BUD, NOT BUDDY Comes to La Mirada Theatre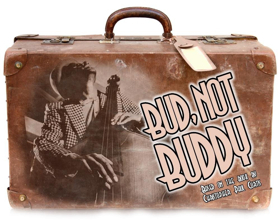 Phantom Projects Theatre Group will present the Southern California Premiere of Bud, Not Buddy, a heartwarming play for the entire family set in Michigan during the Great Depression. Based on the Newbery Medal and Coretta Scott King Award-winning novel, the story follows the adventures of Bud, a young boy whose search for his father sets him off on journey that leads him to a new, deeper, understanding of 'family.' Directed by Timothy P. Thorn, Bud, Not Buddy performs at 10am, 12:30pm and 7pm, one day only: February 22, 2018 at La Mirada Theatre for the Performing Arts.
Before she died, Bud's momma failed to tell him who his father was. But a clue leads 10-year old Bud to a Jazz band, Herman E. Calloway and the Dusky Devastators of the Depression! As he attempts to solve the mystery, he often refers to his hilarious self-written book "Bud Caldwell's Rules and Things for Having a Funner Life and Making a Better Liar Out of Yourself."
Adapted by Reginald Andre Jackson, Bud, Not Buddy is based on the beloved novel by Christopher Paul Curtis, who also wrote the critically-acclaimed book, The Watsons Go to Birmingham, which also had its Southern California Premiere at La Mirada Theatre, thanks to Phantom Projects Theatre Group.
Originally published in 1999, Bud, Not Buddy is the first novel to receive both the Newbery Medal, for excellence in American children's literature, and the Coretta Scott King Award, an award honoring outstanding African American authors. Jackson's stage adaptation won the Distinguished Play Award from The American Alliance for Theatre and Education in 2010.
The performances, all three of which will be performed in one day, will feature two daytime Field Trip performances, in which over 2,000 students will be bussed in to see the live performances. The day concludes with a 7pm performance for the public. Tickets start at $10. A limited number of Behind the Curtain Packages are available for the 7pm performance, allowing ticket holders to go backstage before the show and meet the cast, take photos, and more.
The cast of Bud, Not Buddy features Devin Glass (Bud), Jason Brewer (Bugs), Altesa Baker (Momma), Joshua Bush (Herman E. Calloway) and an ensemble of performers making up an assortment of characters, both real and in Bud's imagination. The ensemble includes: Quintin Giles-Gray, Emoni Phillips, Joseph P. Gamble, Tsulan Cooper, Brian Munson, Jeff McCoy, Donald Amerson, Paul Green, and Olu Agoro. The artistic and Production Company includes Timothy P. Thorn (Director, Set Designer), Sarah Timm (Costume Designer), Susan Mann (Prop Designer), Jenn Midgley (Production Stage Manager).
Founded in 1997 season by Steve Cisneros and teacher Bruce Gevirtzman, Phantom Projects Theatre Group is a non-profit theatrical Production Company consisting of volunteer performance troupes including both teen and adult performers for main stage productions, and fully teen-performed touring productions which annually perform for over 10,000 people across the Southland. In addition to touring productions which travel to both schools and youth groups, Phantom Projects maintains a fully stocked costuming department designed to suit the needs of schools and other arts organizations. Rounding out Phantom Projects' performance programs are The Young Artist Project, the only project of its kind that puts 10 strangers together with just 14 days to create, produce, and present an evening of original theatre, music, dance, film, and much more. Today, co-founders Steve Cisneros and Bruce Gevirtzman serve as the producing artistic director and resident playwright, respectively.
For more tickets, audition or general information on Phantom Projects Theatre Group, visit the official website at www.PhantomProjects.com.