Review: THE DEATH AND LIFE OF MARY JO KOPECHNE Gives Voice to the Woman Who Inadvertently Changed American Political History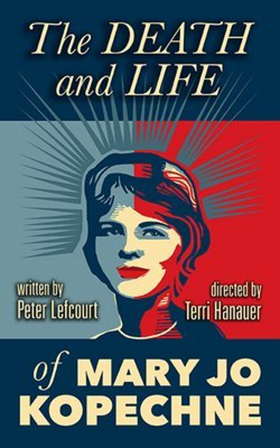 In the tumultuous month of July 1969, two events grabbed an extraordinary amount of media coverage. Perhaps the best remembered occurred on July 20 when Apollo 11 astronauts Neil Armstrong and Edwin 'Buzz' Aldrin became the first humans to set foot on the Moon. But those of us who were alive then may not remember an important news bulletin that interrupted the coverage announcing a car driven by Senator Ted Kennedy had been found submerged in the water off a bridge on Martha's Vineyard in which 28-year old Mary Jo Kopeche's body had been found. Much has been written about the incident, which probably changed the course of American history almost as much as the Moon landing did.
But what else is really known about Mary Jo Kopechne, a Democratic campaign worker and idealist with ambitions of running for the Pennsylvania State Assembly? If she really was a demure Catholic girl with little experience with men, why would she decide to have an impulsive sexual adventure with such a famous married man on a local beach? And why would she allow a man known as a skirt-chaser who was visibly too drunk to get behind the wheel?
And why did she leave her pocketbook behind at the party they had been attending?
Perhaps, as suggested by playwright Peter Lefcourt in his world premiere play THE DEATH AND LIFE OF MARY JO KOPECHNE, she had also been drinking and could not say no to a man of considerable power and influence, a man who could help advance her career, a man she also may have admired after the death of his brother Robert the previous year. Certainly, this dilemma has become particularly prominent in the #MeToo era in which we are now living where men of power are being taken to task for making unwanted sexual advances on those working for them who go along with it for career gain.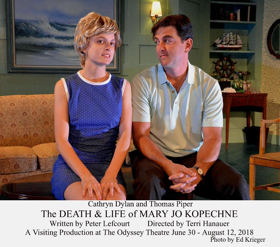 What we do know is that Kennedy survived and she did not. But why did he wait until the next day to report the accident? Did he try to save her or just leave the site of the accident even though Mary Jo may have lived inside an air pocket in the car for hours before dying of suffocation, rather than drowning? Lefourt knew she deserved more than being forever known only as the girl in the car with Ted Kennedy at Chappaquiddick and set out to give Mary Jo "a voice and to restore to her, if only posthumously, the life that was so abruptly taken from her."
The play opens in Ted Kennedy's hotel room at the Shiretown Inn in Edgartown, Massachusetts on July 19, 1969 at 2:30am. As he is frantically trying to devise some way out of this potentially career-ending disaster,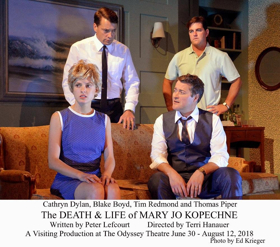 his two dead brothers and his father miraculously show up to help him try to salvage not only his political future but the family's reputation. They are deep in damage control scenarios when there is a knock at the door. They open it to discover Mary Jo Kopechne standing there. Soaking wet. And very angry. The Kennedys try desperately to persuade her to help them cover up the incident since they know the decision she has to make in the next few hours will determine not only Ted Kennedy's fate but also that of the entire nation, perhaps for decades to come. What will she do? No, don't expect me to tell you!
Directed by Terri Hanauer, who, among her many credits, directed Lefourt popular play 'Café Society" at the Odyssey, again brings her insight into human psychology to the forefront in this production.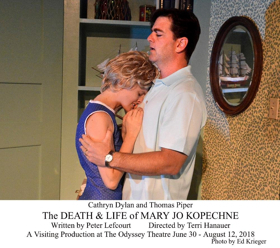 With such beloved characters as the Kennedys, it was important for the men cast in the major roles to be both likable as well as womanizing monsters, celebrating their success and ability to be with any woman who crossing their path. It's a pattern that still exists among men of power in all professions, but Hanauer lets us in on Mary Jo's ability to change that behavior if she had only been given the chance to speak up. It is to Lefourt and Hanauer's credit how many grunts and groans greeted the Kennedys comments on women during the production, reminding us just how much things have changed with women no longer being afraid to speak up against sexual harassment.
Her top-notch cast, thanks to Michael Donovan CSA, includes (in alphabetical order)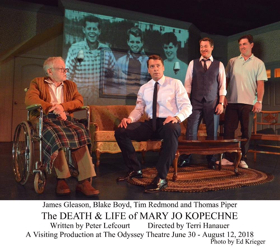 Blake Boyd as the charismatic John F. Kennedy, Cathryn Dylan as Mary Jo Kopechne, James Gleason as the wheelchair bound Joseph Kennedy, Thomas Piper at Ted Kennedy, and Tim Redmond as Robert F. Kennedy. Each of the actors portraying the Kennedys has perfected their well-known Bostonian accents as well as their physicality and overbearing machismo. Dylan allows us to see the emotional confusion of a naïve woman who made the wrong choice, as well as her fear of retribution and rebuke if she decides to go back inside the car to be discovered rather than just disappearing per the request of the Kennedy quartet.
Scenic design by Nina Caussa takes you inside a non-descript, New England hotel room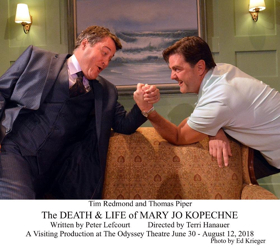 until projections by Katerina Pagsolingan appear on the back wall, transporting us back in time to incidents in the Kennedys lives. What few photos there are of Mary Jo also add to the realism of the action taking place, as do Mylette Nora's period-perfect costumes. Lighting design by Donny Jackson with sound design by Dino Herrmann enhance the many moods of the play, from soothing ocean waves to classic rock selections by The Beatles, Rolling Stones, The Zombies, Credence, and many others. Remember, Woodstock took place the month after the events which took place in this play, as did the Charles Manson murder rampage.
Combining magical realism, sharp wit, and compassion for its heroine, THE DEATH AND LIFE OF MARY JO KOPECHNE reminds us that she was a woman whose life mattered, and not merely a footnote in the story of a prominent and powerful man during a time when the world was changing at an astounding pace. The play's world premiere engagement continues through Sunday, August 12 on Fri. & Sat. at 8pm, Sun. at 2pm, as a guest production at The Odyssey Theatre, 2055 S. Sepulveda Blvd., Los Angeles, CA 90025. Tickets on Fridays and Sundays $30, Saturdays $34, available in advance by calling (323) 960-4418 on online at www.Plays411.com/MaryJo.
Photo credit: Ed Krieger
Related Articles View More Los Angeles

Stories

Shows