Photos: World Premiere of KING OF THE ROAD Rolls into Laguna Beach
Laguna Playhouse is thrilled to announce the fifth show in the Laguna Playhouse 2016-2017 season, a world premiere musical KING OF THE ROAD: THE Roger Miller STORY, written by Cort Casady & Mary Arnold Miller, music by Roger Miller, musical direction by Omar D. Brancato and directed by Andrew Barnicle. "We are delighted to be bringing our subscribers and audiences this world premiere musical based on the life of one of country's most iconic characters, Roger Miller," comments Laguna Playhouse Executive Director Ellen Richard. Adds Artistic Director Ann E. Wareham "Having Andrew Barnicle at the helm with this superlative cast of actor/musicians and a show that celebrates the life and extraordinary music of Roger Miller in this world premiere production is thrilling for us!" KING OF THE ROAD: THE Roger Miller STORY will begin previews on Wednesday, April 19; will open on Sunday, April 23 at 5:30pm and will run through Sunday, May 14, 2017 at the Laguna Playhouse, 606 Laguna Canyon Road in Laguna Beach.
Riding a wave of success triggered by his mega-hits, "Dang Me" and "King of the Road," a string of gold records and 11 Grammy Awards, wisecracking country star and Tony-winning Broadway composer (Big River) Roger Miller is forced to face his demons, confront his self-destructive tendencies and to finally, accept love in this world premiere musical!
ABOUT THE CREATIVE TEAM AND CAST
Roger Miller (Music) Singer and songwriter Roger Miller brought a strain of wisecracking rural humor into mainstream pop. He burst upon the pop music world in 1964 with a series of highly original comic songs that earned him 6 of his 11 Grammy Awards in a single year. In the summer of 1964, Miller's "Dang Me" vaulted to number one and spent six weeks at the top of the charts. "Chug-a-Lug" and "Do-Wacka-Do" quickly followed. Miller began 1965 with his best-known song, "King of the Road," which spent five weeks at the top of the country charts and became his biggest pop hit. Following the success of "King of the Road," Miller hosted the Roger Miller Show, an American music variety television show on NBC. Miller went on to write the music for Big River, a Broadway adaptation of Mark Twain's Adventures of Huckleberry Finn, which won seven Tony Awards, Miller taking two of those for Best Musical and Outstanding Score. When asked how he wanted to be remembered, he replied. "I just don't want to be forgotten." In 1995, Miller was posthumously inducted into the Country Music Hall of Fame. "This would have been his ultimate dream come true," his wife Mary Miller said. His legacy remains strong, as each new generation of country singers finds songs in his catalog to cover and reinterpret.
CORT CASADY (Book) has won two Emmy Awards and three Image Awards for his work as a television writer-producer. In addition to awards shows and music specials, Cort is best-known for his work as Supervising Producer of the American Film Institute (AFI) Life Achievement Award tributes to Robert DeNiro (2003), Meryl Streep (2004), George Lucas (2005), Sean Connery (2006), Al Pacino (2007), Michael Douglas (2009), Mike Nichols (2010), Morgan Freeman (2011), Shirley MacLaine (2012), Mel Brooks (2013, Emmy Award winner), Jane Fonda (2014), Steve Martin (2015), and composer John Williams (2016). He has also written and produced televised concert tributes to R&B legends Lou Rawls, Stevie Wonder (2007 Image Award), Aretha Franklin, Smokey Robinson (2009 Image Award), Patti LaBelle, Lionel Richie (2011 Image Award) and Chaka Khan. A Harvard graduate, Cort began his TV writing career by creating the original story and characters for the TV movie mini-series, Kenny Rogers as the Gambler. A screenwriter and published author of two books, Cort and his wife, Barbara, are the parents of triplet 22-year old sons.
MARY ARNOLD MILLER (Book) is a singer, songwriter, musician and author. She attended the Los Angeles Conservatory of Music prior to joining The Young Americans and, later, becoming the only female member of the country-rock group, Kenny Rogers & The First Edition. As a member of the First Edition, she appeared on the group's CBS television series, Rollin' On The River, from 1971 to 1973. Mary was introduced to Roger Miller by Kenny Rogers in 1974 and married Roger in 1978.
She was instrumental in convincing Roger to write the music for the Broadway musical, Big River, which won eight Tony Awards in 1985, including Best Original Score for Roger Miller. Big River was revived in 2003, winning three more Tony Awards including Best Revival of a Musical. Mary and Roger had two children, Taylor and Adam, and remained happily married until Roger's death in 1992. She now manages Roger Miller Music and Roger's estate. Mary is the co-writer with Michael Smotherman of "This Time I'll Cry For You," the only song in King of the Road: The Roger Miller Story that was not written by Roger Miller. Mary currently lives in Nashville, Tennessee.
BARNICLE (Director) served as artistic director of The Laguna Play­house from 1991 through 2010. In that time he produced over 100 Playhouse shows and directed over 40 of them, including many World, U.S., West Coast and Southern California premieres. Recent directing projects at Laguna include Sex and Education, The Odd Couple, Shirley Valentine, Private Lives, and Moonlight and Magnolias, which also played the La Mirada Theatre for the Performing Arts as a co-production with McCoy/Rigby Entertainment, and Burbank's Colony Theatre. In the past few years, he directed Chapter Two, Fallen Angels, and Venus In Fur for the Ensemble Theatre Company of Santa Barbara, Blame It On Beckett and Stephanie Zimbalist in Sex and Education and at the Colony Theatre, The Odd Couple, The Lion In Winter, Gunmetal Blues, and Aaron Posner's adaptation of Kurt Vonnegut's Who Am I This Time? at North Coast Rep in San Diego, Shirley Valentine at the Falcon Theatre, The Irish Curse at the Odyssey Theatre, Private Lives at the Rubicon Theatre in Ventura, and Present Laughter at Chapman University. He has also directed at San Diego's Theatre at Old Town, Michigan's Meadow Brook Theatre, Gunmetal Blues, Rounding Third, and Celadine at the Colony Theatre, and The Foreigner at San Jose Repertory Theatre.
Omar D. Brancato (Musical Director/David) Previous Laguna Playhouse: I'm Still Getting My Act Together..., A Snow White Christmas. He's also been seen plucking some strings in Return to the Forbidden Planet (Rubicon), The Boy From Oz (Celebration), American Misfit (Music Director/Arranger, Boston Court). Composed music/lyrics - NCTF award winning Beauty & the Beast (Best Score, Best Musical), The Boys Next Door (incidental music, Chicago revival), Hogpatch Holler (orchestrations/add'l music), The Talking Dead (Holiday Park, Haßloch, Germany). Film Scores include: "Out Of Luck," "Hollywood Gamble," "The Michelle Show" (Best Score nom, Austin WebFest), and "Monster Heroes" (add'l music). Arrangements/Orchestrations include: FORD, Hewlett Packard, McDonald's, Gypsy of the Year, Seibel Systems, Ocean Park Hong Kong, Universal Studios (Hollywood, Singapore), Bellagio/ Mirage Hotels, multiple BC/EFA Benefits.
The cast of KING OF THE ROAD: THE Roger Miller STORY features: Jesse Johnson as Roger Miller with Lindsey Alley, Braxton Baker, Brittney Bertier, Omar D. Brancato, Kevin F. Story, Matt Tucci and Trevor Wheetman.
KING OF THE ROAD: THE Roger Miller STORY features the following design team; Scenic Design is by Jim Prodger. Lighting Design is by Martyn Bookwalter. Costume Design is by Kate Bergh. The Production Stage Manager is Vernon Willet.
ABOUT THE SCHEDULE AND PRICING
KING OF THE ROAD: THE Roger Miller STORY will begin previews on Wednesday, April 19; will open on Sunday, April 23 at 5:30pm and will run through Sunday, May 14, 2017 at the Laguna Playhouse, 606 Laguna Canyon Road in Laguna Beach.
Performances will be Wednesdays through Saturdays at 7:30pm; Saturdays at 2pm & 7:30pm; Sundays at 1pm. There will be additional performance on Thursday, April 20, May 4 & May 11 at 2:00pm & Sunday, April 30 at 5:30.
Tickets range from $60 - $75 and can be purchased online at www.lagunaplayhouse.com or by calling (949) 497-ARTS (2787). Group discounts are available by calling 949-497-2787 ext. 229. Prices subject to change.
The box office is open Mondays - Saturdays: 12p.m. to 5 p.m. (open until showtime on performance days); Sundays: 11a.m. - 4p.m. For more information on all shows and programming visit www.lagunaplayhouse.com. For more information on all shows and programming visit www.lagunaplayhouse.com. Laguna Playhouse is located at 606 Laguna Canyon Road in Laguna Beach.
Photo Credit: Ed Krieger

Jesse Johnson
and Trevor Wheetman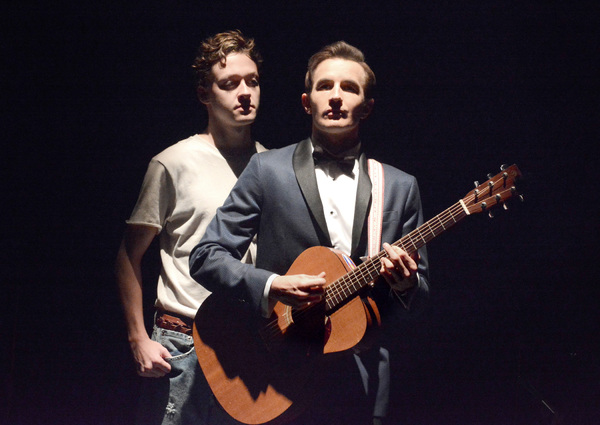 Braxton Baker and
Jesse Johnson
Trevor Wheetman, Matt Tucci,
Jesse Johnson
, Omar D Brancato, and Kevin F Story
Jesse Johnson
and
Brittney Bertier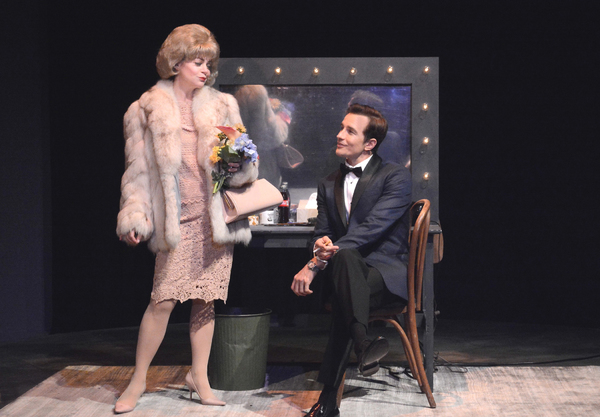 Lindsey Alley and
Jesse Johnson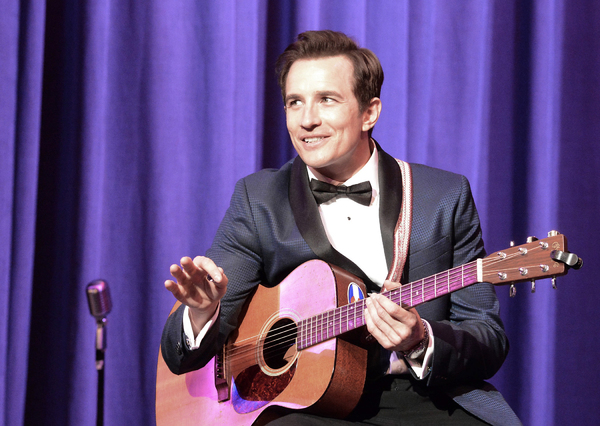 Jesse Johnson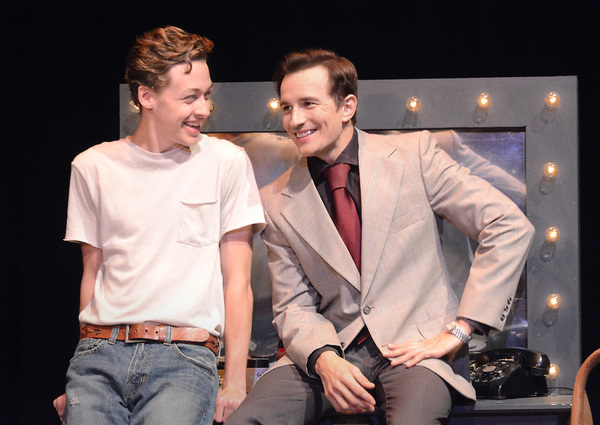 Braxton Baker and
Jesse Johnson