Photo Flash: Whomanitarian Award Presented to Tippi Hedren
An elaborate presentation took place at Universal this week as the characters from Whoville honored Tippi Hedren for her work with animals at The Shambala Preserve (Shambala.org). Over 100 kids and many of the characters from Whoville participated alongside the Grinch who appeared at the event.
They selected Ms. Hedren to receive the first ever "Whomanitarian Award," for her efforts top save and protect abused exotic felines, both at in Los Angels at the Shambala Preserve and in DC presenting legislation to protect these amazing animals. She accepted the Award, brought onstage by Max the Dog, and spoke to the crowd, saying "Since 1971, I have been dealing with and learning about the great cats, and continue to be appalled by the fact that no one has been actively concerned about these animals being purchased as pets. They are apex predators, top of the food chain, one of the eight most dangerous animals in the world. The number of mauling incidents and deaths caused by these predators is horrifying. What makes a pet or a working animal out of these deadly animals? Why aren't there solid Federal laws to prevent this danger?" She added, "In 2003 I brought a Federal Bill, which I co-authored, to my U.S. Congressman Howard "Buck" McKeon, titled, "The Captive Wildlife Safety Act". This bill stops the interstate trafficking of big cats to be sold as pets or for financial gain. ... It is vitally important to get the new bill I co-authored in 2007, "A Federal Bill to Ban the Breeding of the Exotic Feline for Personal Possession", passed to stop the insanity of these magnificent but inherently dangerous felines being bred in captivity to live in cages or worse. The bill is in jeopardy because of big business, a special interest group: the Circus! They want those animals because they have a huge potential for massive commercial exploitation to obtain vast profits!"
In conjunction with the famed Dr. Seuss and his Estate, Universal Studios Hollywood celebrated its first, family-friendly "Grinchmas" holiday program from Dec. 11 through Jan. 2, 2011 and 35 principal stars, from Bob Newhart to Stephen Moyer ("True Blood"), have been reading the Grinchmas tale each night to hundreds of youngsters who visited the special Seuss-inspired "Whoville" set.
As part of the overall holiday program, they also partnered with Los Angeles Animal Services and the Amanda Foundation to host a two-day dog adoption fair (12/11 & 12), featuring hundreds of adoptable dogs -titled "Max to the Rescue" -- in honor of the Grinch's sidekick, Max, who was rescued from an animal shelter. Max is actually played by four different dogs, all of whom were the lucky ones, selected by animal trainers and rescued from area animal shelters.
Photo Credits: Bill Dow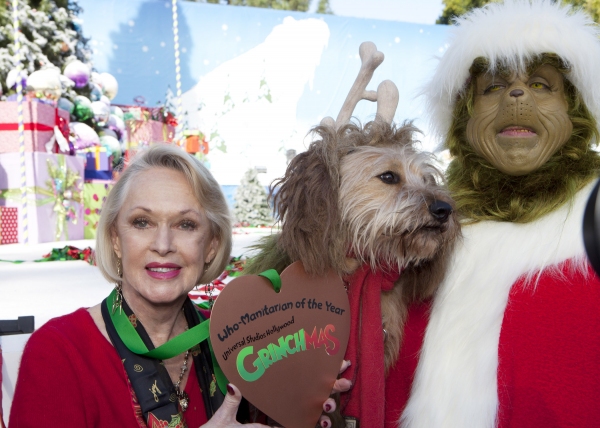 Tippi Hedren, Max the dog and The Grinch

Tippi Hedren with Max the dog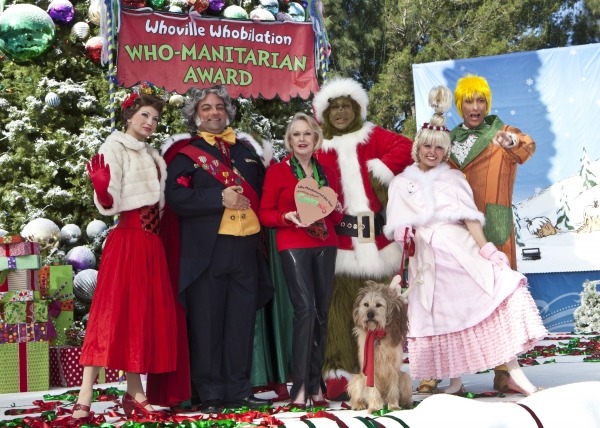 Tippi Hedren with Whoville Characters