Click Here for More Articles on 2020 AWARDS SEASON
Photo Flash: Steven Weber, Tracie Thoms, Cathy Rigby and More at 2013 Jerry Herman Awards
The Nederlander Organization and Pantages Theatre, Hollywood announced the major winners in all categories from the 2nd Annual Jerry Herman AWARDS, which took place this weekend on Sunday, May 19th at Pantages Theatre. KABC 7 Eyewitness News Entertainment Reporter George Pennacchio served as the master of ceremonies for the evening. BroadwayWorld has photos of the judges, performers and more below!
Grand prize winning students of a $1,000 cash prize and all-expense paid trip to New York City for a chance to compete in The National High School Musical Theatre Awards in July are Anthony Nappier from Arcadia High School ("The Drowsy Chaperone") and Natalia Vivino from Santa Susana High School ("13 the Musical"). Runners up for the evening included Gabriella Certo and Aaron Jacob from Chaminade College Preparatory, Mason Alexander from Ramon C. Cortes High School, and Katherine Steele from Agoura High School.
Other awards recipients for the evening included Trevor Berger (Chaminade) and Kelsey Reynolds (John Burroughs) for Best Actor and Actress respectively, Agoura High School (The Phantom of the Opera) for Best Orchestra, Claremont High School (The 25th Annual Putnam County Spelling Bee) for Best Ensemble, Oak Park High School (Les Miserables) for Best Musical Direction, Milken High School (Monty Python's Spamalot) for Best Technical Crew. A very special award was presented to host George Pennacchio for his Major Contribution to Arts Awareness and Support in the Southland. This award was presented to him by Pantages Theatre General Manager Martin Wiviott and long-time friend, actress Ruta Lee.
Personalities from the worlds of Broadway, film & television performed and presented at the 2nd Annual awards ceremony, celebrating its first year on the stage of Pantages Theatre. Presenters included Obba Babatunde, Shoshana Bean, Kevin Chamberlin, Sam Harris, Tracie Thoms & Steven Weber. Judges for the evening included John Bowab, Nancy Dussault, Karen Morrow along with Cathy Rigby and Kenny Ortega both of whom presented awards as well.
The awards show also included production numbers from four participating high school productions this season. Performances included Arcadia High School performing "Toledo Surprise" from The Drowsy Chaperone, Calabasas High School performing "Cool" from West Side Story, Royal High School performing "Not for the Life of Me" from Thoroughly Modern Millie and Hollywood High School performing "96,000" from In The Heights.
THE Jerry Herman AWARDS is a local celebration dedicated to recognizing, encouraging, and rewarding achievements and excellence in high school musical theatre. It is the local award ceremony for THE NATIONAL HIGH SCHOOL MUSICAL THEATRE AWARDS, also known as The Jimmy's, which take place annually at the Minskoff Theatre on Broadway in New York City. Every year two students are sent to New York to represent Los Angeles at The Jimmy's to participate in a week long workshop and compete for the coveted Jimmy Award, named after the owner of the Pantages Theatre: James M. Nederlander.
Instituted by The Nederlander Organization, THE Jerry Herman AWARDS is an initiative with the goal to stimulate new partnerships between theatres and the schools in Los Angeles while engaging entire families in the activities of their children and contributing to the development of future audiences for live performing arts. THE Jerry Herman AWARDS will focus much needed attention on the meaningful work being done by today's dedicated teachers and celebrate kids with wide ranging talents on and off the stage.
For more information on THE Jerry Herman AWARDS or to register your high school for participation, visit www.JerryHermanAwards.com. For tickets or more information about THE NATIONAL HIGH SCHOOL MUSICAL THEATRE AWARDS and THE JIMMY AWARDS, visit www.nhsmta.com. THE 3RD ANNUAL Jerry Herman AWARDS will take place on Sunday June 1st, 2014.
Photo Credit: Chelsea Lauren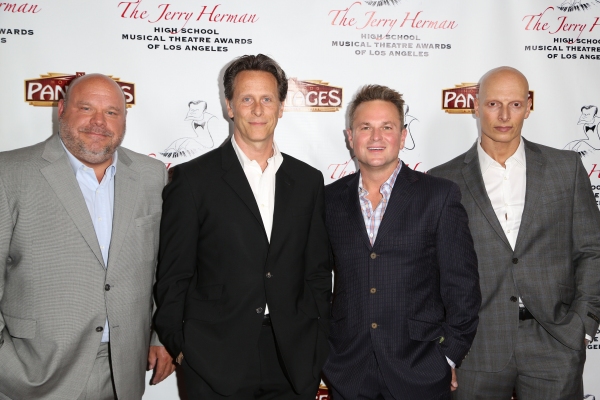 Kevin Chamberlin, Steven Weber, Sam Harris and Joseph Gatt

Judges for The 2nd Annual Jerry Herman Awards (from L to R): Nancy Dussault, Kenny Ortega, Karen Morrow, John Bowab & Cathy Rigby. Actor Obba Babatunde (far right) performed and presented the Award for Best Ensemble.

Tracie Thoms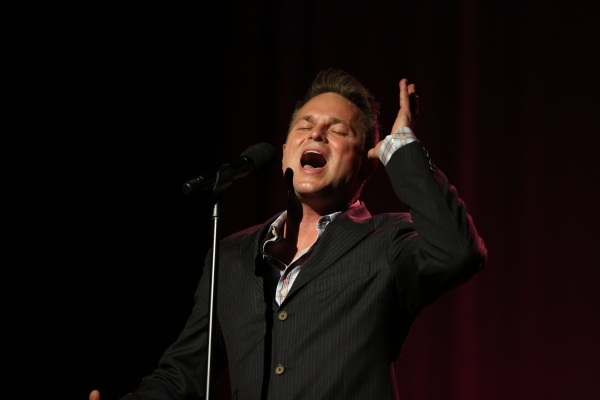 Sam Harris performs "I Can See It" from The Fantasticks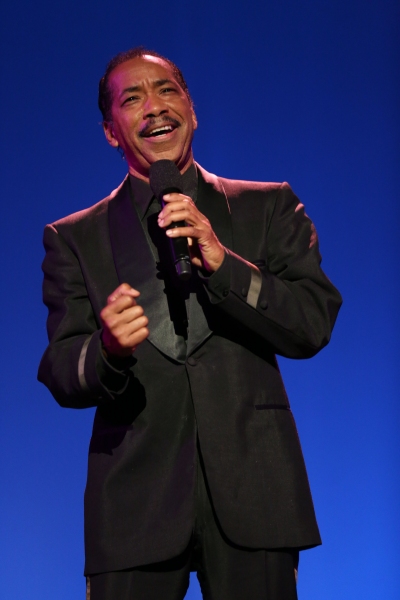 Obba Babatunde performs "Family" from Dreamgirls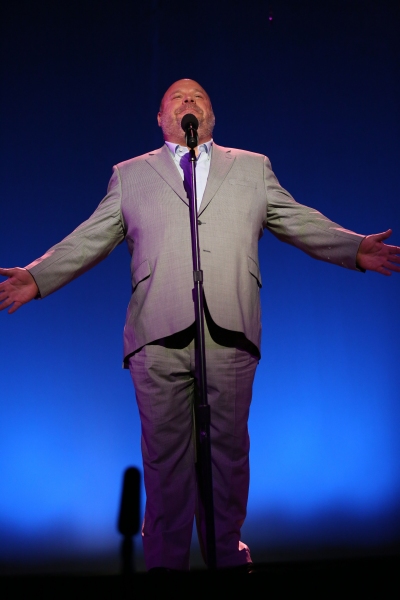 Kevin Chamberlin performs "Neverland" from Peter Pan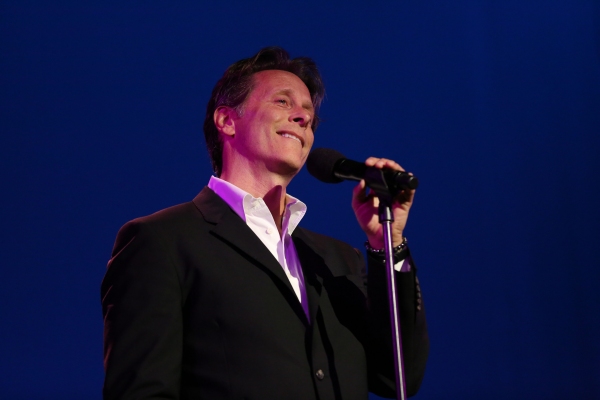 Steven Weber performs "That Face" from The Producers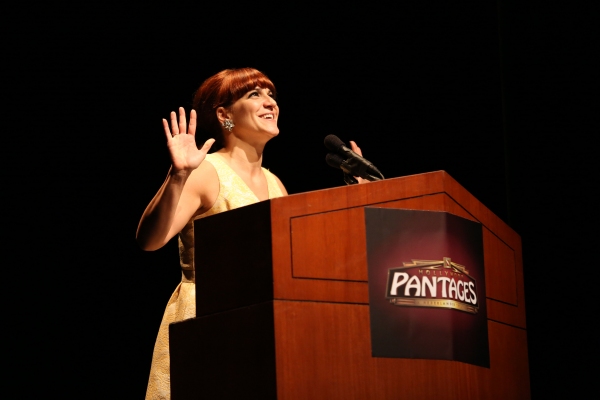 Shoshana Bean presents the Jerry Herman Award for Best Technical Crew

Grand Prize winner Anthony Nappier from Arcadia High School performs "I Am Aldopho" from The Drowsy Chaperone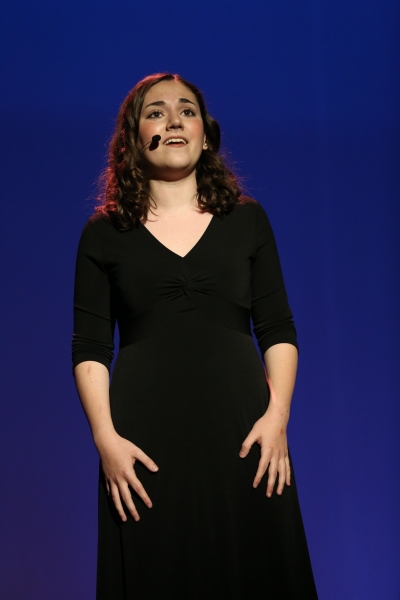 Grand Prize winner Natalia Vivino from Santa Susana High School performs "What It Means To Be A Friend" from 13 The Musical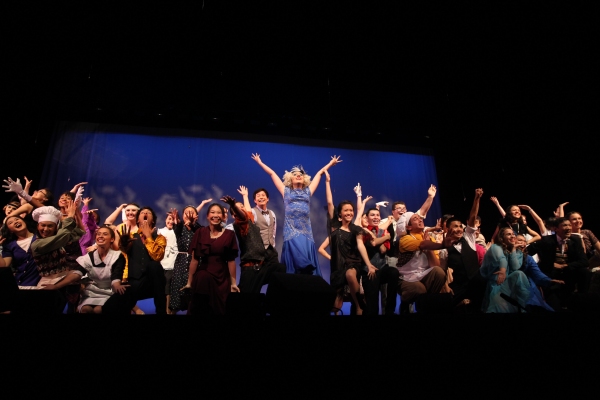 Arcadia High School performs "Toledo Surprise" from The Drowsy Chaperone

Calabasas High School performs "Cool" from West Side Story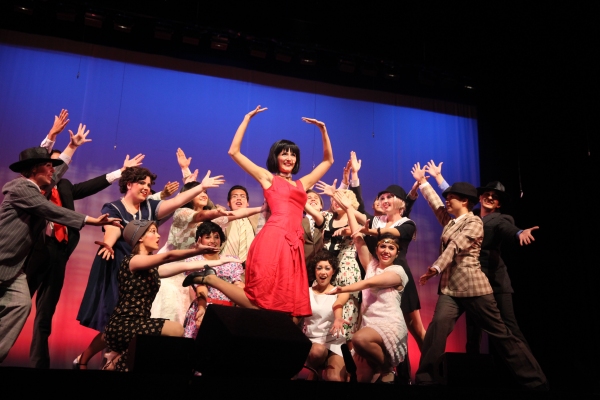 Royal High School performs "Not For The Life Of Me" from Thoroughly Modern Millie

Hollywood High School performs "96,000" from In The Heights

The Finalists perform "Applause" at the Finale of The 2nd Annual Jerry Herman Awards at Pantages Theatre

Judges Nancy Dussault, John Bowab, Cathy Rigby, Karen Morrow, Kenny Ortega & Musical Director Gerald Sternbach

Judges pose with Grand Prize winners at The 2nd Annual Jerry Herman Awards at Pantages Theatre (From L to R): Nancy Dussault, John Bowab, Cathy Rigby, Grand Prize Winners Natalia Vivino from Santa Susana High & Anthony Nappier from Arcadia High, Kare

Grand Prize Winners of The 2nd Annual Jerry Herman Awards Natalia Vivino (Santa Susana High School) and Anthony Nappier (Arcadia High School)

Related Articles
More Hot Stories For You