Photo Flash: Sneak Peek at Peter Van Norden in A CHRISTMAS CAROL at Rubicon Theatre
Last season's critically acclaimed, World Premiere hit Charles Dickens' A CHRISTMAS CAROL returns to Rubicon Theatre Company this holiday season with Broadway, TV and film veterans Peter Van Norden (RTC's Copenhagen) and Joe Spano ("NCIS," RTC's Bucky) reprising their roles in this innovative retelling of the classic. Charles Dickens' A CHRISTMAS CAROL opens in Ventura on Saturday, December 10, followed by an after-party at Rhumb Line Restaurant. The show is currently in previews for a run through December 24, and BroadwayWorld has a sneak peek below!
Adapted by Producing Artistic Director Karyl Lynn Burns and directed byBrIan McDonald, the 25-member cast features many of the same actors from the original production that earned a "Critic's Choice" in the Los Angeles Times and rave reviews from Ventura County Star, CASA Magazine, VIDA Magazine and the Ventura Breeze.
Presented as a play with music, this dynamic and compelling stage version is highly theatrical. Actors narrate at various times, play multiple characters, sing and contribute to the soundscape for the production in the style of the Royal Shakespeare Company's landmark production of The Life and Adventures of Nicholas Nickleby.
This timeless tale of redemption and hope follows the miserly Ebenezer Scrooge (Peter Van Norden), who is visited by the ghost of his former partner Jacob Marley (Joe Spano) and three spirits, who show him the error of his ways. Burns' adaptation provides particular insight into the circumstances of the lost and lonely boy who became a bitter and hardened miser, an echo of Dickens' own experience. Drawing from rich language of Dickens' novel, the characters not only speak the dialogue but also narrate their thoughts and actions. The lack of a fourth wall allows the audience to be a part of Scrooge's inner journey as he discovers the joy and meaning in Christmas.
The design team for A CHRISTMAS CAROL also returns this year, with set design by Tom Giamario, lighting design by Jeremy Pivnick, costume design by Abra Flores, hair and wig design by Danielle White, and prop design by T. Theresa Scarano. Jessie Vacchiano is Production Stage Manager withChristina M. Burck as Production Manager and David King as Technical Director.
Presented as a play with music, Rubicon's production also incorporates traditional carols sung a cappella by cast members including Teri Bibb (Christine in Phantom of the Opera on Broadway for seven years); Jennifer Leigh Warren (Big River, Little Shop of Horrors and Marie Christine in New York);Parker Harris (a Ventura resident making his mainstage debut who has grown up in Rubicon youth productions of Urinetown and West Side Story); andTrevor Wheetman (a Nashville-based artist whose recent Rubicon credits include Return to the Forbidden Planet and The Man Who Shot Liberty Valanceand Lonesome Traveler at Rubicon and on Off Broadway, and It Ain't Nothin' but the Blues at Seattle Rep). Wheetman and Bibb also plays fiddle and accordion, respectively, in the Fezziwig party scene in Charles Dickens' A CHRISTMAS CAROL.
Returning from last year's production in the 25-member cast are Gary Clemmer as Mr. Cratchit; Zachary Andrews as Scrooge's amiable nephew Fred;Sophie Massey and Basil Augustine as the Ghosts of Christmas Past and Present; Robert Beuth as Topper; Dan Call as the jovial Mr. Fezziwig; Matt Bourne as William; Troy Braun as Turkey Boy, Maya Mouderres as Fan and 8-year-old Mason Rothermel last seen at Rubicon in this summer's youth production of James and the Giant Peach JR. Joining the ensemble this year are Katy Jarvis as Fred's wife and Scrooge's dowerless fiancé Belle; Toby Tropper as the Ghost of Christmas Future; Griffin Sanford and Neirin Winter sharing the role as Boy Scrooge; Laurie Walters as the Charwoman; Andrew Frank as Peter and Dick Wilkins; Melora Hutton as Fred's Wife's Sister; Lilli Babb as Caroline and Samantha Winters as Fezziwig's Daughter.
Tickets for Charles Dickens' A CHRISTMAS CAROL range from $40 to $65 (opening night is $150 and includes a post-show reception. Tickets may be purchased in person through the Rubicon Theatre Company Box Office at the corner of Main and Laurel in Ventura (Laurel entrance and downstairs) or online at www.rubicontheatre.org. To charge by phone, call 805.667.2900.
Photo Credit: Jeanne Tanner


The 25-member cast of Charles Dickens' A CHRISTMAS CAROL. The featured trio includes Joe Spano as Jacob Marley, Robert Beuth as Dog and Peter Van Norden as Ebenezer Scrooge.

Trevor Wheetman, Joe Spano, Laurie Walters, Jennifer Leigh Warren in Charles Dickens' A CHRISTMAS CAROL at Rubicon Theatre Company.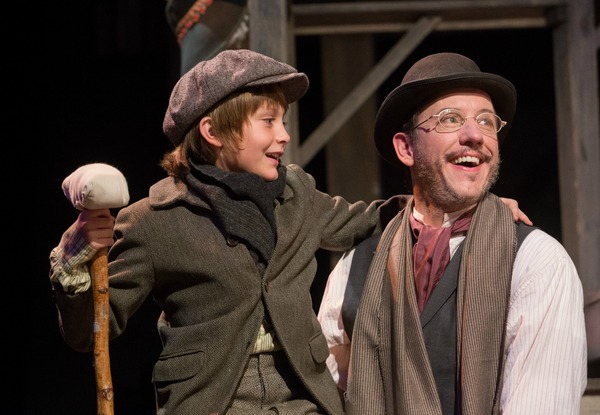 Mason Rothermel as Tiny Tim with Gary Clemmer as Bob Cratchit. Both reprise their roles from last year's critically-acclaimed production.

Samantha Winters, Joe Spano, Zachary Andrews, Peter Van Norden, Lilli Babb, Melora Hutton and Robert Beuth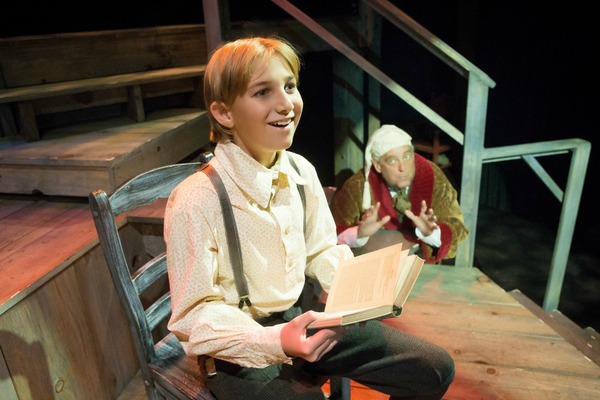 Neirin Winter as Boy Scrooge and Peter Van Norden as Ebenezer Scrooge