Photo Flash: Rich Little Honored As Hollywood Hero And Inducted Into The Hollywood Museum
On May 31st, Rich Little, arguably the most famous impressionist in the world, was honored by the Hollywood Chamber of Commerce during their Hollywood Hero ceremony with the Johnny Grant Award, along with Diahann Carroll (receiving the Mary Pickford Award).
On June 1st, Mr Little was inducted into the Hollywood Museum (Formerly the Historic Max Factor building). The museum's President and Founder, Donelle Dadigan, accepted items representing the career of the world famous impressionist and comedian before press, public and celebrated personalties, placing them on exhibit in the lobby. Amongst the items from his own show, included iconic props representing the careers of Johnny Carson, George Burns and Dean Martin. Also featured in the display, are original artworks of the three legends by Rich Little himself that can be found in his new book, "People I've Known and Been: Little By Little," which benefits veterans, service men and women, through the Gary Sinise Foundation (https://www.garysinisefoundation.org/). Little started sketching when he was young, drawing his family and friends. To date, he has drawn more than 100 portraits of all the celebrities and politicians he imitates, and displays several of these life-like charcoal sketches in his shows. When asked about why he wrote the book, Little remarked, "I've been very privileged to work with some of the greatest comedians that ever lived: Bob Hope, Carol Channing, Johnny Carson, Dean Martin, Lucille Ball, Jack Benny, George Burns, Carol Burnett, Don Rickles and Jackie Gleason, to name a few. They all made me laugh. I thought it was time to share some of those laughs with fans, family, friends and the rest of the country."
Among the colleagues in attendance were Alice Amter, Alison Arngrim, Bob Bergen, Jack Betts, George Chakiris, Teresa Ganzel, Darby Hinton, Geri Jewell, Roslyn Kind, Loren Lester, Kate Linder, Geoffrey Mark, Jim Meskimen, Lee Purcell, Laura Pursell, Judy Tenuta, Peter Mark Richman, Kevin Spirtas, Paul Sorvino, Barbara Van Orden and included a special moment with Hollywood Squares co-star, Ruta Lee, sharing anecdotes about their mutual friend Dean Martin.

Rich Little recently broke a performance record by signing an extended contract with the Tropicana in Las Vegas, making him their longest running engagement in the famed city. In addition, he recently completed filming a project, featuring his talents as Johnny Carson (as the dealer) as well as all of the table players, including Jack Benny, George Burns and Richard Nixon as well as, of course, Dean Martin at the bar.
Rich Little is THE master mimic of more than 200 voices. With an impressive touring schedule throughout the United States and Canada, he has a voice for every administration, including U.S. Presidents: John F. Kennedy, Lyndon Johnson, Richard Nixon, Gerald Ford, Jimmy Carter, Ronald Reagan, Bill Clinton, both George Bushes, Barack Obama and now Donald Trump. In fact, infamous for his skewering of political figures, Little has charmed, amused, intrigued and gotten the best of politicians from here to his native Canada. He entertained at both of Reagan's presidential inaugurations, and President Reagan was reported to have said, "You do me better than I do."
A professed classic movie buff, he's particularly fond of doing Jimmy Stewart,
Jack Lemmon
,
John Wayne
and
Humphrey Bogart
, but Little has also latched on to baby boomer-friendly characters, such as
Paul Lynde
,
Kermit the Frog
, Andy Rooney and Dr. Phil, to name a few. Some of his favorite current impressions are of stars
Arnold Schwarzenegger
,
Sylvester Stallone
,
Jack Nicholson
, and
Clint Eastwood
. "They're easy to do," he says. "They are larger than life." In January 2010, Little became a United States citizen and during his Swearing in Ceremony, for U.S. Citizenship, the Judge asked Rich to recite the Pledge of Allegiance as
John Wayne
... He did. So, how did a kid from Ottawa, Canada, growing up in the '50s become an impressionist? "How did I become an impersonator? Perhaps my mother was conceived by a Xerox machine!" says Little. "No one in our family had ever been in show business. No one ever had "show biz" yearnings." His father was a doctor. His mother was a housewife. So where did the desire to become an impressionist come from? Although, often asked this question, he can only offer an early love of the movies. "As a boy, I would go every weekend, sometimes staying to see the show twice. Just going to the movies and getting so involved in the story-telling and the characters made me want to be that person up on the screen, never dreaming that I could turn it into a career," says Little. The glory days of Hollywood and their icons, like no other, have remained as indelible images in our hearts and minds for decades. He, like many, idolized these giants of the screen and comedy, but was fortunate to have had the opportunity to meet, work with, and get to know many of them along the way during his career. In his new book are insights into the likes and lives of many of these great people he has had the privilege and fortune to meet and imitate, to shine a new light on our beloved stars. "This is really not a biography," says Little, "but more of a humorous glimpse of the people I've impersonated and some of the funny stories that happened along the way."
The ultimate destination for tourists and movie fans, The Hollywood Museum is located in the Historic Max Factor Building, The Hollywood Museum houses over 10,000 real showbiz treasures and the most extensive collection of Hollywood costumes, star cars, props, posters, photographs and memorabilia in the world showcasing more than 100 years of Hollywood history. The museum spotlights the glamour of Hollywood legends from Mary Pickford, Douglas Fairbanks and Rudolph Valentino; to the Golden Era's Joan Crawford, Judy Garland and Katharine Hepburn; to movie idols Marilyn Monroe, James Dean, Carey Grant, Clark Gable and Elvis Presley, to name a few. Today's Hollywood stars including Brad Pitt, Angelina Jolie, Leonardo DiCaprio, J. Lo, and George Clooney, among many others. Visit Hannibal Lecter's jail cell movie set from The Silence of the Lambs, the historic photo gallery and the official Walk of Fame exhibit. The Hollywood Museum is also home to Max Factor's world-famous makeup rooms where Marilyn Monroe became a blonde and Lucille Ball first donned her signature red hair. The Hollywood Museum is a 501(c)(3) non-profit corporation.
Photos: By
Bill Dow
, courtesy of The Hollywood Museum

Rich Little's new book

Rich Little's new book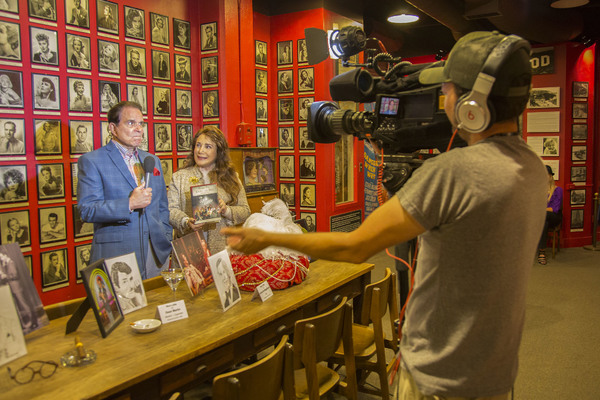 Rich Little and Donelle Dadigan (President/Founder of Hollywood Museum) give interview to Associated Press.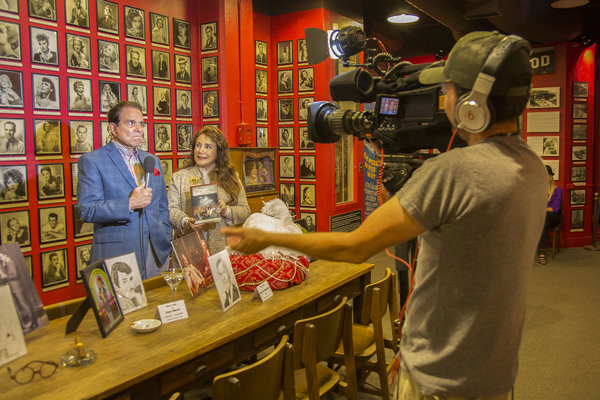 Rich Little and Donelle Dadigan (President/Founder of Hollywood Museum) give interview to Associated Press.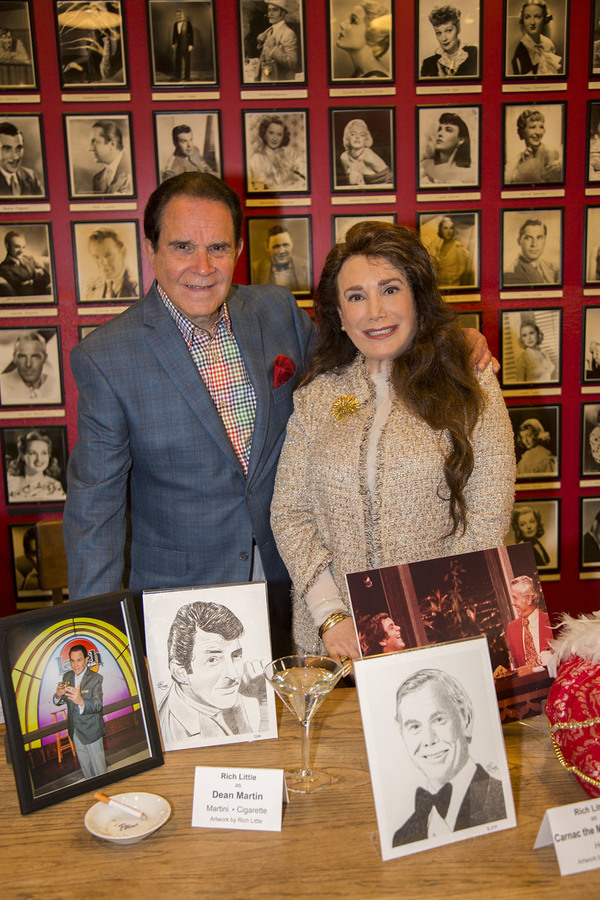 Rich Little and Donelle Dadigan with items for exhibit

Rich Little and Donelle Dadigan with items for exhibit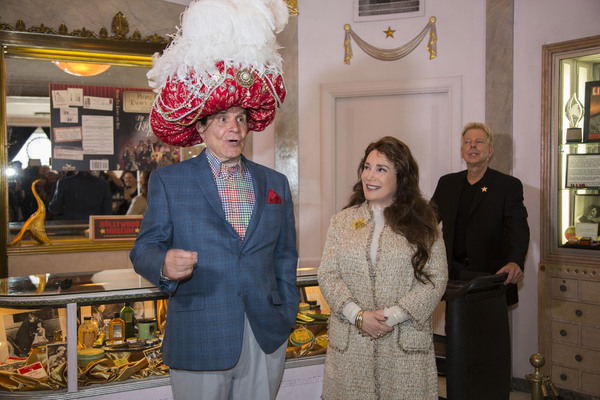 Rich Little wears iconic Johnny Carson Carnac hat with Donelle Dadigan

Rich Little wears iconic Johnny Carson Carnac hat with Donelle Dadigan

Rich Little, Donelle Dadigan and Ruta Lee share a laugh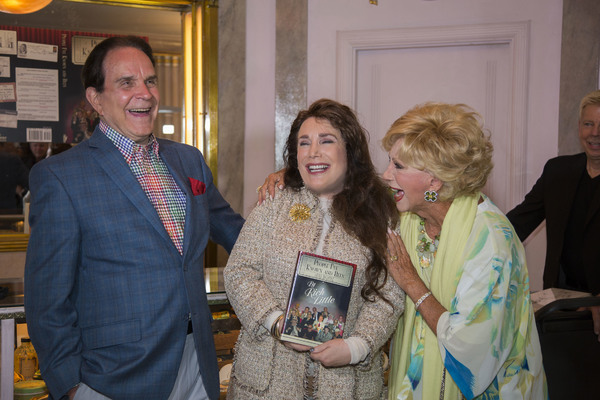 Rich Little, Donelle Dadigan and Ruta Lee share a laugh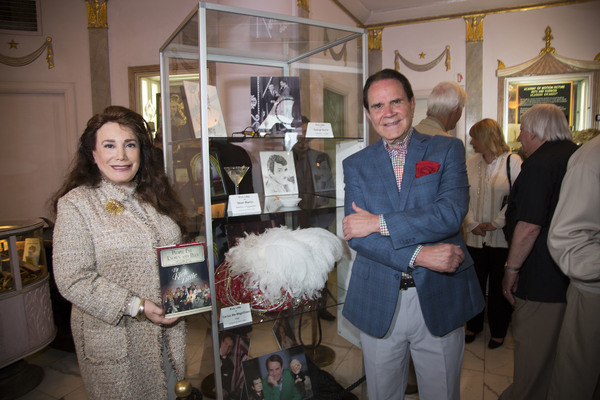 The Hollywood Museum's President and Founder, Donelle Dadigan, and Rich Little

The Hollywood Museum's President and Founder, Donelle Dadigan, and Rich Little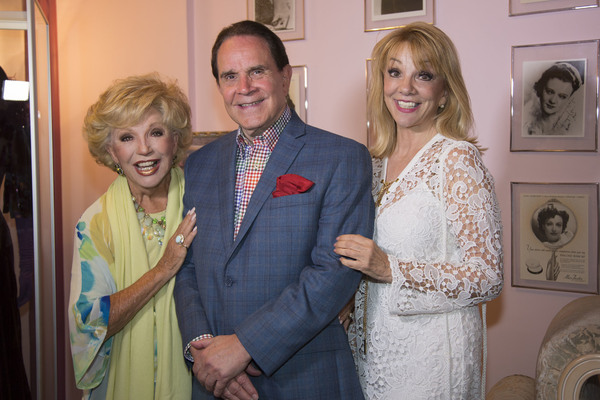 The Iconic Ruta Lee, Rich Little and Johnny Carson's tonight Show colleague, Teresa Ganzel

The Iconic Ruta Lee, Rich Little and Johnny Carson's tonight Show colleague, Teresa Ganzel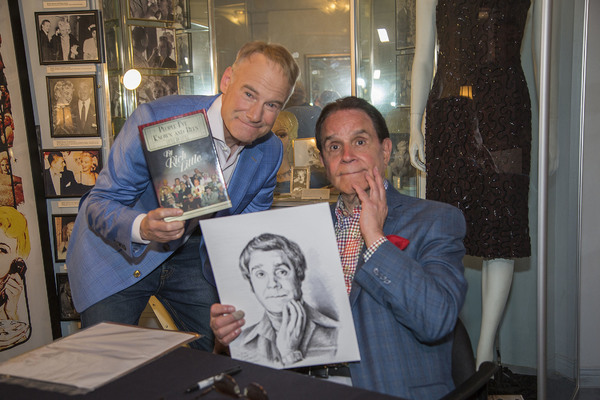 Fellow impressionist and artist, Jim Meskimen, who presented an image he did of Mr Little to Rich Little

Fellow impressionist and artist, Jim Meskimen, who presented an image he did of Mr Little to Rich Little

Comedienne and Deadwood star, Geri Jewel, and Rich Little

Comedienne and Deadwood star, Geri Jewel, and Rich Little

Voice of Porky Pig, Bob Bergen, and Rich Little

Voice of Porky Pig, Bob Bergen, and Rich Little

Loren Lester, Helen Richman and fellow actor/artist Peter Mark Richman with Rich LittleLoren Lester, Helen Richman and fellow actor/artist Peter Mark Richman with Rich Little

Loren Lester, Helen Richman and fellow actor/artist Peter Mark Richman with Rich Little

Kate Linder (Y&R), RL and Kevin Spirtas (Days of Our Lives/Always Forever)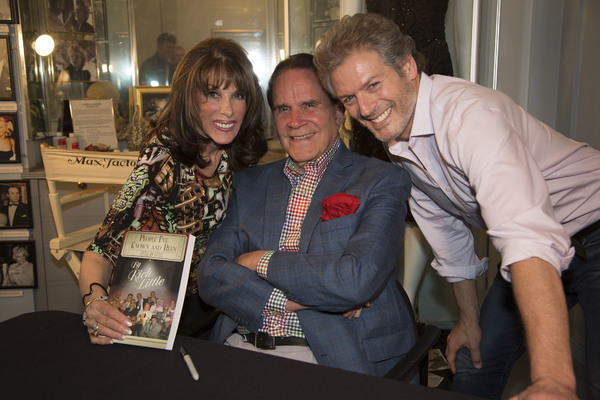 Kate Linder (Y&R), RL and Kevin Spirtas (Days of Our Lives/Always Forever)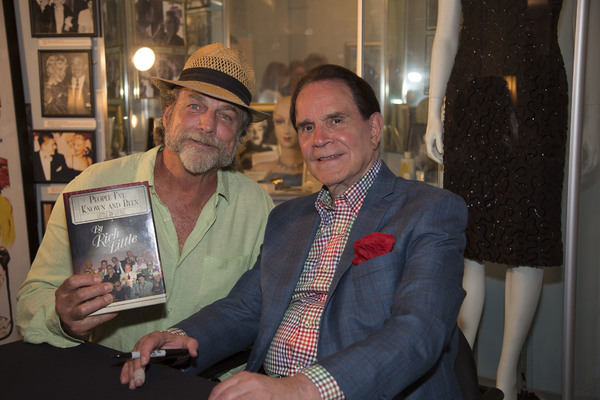 Daniel Boone star, Darby Hinton, and Rich Little

Daniel Boone star, Darby Hinton, and Rich Little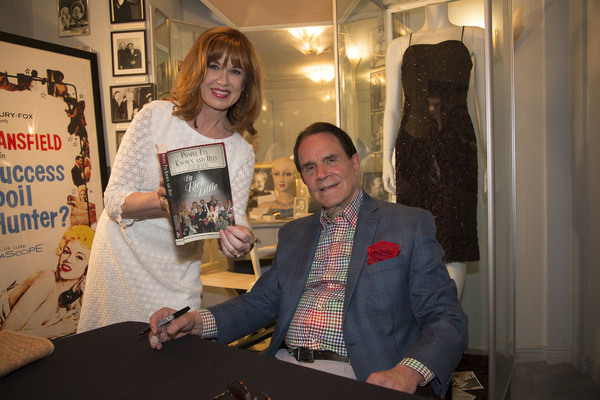 Emmy nominated Valley Girl, Lee Purcell, and Rich Little

Emmy nominated Valley Girl, Lee Purcell, and Rich Little

Bob Schoonover, comedienne and Little House star Alison Arngrim with Rich Little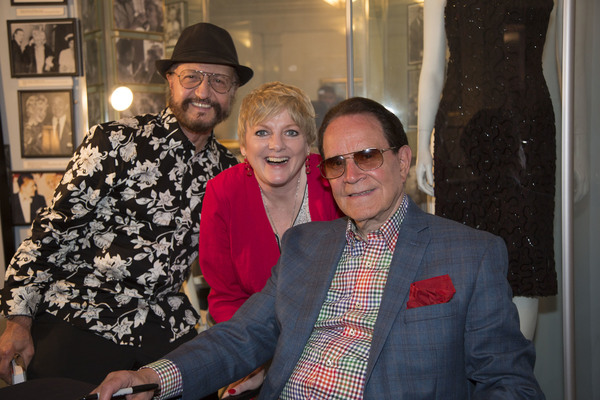 Bob Schoonover, comedienne and Little House star Alison Arngrim with Rich Little

Recording artist, Roslyn Kind, and Rich Little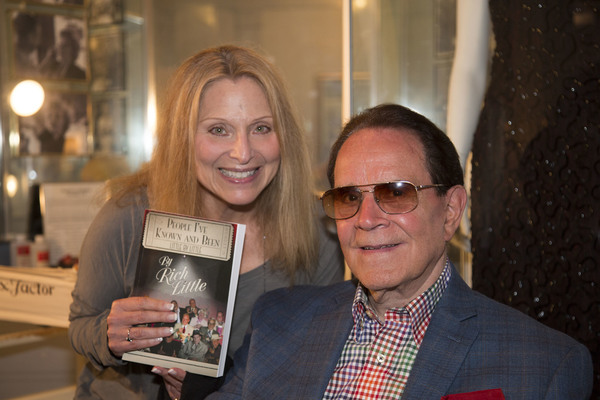 Recording artist, Roslyn Kind, and Rich Little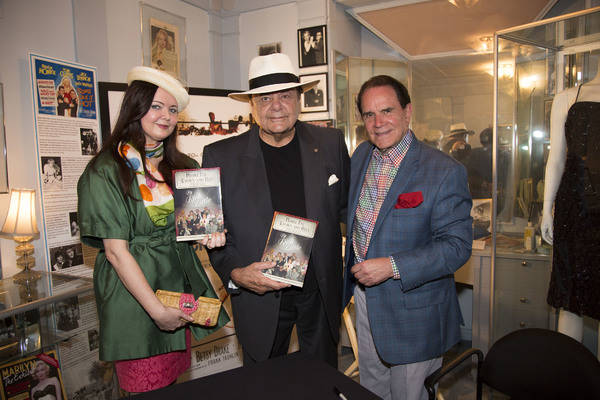 Dee Dee Sorvino and the legendary Paul Sorvino with Rich Little

Dee Dee Sorvino and the legendary Paul Sorvino with Rich Little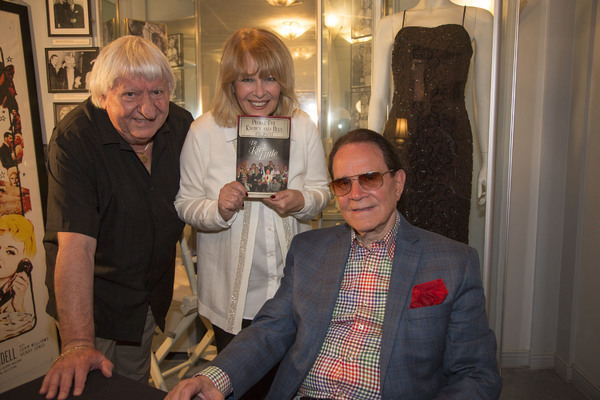 Music Composer, Ben Lanzarone, TV and Stage star Ilene Graff and Rich Little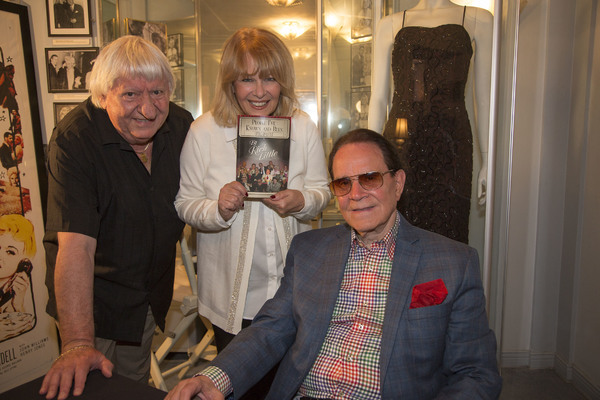 Music Composer, Ben Lanzarone, TV and Stage star Ilene Graff and Rich Little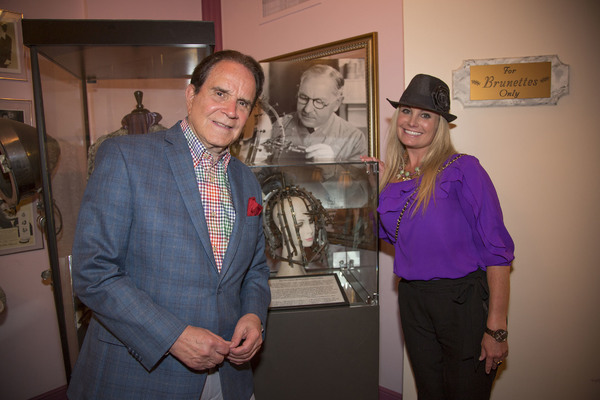 The Legendary Rich Little with daughter Bria Little pose with image of the building namesake, Max Factor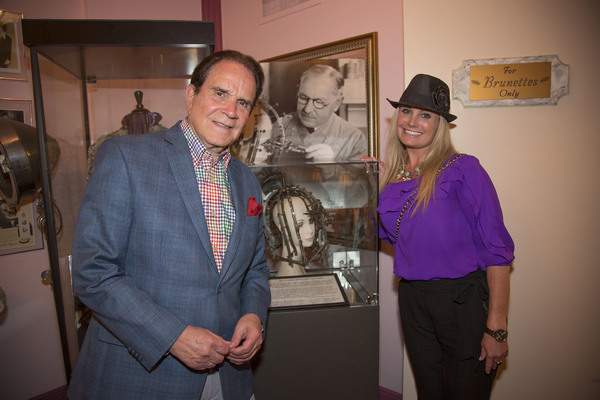 The Legendary Rich Little with daughter Bria Little pose with image of the building namesake, Max Factor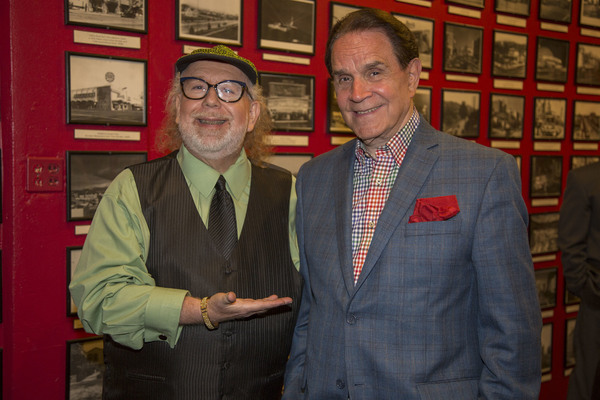 Best Selling author, Grammy nominee and Emmy winner, Geoffrey Mark

Best Selling author, Grammy nominee and Emmy winner, Geoffrey Mark

Big Bang Theory's Alice Amter and Rich Little

Big Bang Theory's Alice Amter and Rich Little