Photos: Red Line Tours Launches 2013 Collectors Tickets Honoring Hollywood Directors
On January 17, 2013
Red Line Tours
launched their second set of collectors tickets, "Directors Series," highlighting four celebrated and iconic film directors. Designed by world-renowned artist,
Andre Miripolsky
, as a memento to patrons of the tour and of their visit to Hollywood. The tickets feature
Charlie Chaplin
,
Alfred Hitchcock
,
Clint Eastwood
and Sofia Coppola, the Silent, Golden, Modern and Contemporary eras of film. This is Red Line Tour's second installment in the series of images depicting iconic or celebrated Hollywood history. Check out photos from the launch event below!
Counted among those artists in attendance were Red Line Tours (RLT) fans such as Veronica Cartwright, Alison Arngrim , Barbara Van Orden, Morgan Brittany, Geri Jewell, George Chakiris, Judy Tenuta, Lee Purcell, Maria Conchita Alonso, Richard Herd, Kate Linder, Johnny Whitaker, Jack Betts, Hugh O'Brian, Romi Dames, Joanne Worley, Don Most, Stanley & Barry Livingston, Shanica Knowles, Steve Valentine, Charles Fox, and special guest Golden Globe winner, Ms. Tippi Hedren (The only actress to have worked with both legendary directors Alfred Hitchcock and Charlie Chaplin.) Ms. Hedren addressed the crowd about the importance of celebrating and accurately remembering the accomplishments of those pioneers who dedicated their careers to establish an industry of entertainment that Americans can proudly call their own.
"I'm very impressed with the effort that Tony (Hoover) and his staff have put in to creating an entertaining and educational outing for those patrons who experience a Red Line Tour," said Ms. Hedren, adding, "Unsubstantiated rumors and myths have fed the legend of Hollywood for so long that they have become truth. Red Line Tours offers a rare historic insight into the film capital of the world."
Los Angeles is the only major city in the United States that does not require licensing for sightseeing tour guides. New York and DC, for example, require that any tour guide delivering a tour within those cities have passed a comprehensive test and be licensed regardless of whether they are a local or from out of the area. RLT owner, Tony Hoover, remarked that "...while this issue is being debated across the country, Red Line Tours feels that some form of regulation of sightseeing tour guides in Los Angeles (whether compulsory or noncompulsory) is necessary to provide visitors with a quality of content [accurate] sightseeing experience of Los Angeles. Many, if not most, tour operators in Los Angeles fictionalize tour material simply because they can. Some believe that social media sites such as TripAdvisor do a better job of vetting tour guides than regulators, however sites like this cannot determine whether the material delivered is fact or fiction. They can only comment on the entertainment value of the guide and not the quality of the material delivered to the visitor." Red Line initiated a plan to implement licensing through Eric Garcetti's office but this plan was never actualized. They continue to advocate for licensing.
Red Line Tours Hollywood Behind the Scenes has become one of Hollywood's most popular and enduring attractions and has become part of Hollywood's modern history. In fact, Actor Joseph Gordon-Levitt used Red Line Tours Downtown LA tour to help prepare for his role in "500 Days of Summer," and Clare Danes toured with founder Tony Hoover as part of a piece on her early days in theatre. The Red Line Tour guides dispel myths and often reveal unknown behind the scenes stories, classic movie palaces, history of the Hollywood Sign, Walk of Fame lore... and Hollywood's hidden hideaways of the Stars, while taking patrons inside venues generally restricted to the public.
The now highly collectible 2012-edition featured a 3-tickets series "The Icons of Hollywood" featured the Capitol Records building, Grauman's Chinese Theatre and the Hollywood Bowl. Red Line Tours' "Hollywood Behind The Scenes," is LA's only walking, guided tour, which visits famous film locations, classic movie palaces, the Hollywood Walk of Fame and more. For their 2013 series, Red Line Tours consulted with members of The Director's Guild of America to painstakingly edit down the their choices from an immense selection of Hollywood's illustrious directors. "What a great tribute to history and to those outstanding directors. I can't imagine how hard it must have been to narrow down the list to those four and Andre's (Miripolsky) depictions are outstanding." said Barbara Van Orden.
The tickets will be good for admission to Hollywood Behind-the-Scenes and will serve as a high quality collectible memento. Hollywood Behind-the-Scenes, a 75-minute guide-led journey revealing the story of Hollywood from its Golden Age to present day, is the only walking tour in Los Angeles that uses a live state of the art adjustable audio system, provided by Williams Sound, which allows all patrons to hear the guide up to 300 feet, regardless of the surrounding noise.
Red Line Tours Community Outreach - Red Line Tours, in conjunction with Partnership for Los Angeles Schools, has been hosting field trips for a group of about 200 at-risk youth from Middle Schools in South Los Angeles who are part of the AVID program (Advancement Via Individual Determination). The program includes a free luxury motor coach transport, tour leaders, attraction tickets and meals and aims to expand how these kids see their community and world around them. Partnership for LA Schools serves nearly 17,000 students across 22 schools in some of the city's most impoverished environments. Some of the student are currently, or have been homeless. In 2012 Carver Middle School from South L.A. got to experience one of these tours, which culminated in them meeting and taking pictures with Academy Award Winning Actor, George Chakiris, while holding the actual Oscar he won for "West Side Story."
For information go to www.redlinetours.com/redline/hbs.php.
Photo Credits: Bill Dow



Crowd gathers in front of Sofia Coppala Ticket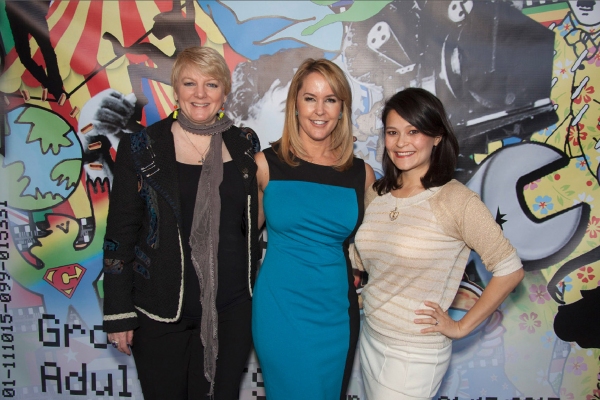 Three former child stars Alison Arngrim, Erin Murphy and Romi Dames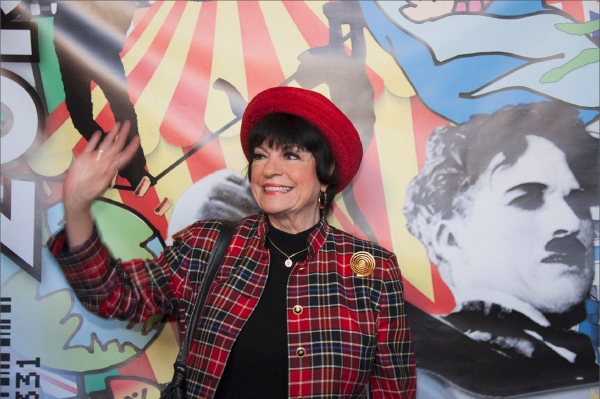 Joanne Worley With Charlie Chaplin ticket

The Birds co-stars, Veronica Cartwright and Tippi Hedren

Kate Linder, Geri Jewel and Erin Murphy

Tippi Hedren stands before the Hitchcock Ticket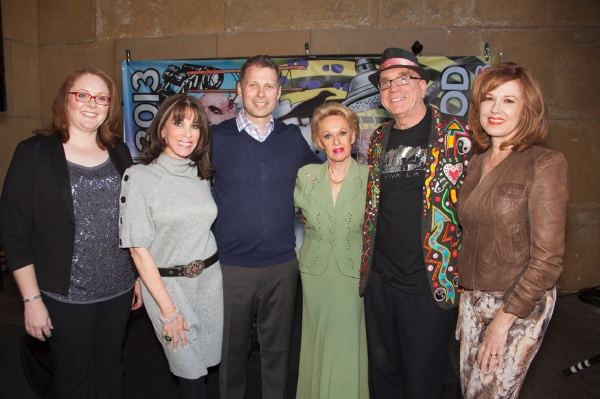 ShanNan Carter, Kate Linder, Tony Hoover, Tippi Hedren, Andre Miripolsky and Lee Purcell

Barbara Van Orden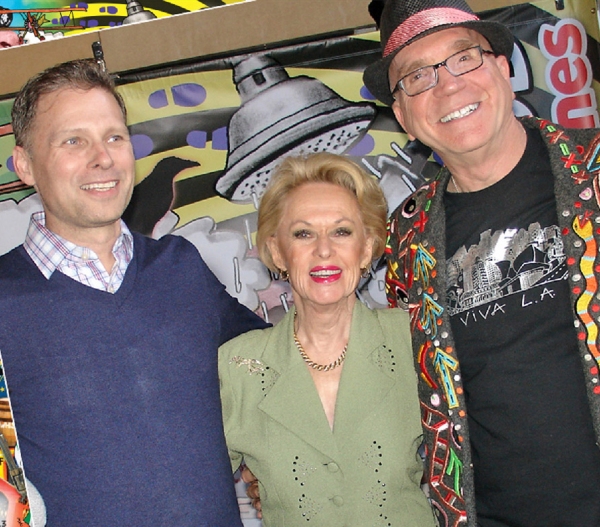 Tony Hoover, Tippi Hedren and Andre Miripolsky

Andre Miripolsky stand before the Clint Eastwood ticket

Judy Tenuta

Tippi Hedren with the Charlie Chaplin ticket

Artist Andre Miripolsky holds the Director Series Tickets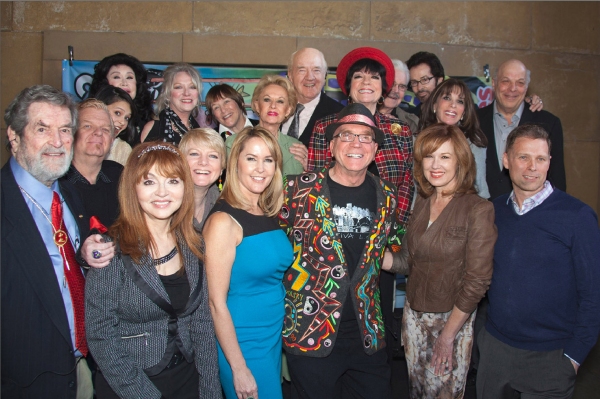 Red Line Tour personalities (lft to rt) Hugh O'Brian, Johnny Whitaker, Romi Dames, Babara Van Orden, Judy Tenuta, Veronica Cartwright, Alison Arngrim, Geri Jewell, Erin Murphy, Tippi Hedren, Richard Herd, Andre Miripolsky, Joanne Worley, Jack Betts, George Chakiris, Lee Purcell, Kate Linder, Charles Fox and Red Line Tour owner, Tony Hoover