Photo Flash: Geri Jewell Receives Lifetime Achievement Award; Announces Book, Stage Show, and Web Series
Last week, The Southern California Motion Picture Council presented their Annu
Al Gold
en Halo Award Presentation. Among those being honored were Ja'net DuBois, Bridget MacDonald and John Pierre, but the evenings highlight was the presentation of the
Lifetime
Achievement Award to actress, comedienne and humanitarian,
Geri Jewell
. Among those in attendance to honor Ms. Jewell, were
Alison Arngrim
,
Ed Asner
,
Kelsey Collins
, June Faray, Ford Austin,
Rose Marie
,
Margaret O'Brien
and a special letter sent by
Norman Lear
. Scroll below for photos from the event!
Geri Jewell is best known as Cousin Geri on the NBC sitcom, The Facts of Life. Ms. Jewell shattered the glass ceiling for individuals with disabilities, as the first series regular with a disability on a prime time program, when she was cast in the hit series "The Facts of Life," and then again in the HBO series "Deadwood." She began her career doing stand up comedy at the Comedy Store in 1978. In 1980 she performed at the 2nd Annual Media Access Awards, when she was introduced to Norman Lear by producer, Fern Field.
After her ground breaking role on Facts she has appeared on such shows as The Great Space Coaster, the Emmy award winning movie Two of a Kind, Sesame Street, 21 Jump Street, Young and the Restless, Strong Medicine and the HBO hit series, Deadwood, which she also received Emmy consideration for. She also co-starred in the independent film Night of the White Pants and was featured on the FOX series, Alcatraz.
When Geri is not working in television, she is a highly sought after motivational speaker and trainer in the areas of diversity, disability and GLBT issues. Her training has taken her to such companies as Hewlett Packard, Master Foods, Johnson Wax, AT&T, Amgen, Mass Mutual and Raytheon. She has also trained such government agencies as The C.I.A., The U.S. Treasury Department, Defense Intelligence Agency, and the U.S. Army.
She is famous for her uncanny ability to captivate the hearts of her audiences by using humor to facilitate attitudinal change. Geri brings to her presentations her personal experiences in life, which in turn allow people to gain insight into the prospect of seeing disability in a totally different light, creating hope where there is none, and joy where there is pain.
In addition to her ongoing speaking circuits, she has never forgotten her roots in comedy. She has appeared on many of the cable comedy shows, including Evening at the Improv on A&E, and Stand Up Spotlight on VHI. She has opened for Paul Anka, Robert Goulet, and Judy Collins. She has been featured on Entertainment Tonight, E Hollywood True Story, and ABCs 20/20, and A&E's Biography.
All in all, Geri is enjoying a thriving career. She has been the recipient of many awards, including the 1992 Founders Award, the 2005 Independent Living Legacy Award, and the 2006 Victory award. Her NEW autobiography, I'm Walking as Straight as I Can received the 2012 Gold Award by the Independent Publishers.
I'm Walking As Straight As I Can: Transcending Disability in Hollywood and Beyond (Feb 15th, 2013, ECW Press/Audible.com) is a compelling book that tells the powerful life story of comedienne and actress Geri Jewell. As a result of a tragic accident, Geri was born with cerebral palsy. Little Jewell (As the hospital dubbed her) was not expected to live, but went on to live an amazing life as an inspiration to multiple generations when she shattered the glass ceiling for actresses, comediennes and all handi-capable people everywhere, when she became the first person with a disability to appear in a recurring role on television. She made television history on December 24th, 1980 when she appeared in the NBC sitcom The Facts of Life. Thirty years later, millions of people remember her groundbreaking role as Cousin Geri during her four seasons on the show as they watch her in the hit HBO series Deadwood.
This candid memoir details her experiences from her traumatic birth in Buffalo, New York, to her rise to stardom as a stand-up comic to becoming a television star. She documents the harsh realities of show business by recounting the relentless discrimination and abuse she suffered at the hands of people she trusted. Her experiences in the shark-infested waters of Hollywood led her on a journey from the Comedy Store to the White House, followed by a downward spiral, tax problems, drug addiction, marriage, and an accident that nearly claimed her life.
The final chapters reveal Jewell's fall from the top and present her inspiring resurgence from the brink of despair. Rising from the ashes she speaks about the importance of landing a role in HBO's hit series Deadwood. Through her tears and triumphs she is transformed to a shining symbol of hope for anyone who dares to follow their dreams. I'm Walking As Straight As I Can is an amazing story told with grace and self-deprecating humor, one that gives readers a true glimpse of true courage and perseverance.
Among numerous upcoming projects, Ms. Jewell announced that inspired and encouraged by her friend Alison Arngrim, she will also be touring with a new one woman show later this year. Jewell is also pioneering yet another entertainment field in "Child of the '70s" (Geri Jewell Guest Stars on Season 2 of "Child of the 70s" (Sneak Peak)), a brand new web sitcom created by and starring Michael Vaccaro, with Bruce Vilanch, Ann Walker, Audrey Landers, Susan Olsen, Leo Forte, Terry Ray, David Zimmerman, Natalie Toro, Sebastian LaCause and Duane Boutte, with special re-occuring guest appearances by Donna Pescow from "Angie."
Photo credits: Michael Schwibs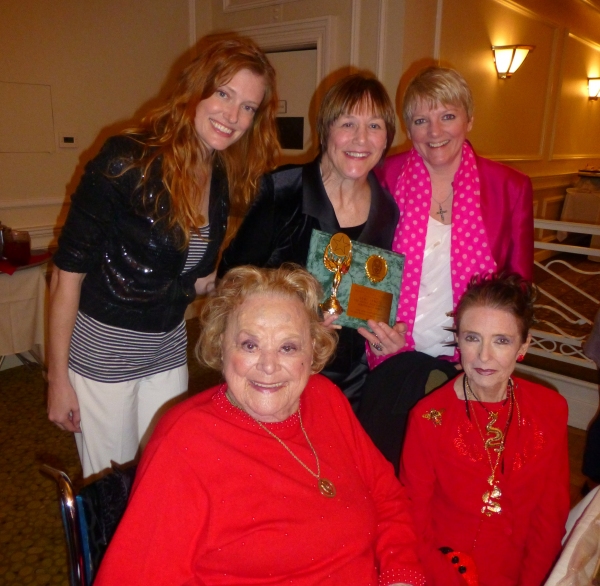 Kelsey Collins, Rose Marie, Geri Jewell (with award), Alison Arngrim and Margaret O'Brien

Ja'net BuBois is awarded the "Outstanding achievement in music" award by Randal Malone

Geri Jewell holds her Lifetime Achievement Award