Photo Flash: GMCLA Presents THE NUTCRACKER: A Choral Fantasy
GMCLA presents there own twist on a theatrical classic. Since actors of the Greek theatres in the city of Thespiae and long before Shakespeare had penned his very first stage play, men have been theatrically portraying women in productions. Now, in the tradition of Madam Butterfly and Hairspray, the Gay Men's Chorus of Los Angeles (GMCLA) tackled the classic pageantry of the "Nutcracker: A choral Fantasy" at the Alex Theatre in Glendale California with male chorus members doubling in the female roles. Among those in attendance include Loni Anderson, Kate Linder, Assembly member John Perez (46th District) and Dee Wallace.
GMCLA strayed only slightly from the very familiar story that audiences have loved for years. On Christmas Eve as holiday revelers are arriving at the home of the Stahlbaum family with gifts and food in hand, the audience hears the music of Tchaikovsky's Nutcracker Overture (arr. Harry Simeone/Dominic Gregorio) and an interlude (arr: Scott Lavender) with the heavenly tones of GMCLA behind them. The Stahlbaum family members Grandfather (David Werthe), Grandmother (John Dennehy), Mother (Lee Sticker), Father (Anthony Silva) and the precarious son Fritz (Matt Deleva), who seemed to find great pleasure in tormenting his younger brother, Clarence (Lee Pitts), are gathered to greet guest who include a special visitor, Madame Drosselmeyer (Shawn D. Ingram), a toy and doll maker with a special gifts - A nutcracker for Fritz and a ballerina for Clarence while GMCLA serenade patrons with "We Need A Little Christmas" (Words and Lyrics by Jerry Herman ;Arr. Steve Landau). A delighted Clarence is teased by Fritz who mocks him for finding such joy in a doll and breaks it. Madame Drosselmeyer puts Fritz in his place and repairs the ballerina encouraging Clarence with "Expressing Yourself" (Music by Elton John and Lyrics by Lee Hall). Guests take their leave to "Have Yourself a Merry Little Christmas (Music and Lyrics by Hugh Martin and Ralph Blane Arr: Steven Argila) and the family retires. As a young Clarence prepares to sleep he takes his brother's Nutcracker to bed, as we come to close of ACT I. Act II is when the GMCLA truly shines presenting Pyottr Llyich Tchaikovsky's brilliant score including "Claire de Lune" (Lyrics by Paul Verlaine; Arr: Charles Baker), "Trepak" and "Dance of the Toy Flutes" (Lyrics by Fred Waring Arr: Harry Simeone/Dominic Gregorio), "Mother Gigogne" (As performed by SoVo, Transcribed by Britt Duenton) featuring the talents of NPYNK, "Sugar Plum Fairy" and "Waltz of the Flowers" " (Lyrics by Fred Waring Arr: Harry Simeone/Dominic Gregorio), featuring D.J. Pick. While the audience thrills to the music, Clarence is taken to dreamland by snow angels wheere he meets the King and Queen (Silva & Stickler), before beginning a fanciful journey. While traveling he meets a Sugar Plum Fairy (Michelle Benton), a Shepherd and Shepherdess (Werthe & Dennehy) with flock of sheep (students from the Creative Planet School of Arts), a trouble making Jester (DeLeva), fun loving Candy Kids, and The Nutcracker (Andrew Thomas), and young Clarence discovers himself. As the dream ends and morning comes, Clarence rushes downstairs to witness a Christmas miracle in the transformation of his older brothers attitude. The chorus brings the evening to a close with "Christmas Children" (Music and Lyrics by Leslie Bricusse Arr: Eddy Clement), "A Place Called Home" (Music by Alan Menken and Lyrics by Lynn Ahrens Arr: Eddy Clement) and finally with the entire ensemble on stage to perform "Believe" (Music and Lyrics by Charlie Smalls and Alan Silvestri Arr: Kevin Robinson). Alex Theatre patrons rewarded the performance with a lengthy standing ovation. Credit for the remarkable performance is given to the Interim Artistic director, Dominic Gregorio, Chris Verdugo (Producer), Billy Rugh (Director/Choreographer), Mark Chung (Chorus Choreographer), Philip Hayman (Costume designer), Steven Young (Lightling Designer), Earl Kells (Scenic Artist) and Executive Director, Hywel Sims.
For 30 years, GMCLA has built an international reputation for musical excellence while remaining deeply rooted in service to the Los Angeles community. Hailed by the Los Angeles Times as "one of the last important links to a glorious tradition in music," GMCLA has more than doubled in size, added a professional and artistic staff, toured nationally and internationally, released thirteen compact discs, commissioned more than 300 new works and arrangements and appeared frequently on national television programs such as "Will & Grace" and "Six Feet Under." The Chorus membership donates over 60,000 volunteer hours annually to make GMCLA's mission of musical excellence and community partnership a reality.
Photo Credit: Bill Dow

Brad Furh (GMCLA Board Member) and Troup Coronado (AT&T Sponsor)

Chris Verdugo (Producer), Dee Wallace, John Perez, Kate Linder, and Hywel Sims (Executive Director) Back Row: Lee Pitts and Andrew Thomas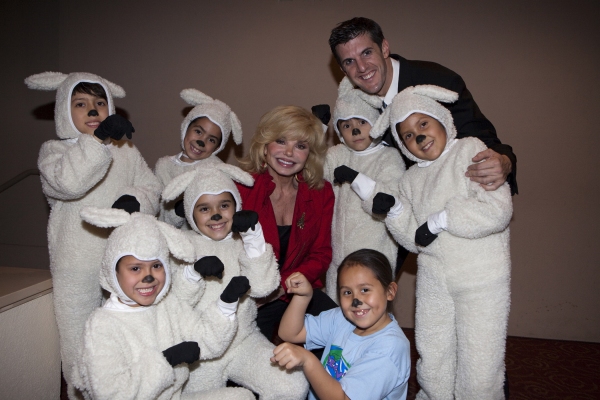 Loni Anderson with Choreographer Billy Rugh and student of Creative Planet School for the Arts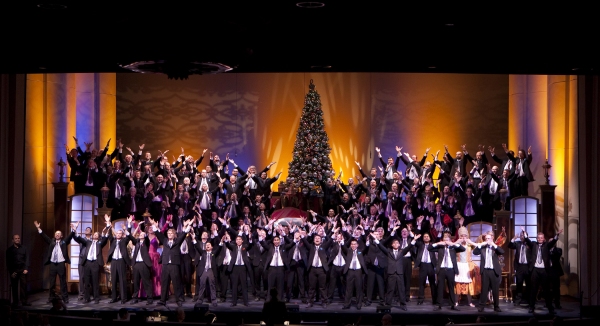 Encore-Cast Believes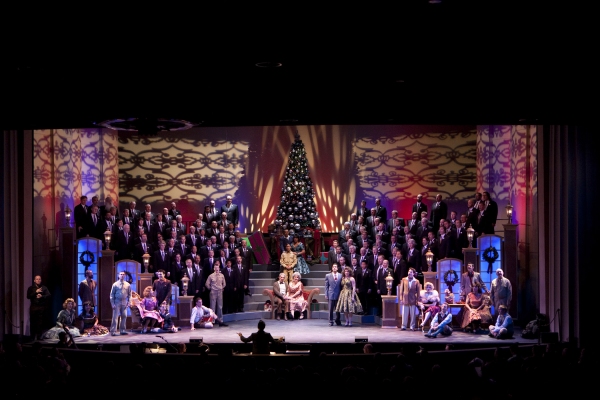 Curtain Call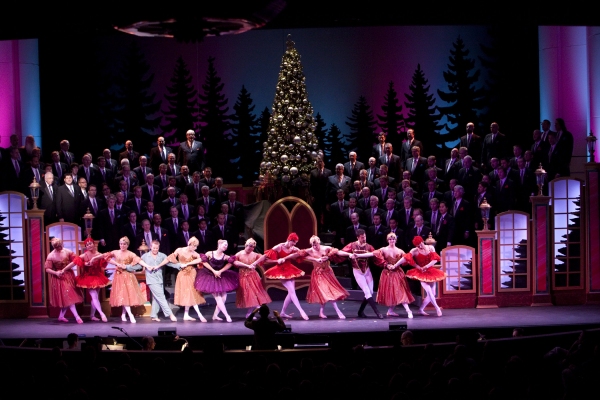 Corps de Ballet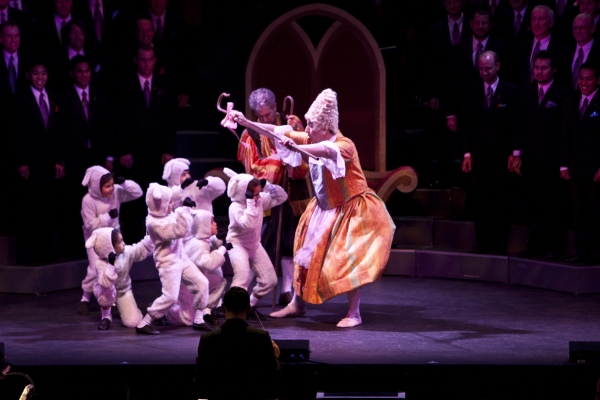 David Werthe & John Dennehy with Students of Creative Planet School of Arts

Shawn D. Ingram presents Lee Pitts with Michelle Benton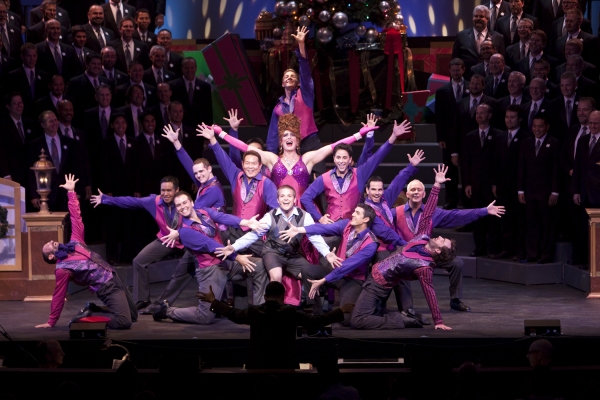 Madam Drosselmeyer and company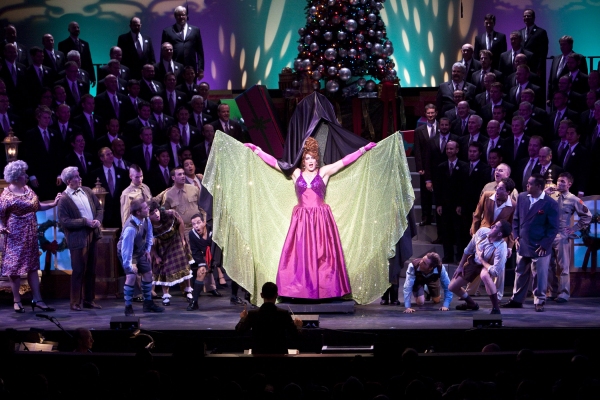 Shawn D. Ingram arrives

Guest arrive for Christmas Eve Celebration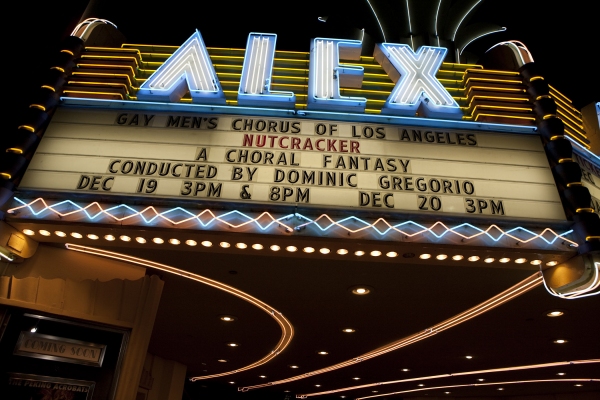 Alex Theatre Marquee
Related Articles View More Los Angeles

Stories

Shows
More Hot Stories For You